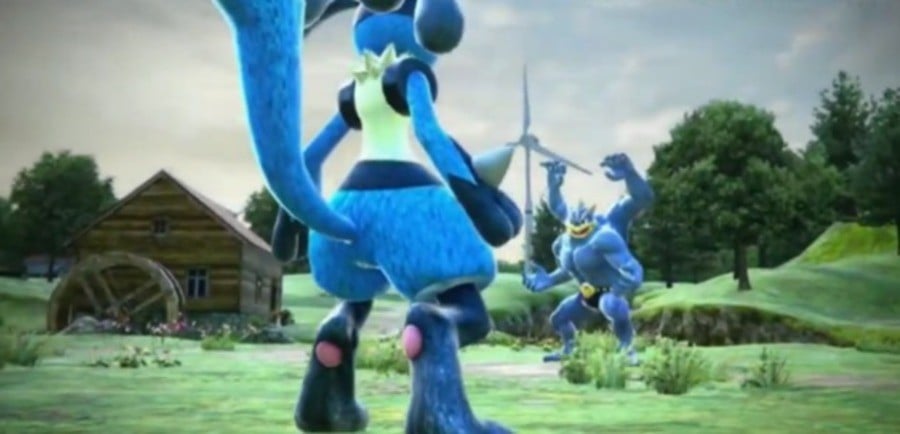 In an announcement that could be described as hard to fathom, it was less than a week ago when it was revealed on NicoNico that a fighting-title by the name of Pokkén Tournament for arcade would be co-developed by Bandai Namco, with involvement from Tekken producer Katsuhiro Harada and Soul Calibur producer Masaaki Hoshino.
One week later, and in an interview with the latest Weekly Famitsu, the heavily involved project member Katsuhiro Harada has revealed he initially approached Pokémon Company head Tsunekazu Ishihara with a different collaboration idea.
At first, I offered collaboration with a different title, but when my messenger returned [from Pokémon Company], he said 'Mr. Ishihara wants to collaborate with Tekken.' Not only that, but [Mr. Ishihara] had already settled on a title — the entire office was dumbfounded.

I figured that if we're going to make this, I wanted to team up with some place that had the best technical skills, so I was glad we were able to ask a development team of such high pedigree.
A personal goal of Mr Harada was to be allowed to use non-fighting type Pokémon – with the producer of the Tekken series touching on the Pokémon Magikarp as an example:
Not that this means it's going to be in the game, but if a Pokémon like Magikarp showed up, the player would wonder, 'what kind attacks does it have?' As long as we're going to make this game, I wanted it to have that sort of surprise and expectations for the player.
Mr Harada also revealed how Massaki Hoshino was a huge Pokémon fan and jumped at the chance to helm the project. According to Masaaki Hoshino himself, the game will have a larger arena than the standard fighting game:
Pokémon have a lot of unique attacks, so I wanted to not be bound by the idea of range and have the gameplay be enjoyable at both close quarters and from a distance.
Do these latest comments by the heads of Pokkén Tournament excite you? Or are you still more interested in hearing if a potential Wii U announcement is on the cards. Let us know in the comments.
[source kotaku.com.au]