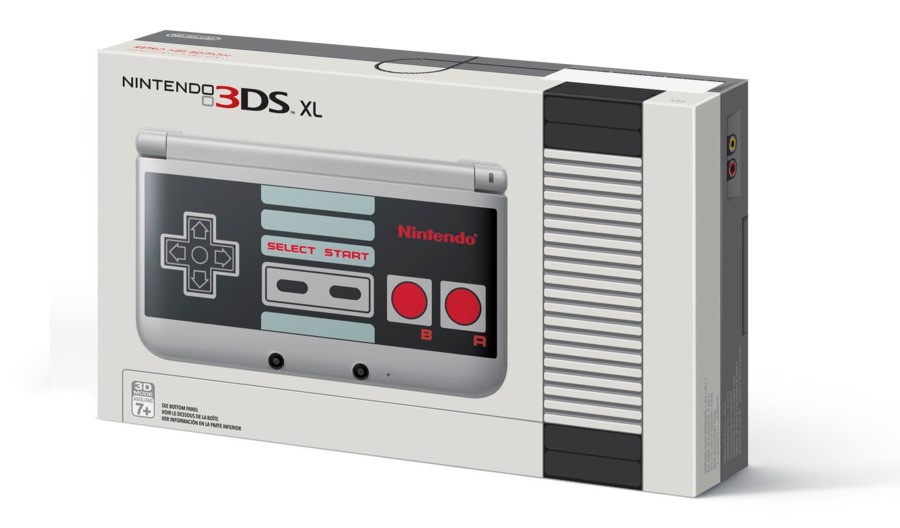 While Japanese gamers are already gearing up for the New Nintendo 3DS models, gamers in the West need to wait until 2015 — that means that some special bundles of the existing hardware will arrive in time for the Holiday season. Confirmed by Nintendo of America at a GameStop conference and now via press release is a model that immediately catches the eye — an NES-themed 3DS XL that will be exclusive to GameStop in North America.
That model is pictured above; it'll cost $199.99 and will be released on 10th October. Two other models have been confirmed, details below.
Super Smash Bros. Edition Nintendo 3DS XL — Released on 19th September at multiple retailers for $199.99, game not included.
Persona Q Edition Nintendo 3DS XL — Released as a GameStop exclusive for $199.99, game not included. Likely to tie in with the game release on 25th November, yet both Nintendo and Atlus haven't given a specific release date.
The press release for these models quotes Scott Moffitt, Nintendo of America's executive vice president of Sales & Marketing, as saying the following:
More than 12 million systems in the Nintendo 3DS family have been sold in the U.S. alone. These new models give shoppers even more choices during the holiday shopping season. Based on past experience, these special editions likely won't stay on shelves for very long
The Super Smash Bros. 3DS XL model is also coming to Europe, though we'll need to wait and see whether the NES and Persona Q iterations — both GameStop exclusives in North America — make their way to the EU in the future.
Are you excited by these and planning to pick one up? Does the upcoming New Nintendo 3DS in 2015 make you think twice? Let us know in the comments below.