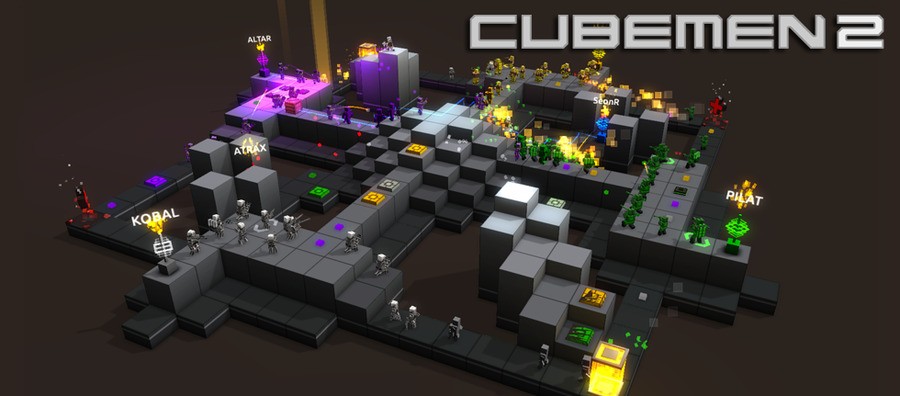 Cubemen 2 has long been one of the most interesting projects coming to Wii U. It's the first third-party game that'll be published by well-known Australian developer Nnooo, which has been working with developer 3 Sprockets on the ambitious title. Its defining hook is that it'll support a substantial range of cross-platform multiplayer options and level creation — we'll see this in action soon, as it arrives in The Americas, Europe and Australia on 4 September with pricing of $7.99 / €7.99 / £6.99 and AUD$10.49.
The core gameplay sees you controlling an army of Cubeman across various blocky stages, making this a real-time strategy experience. Though there is a single player campaign and all modes can be played on your own, five of those seven modes support online multiplayer; the key is that this online play is hooked up to the PC, Linux, Mac and iOS versions, greatly enhancing the odds of finding other players. On top of that there's a built-in level editor, and Wii U gamers will also be able to jump into the 8000+ levels created on other platforms.
Pure Chess on Wii U and 3DS included cross-platform multiplayer with smart device versions, though it must be said that incorporating this degree of sharing and online play is an impressive achievement for Nnooo and 3 Srockets; Nnooo's Nic Watts has said the following.
Cubemen 2 is not just a fantastic game, it's breaking new ground for an indie game on a Nintendo console. We already know Nintendo players love to create and share amazing artwork and creations in Miiverse. Now they can create levels, share them and battle with other players across multiple platforms! This is great, not only for Nintendo gamers, but for gaming in general.
The GamePad and its touch controls will be implemented, so it'll be interesting to see how this experience comes together. The latest trailer is below, so let us know what you think.