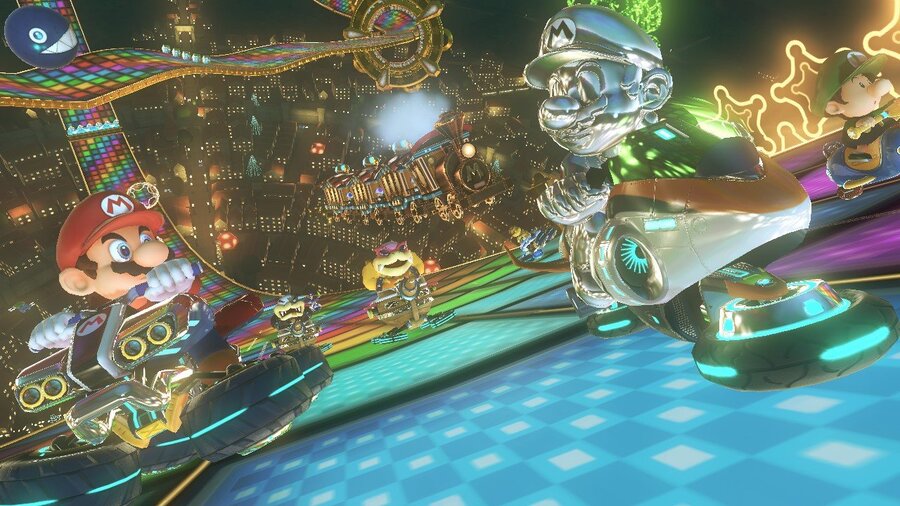 Mario Kart 8 is now well and truly settled in on plenty of Wii U systems around the world. It seems that Friend Lists have never been busier, too, as a quick glance at almost any time of the day shows most are actively blasting around tracks. If you're a Wii U owner, there are decent odds this applies to you.
That's also the case for plenty of Nintendo Life contributors, of course, and many were involved in the launch day excitement of taking Nintendo's racer for a spin. With a full day of gaming — and a little more besides — now done, the team is sharing its first impressions. We've done a review and lots of coverage, yes, but this is a chance to gauge a wider perspective on whether this latest entry in the esteemed franchise lives up to expectations.
This is a chance for you all to chat excitedly about the game too, now that most are in their second day with it — is it everything you hoped it'd be? First things first, here's what a large part of our team thinks.
Darren Calvert
It was with great excitement that I stayed up until midnight on Thursday to begin my download of Mario Kart 8 from the Wii U eShop. Sorry, did I say excitement? Oops, I meant tiredness. Thankfully my connection to the information superhighway did not disappoint and I was able to begin racing right away on Friday morning. Without doubt this is the finest Mario Kart experience to date, from the gorgeous big band soundtrack to the sumptuous visuals in Sweet Sweet Canyon, which look good enough to eat. It's clear that the talented team at Nintendo have poured their heart and soul into producing MK8. In the evening I had a few online races in the NLife Launch Party community which was surprisingly lag free; I got my butt kicked by some of our talented readers as expected. I also couldn't resist trying out MKTV which was super easy and quick to use — here's my Mii dishing out the pain to Baby Luigi on Shy Guy Falls...
Ron DelVillano
At the time of writing I'm currently on the opposite side of the state, and about a four hour train ride away from my Wii U. My copy of Mario Kart 8 is all paid off and currently sitting on a store shelf or packed away somewhere behind the counter. I am very impressed with how well it is being received by almost everyone who has played it, but for me personally, MK8 has been awful so far. My Twitter and Facebook accounts are full of people praising the game and there's nothing I can do. It's taunting me. This is a nightmare that I can't wake up from!
Tim Latshaw
I really needed something to look forward to at the end of this week and Mario Kart 8 has not disappointed one bit. After taking a few minutes to soak in the rich title track and watch Toads float above the earth, I jumped in and hit the tracks. It's amazing how the anti-gravity element is both so subtly implemented, yet makes you change some of your karting instincts. I have blown by anti-grav opportunities for a couple laps sometimes before realizing they were even there, and when I have taken advantage of them, I've caught myself naturally veering away from obstacles instead of toward them for a spin boost. Give me some time, though, and I'll be driving up walls and colliding with things just like a master driver!
Morgan Sleeper
Since I first booted up Mario Kart 8 today, I haven't been able to wipe the smile off my face. Gorgeous HD graphics, perfectly polished controls, fantastic racing action, and a beautiful soundtrack - it's everything I wanted in a new Mario Kart! But what's stood out most to me so far are the fantastic course designs. Not only are tracks like Toad Harbor, Shy Guy Falls, and Mount Wario a blast to race through, they're also incredibly inviting worlds in and of themselves. Each one feels big enough, different enough, and vibrant enough to play host to a standalone game, making me dream of Jet Grind Radio-ing my way through Toad Harbor's steep streets, exploring the busy backgrounds of Shy Guy Falls as part of a 3D platformer, and steering 1080°'s Akari Hayami down Mount Wario's slalom slopes. There's so much creativity and charm packed into these circuits that it almost - almost! - feels wrong to speed through them at full tilt! I've only gotten as far as the Star Cup so far, and I can't wait to see everything that's up ahead; Rainbow Road or bust!
Martin Watts
I was expecting greatness when booting up Mario Kart 8 for the first time, and needless to say I wasn't disappointed. I love how polished it looks, the tracks are diverse and most of all, the online is just so quick and painless - you're in a game in mere seconds. It would also seem that I'm the only Wii Wheel user in the world; I honestly didn't think it was as unpopular as it is. My advice: ignore the haters, because I've found it very accurate and have certainly held my own against other racers in the track! (Well, some of the time...)
Conor McMahon
I've been rather greedy with Mario Kart 8 so far, focusing almost entirely on single-player from the moment I got my hands on it. It's amazing of course, and a series of complex excuses mixed with more than a few stealthy escapes allowed me to take most of the day off from boring reality to play.
I won't bother repeating just how gorgeous it is, because by now you know, but I do want to point out some musical touches I really like. Nintendo seem to be enjoying contextual changes to their soundtracks lately, which is a trend I hope continues on for quite some time. Subtle changes to the music really help add to the atmosphere and spectacle of every race, whether its the storm-driven guitar of Cloudtop Cruise or the rhythmic mining on Shy Guy Falls as you pass by their machinery. It's a minor feature, but one that struck me right away.
Day 2 will be the real test, as I bring round a group of friends and finally put the split-screen multiplayer through its paces. Although Battle Mode is pretty iffy from what I've tried, there's no way that this isn't going to be a good time with a full set of four players all willing to commit murder in the name of victory. Very, very happy so far!
Lee Meyer
Not to get too hyperbolic, but let's get real: Mario Kart 8 has reminded me why I love Nintendo games so much. It's gorgeous, it's modern and nostalgic at the same time and it controls like a dream. Winning matches is extremely satisfying, and MKTV is an awesome feature. I'll always remember taking out Donkey Kong on that last, glorious lap...
Dave Letcavage
My first day with Mario Kart 8 has been one of pure delight. From noon until midnight, almost uninterrupted, my wife and I tested all the characters, explored all the courses, and said "holy crap this game is beautiful" with such frequency that we barely had time to discuss how much of a bully Donkey Kong can be. Well, maybe that last part is a tad exaggerated (we poked fun at DK plenty), but holy crap this game IS beautiful. The best part, though, is how impeccably it plays. It's smooth, it's tight, and it's possibly the best-feeling kart racer I've ever had the pleasure of playing. While the lack of a traditional battle mode hits hard, I have no doubt this is a game I'll be playing with friends and family for months to come. Probably even years. I know it's been less than 24 hours as I write this, but I can't help to admit that I'm head over heels for Mario Kart 8.
Liam Doolan
I haven't really got stuck into the online portion of the Mario Kart 8 just yet, but based on everything else I've experienced of the game so far – I'm impressed. This latest entry in the series carries across all the good parts of Mario Kart 7 – which was pretty much everything – and adds a brand new mechanic along with a touch of high-definition to freshen things up. The new Battle Mode is something I'm still getting my head around, and whilst it does appear a little slack recycling tracks instead of creating entirely new arenas, I think Nintendo might be onto something here. The only real bummer is that Peach's Castle is no longer accessible on Royal Raceway. Heck, maybe I'll just fly over the gates.
Samantha Sofka
Mario Kart 8 is by far the most fun I've had playing a karting game in quite some time. Although the graphics drop a bit in multiplayer mode, they are for the most part some of the best the Wii U has to offer. Also, the new maps are some of the most creative I've seen in the series. The anti-gravity sections in particular are a welcome addition to the racetracks. I was a little disappointed to see that half of the tracks were remakes from other games. The roster is alright, but there are too many koopalings and babies for my liking. I've yet to delve too deeply into the battle mode or online play, but so far I'm liking what I'm seeing. If you have a Wii U and a group of friends to play with, Mario Kart 8 is a must buy.
Ken Barnes
I love how undeniably shiny MK8 is. I've seen some people complaining about the game running at 59FPS instead of 60, and I'm relatively sure that they're the sort of people that would complain that their wallet was too small if they won the lottery. The whole thing is stunning to look at, with Electrodome being notably breathtaking. I have a soft spot for the twists and turns of the Mount Wario course though, it has to be said. Online has been absolutely flawless for me, with either one or two local players, and I can safely say that I'll be playing this one against the world for a good while to come despite the fact that I'm utterly terrible at it. I would have liked more courses from the Wii version but hey, you can't have everything! Absolutely essential, I say.
---
So those are our thoughts, let us know what you think of Mario Kart 8 in the comments below.