On Tuesday we reported on Red Goddess: Inner World, a beautiful new Kickstarter-funded Metroidvania-style title headed to Wii U, PS4, PS Vita, and PC next year if the campaign reaches its funding goal. If you haven't checked it out yet, take a gander at the Kickstarter trailer:
With over $18,000 pledged of its $30,000 goal and 28 days remaining as of this writing, Spanish developer Yanim Studio looks well on its way to a successful campaign, so we asked Yanim creative director Yannick Puig some questions about the project.
---
Thanks for taking the time to answer a few questions today! First off, could you introduce yourself to readers and tell us a little about Yanim Studio?
We started to work approximately ten years ago with 3D animation, outsourcing 3D artwork for others developers, We have a development team of nine people, composed of people who have worked for games such as Risen, Deadlight, and Wanted: Weapons of Fate.
Red Goddess is led by myself, Yannick Puig. I'm the creator of many award-winning 3D shorts and music videos. My most remarkable work is probably "I Lived on the Moon", music video [for the French group Kwoon]. I suppose you could call me a veteran in 3D animation. Since 2002 I've worked in France and Spain as animator, storyboarder, 3D artist, and director. I'm also an avid gamer, an exploration/adventure game fanatic.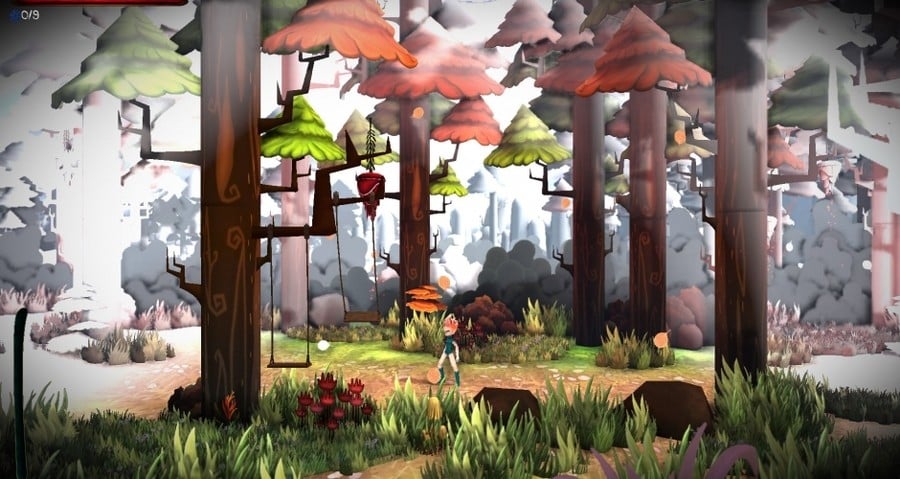 For those who haven't heard about it yet, what is Red Goddess: Inner World?
Red Goddess is a side-scrolling action adventure game, 2.5D graphics with unique atmosphere and compelling storyline.
What does "Metroidvania" mean to you? What makes Red Goddess a Metroidvania?
The player must solve puzzles to unlock new powers that allow them to move to another area, but the areas are increasingly interconnected - different things depending on the powers that be will discover unlocked.
Yanim Studio has a distinct art style (you can check out a demo reel here). What are some of your artistic influences?
Studio Ghibli, Journey on PS3, Double Fine, the Frederator series, Trine, Giana Sisters...
The music in your trailers is fantastic. What was your approach to the music and sound design of Red Goddess? How did Ronald Jenkees get involved?
We have always had an attraction to music; in the past we've worked hard with music videos and we thought that electronic music style like Ronald Jenkees was very appropriate to the world of Red Goddess. For the environment and the youth of the main character, Ronald Jenkees authorized us to his music for the trailer. Ronald will be involved with the game's musical experience, but not immediately. He's currently working on his third album which is due out in the fall.
Another style of music we have in Red Goddess is Guehl Sylvain, a French musician with experience in video games and high sensitivity, which has given a great ambience to the demo and we want to give a more cinematic touch.
How did you create the main character, Divine?
It was a long process. We thought a goddess/god with powers, but liked the idea that she was still in training, and so decided that the character had to be a teenager. Doubt arose between a lead man or woman; we finally decided on a female main character, and after much thought, we decided upon a character with strength and sensitivity. Divine was born. We have always liked games with strong female protagonists, but also a style – like the fabulous Tomb Raider.
Many promising Spanish developers have emerged in the past few years. Could you talk about the gaming scene in Spain?
It is true that in Spain, the development of video games is an emerging market; we have many good studios developing good quality games, although it remains a battle achieved in a niche environment with few institutional aids.
Why did you decide to bring Red Goddess to Wii U?
We decided to bring Red Goddess to the Wii U because we believe that Nintendo's audience will love what this game has to offer. The detailed environments and characters, the fast-paced action, the platforming mechanics, and everything that the Red Goddess universe has to offer is something that fans desire for Nintendo's latest console, and it's something that we want to provide for them.
Will the Wii U version be different from the other versions of the game?
The Wii U version will be optimized to take advantage of what the console has to offer. Right now, we're considering placing a map and all of the UI elements on the screen of the Wii U Gamepad so that the TV only displays the game, and we'll also offer the option of playing the game completely in Off-TV mode, which is a great feature that allows people to continue playing if the TV is not available. On top of that, we're considering other things such as using the touch screen for quick access to some of Divine's skills, as well as for other abilities and options we can't discuss right now but will potentially reveal.
What are your plans for stretch goals in the future?
We have many stretch goals, like additional chapters, scenarios, more enemies, and also two very interesting projects: a comic with Red Goddess' adventures and exclusive short stories additional to the game (to better understand the game's story).
Thanks for your time! We look forward to playing Red Goddess next year. Do you have any last comments for our readers?
We need your support to develop Red Goddess, we're so excited with the project and hope you're as excited as us! Please take a look at the Red Goddess project, back the project if you like what you see and send us your comments. We will do our BEST to give you what we've promised and more!
---
We'd like to thank Yanim Studio for its time, as well as Dan Muir for arranging this Q&A.