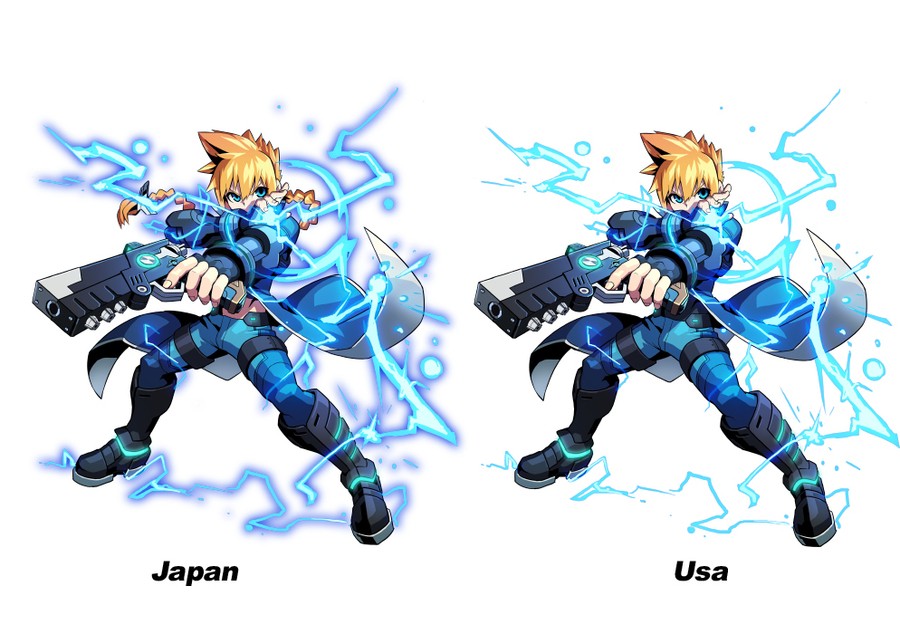 Keiji Inafune and Inti Creates must think North Americans don't appreciate masculine heroes with luscious locks and bellies showing. NeoGAF user Rockman ZX noticed a subtle difference between the Japanese and North American artwork for Inafune-san's upcoming Mega Man X-style action platformer Azure Striker Gunvolt: protagonist Gunvolt sports a shorter hair style and a more conservative outfit for his outing outside of Japan.
Azure Striker Gunvolt is slated for a 3DS eShop summer release in Japan and North America, with no word yet on release in other parts of the world. Is this the only change we'll see from the original Japanese version of the game, or is it only the first of many?
This localisation debate evokes the controversy surrounding the changes in the Western release of Square Enix's Bravely Default a few months ago, among other examples. Do you think changes to appeal to different cultures are positive, or do they hurt the artistic integrity of the creators' vision?
[source tinycartridge.com, via neogaf.com]