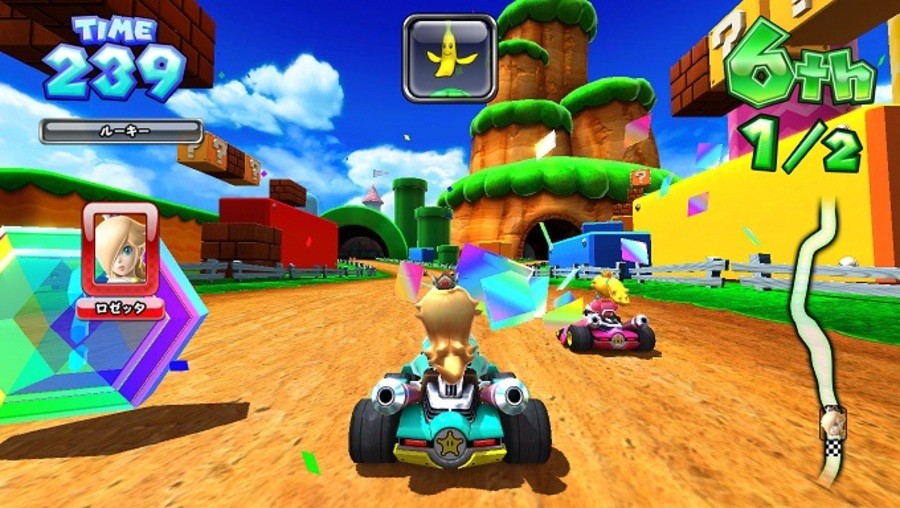 Last year we announced the good news that Mario Kart Arcade GP DX would be hitting Western arcades some time in 2014. While everyone has been busy revving their engines in anticipation, the popular chain of arcade/bar/restaurant/super-fun-place Dave & Busters recently announced that it'll be stocking the machines.
Drivers start your engines! Race with Mario, Luigi, Pac-Man, Donkey Kong and many more in this arcade version. New courses, themes and karts, no two games will be the same! Who will cross the finish line first?
The title is now playable as part of its new lineup of games for the year, featuring the glider and underwater-driving mechanics from Mario Kart 7, 10 colourful courses and a new team mode where a pair of drivers can join forces in tank-form. In addition, players can continue to make use of that distinctive camera function, allowing a photo of your lovely, food-stained face to be used in game.
With Rosalina confirmed to be joining the roster and new fire/ice costumes for the Mario Bros.,
it's definitely enough to make those of us outside of the U.S. quite jealous indeed. Let's hope that it's enough of a success to warrant a few more machines popping up in Europe.
Be sure to let us know if you get the chance to play it for yourself, and happy racing!
Big thanks to T.J for the tip