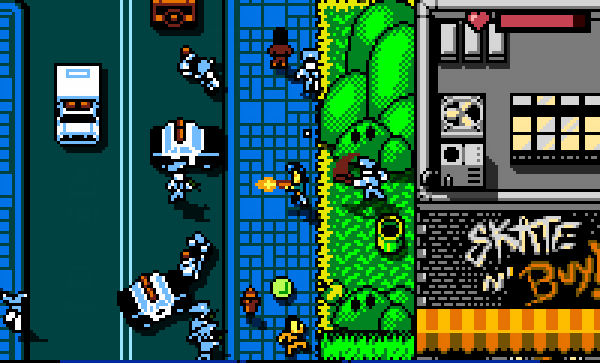 Just recently it was confirmed that Retro City Rampage: DX was set to arrive this month, but we're pleased to now confirm that it actually lands in North America in this week's download update — on 6th February — for $9.99; its European release date is 20th February.
As teased previously, the DX in the name reflects the fact that this represents a "definitive" version of the game, including all 16 of the updates that have arrived on PC along with some others developed specifically for the 3DS. Brian Provinciano of Vblank Entertainment has kindly provided the following details.
Missions — these have been tweaked for a better experience on the 3DS and overall, with edits to improve pacing.
Controls & Weapons — It's now possible to jump when firing, and weapons have generally been re-balanced. Car and explosive effects are also improved, and there's also an "'8-BIT' mode if you want a more '80s experience".
Arcade Challenges — The weapon upgrades are targeted to improve these challenges, while they've been tweaked for overall improvements.
Hijacking Weapons — As revealed earlier, you can hijack weapon trucks or, if you're feeling more sporting, buy guns.
Losing the Cops — When escaping the cops, a new mechanic encourages you to clear the cops on screen, collect a medal and then promptly make your escape, while these wanted status coins can be found elsewhere and you can still opt to get your car re-sprayed.
Minimap, Touch & UI — The dual screen 3DS setup is used to display a dynamic map on the touch screen, which can be modified to show specific landmarks and more. You can zoom the map, select weapons and change radio stations on the touch screen, too.
Provinciano also explained a few elements not included on the 3DS. One is that the viewing area is smaller on the 3DS version, as the "full screen" made the pixels appear too small on the handheld — to compensate there's now a more dynamic camera that, for example, pans ahead when driving. Provinciano states that "in the end it actually feels better to me, and it turned out to be a bit of a happy accident."
The only notable disappointment in the details is that Circle Pad Pro support, previously confirmed, isn't included. This was simply due to the fact that the developer felt that, while functional, the control scheme wasn't ideal and would have led to bad impressions for gamers.
Because RCR:DX uses the face buttons and touch screen, the right circle pad added by the CPP made reaching over to press them a bit awkward. While I mapped key face button actions to the CPP's triggers to make them more comfortable, it just wasn't as intuitive.
Aside from that, this seems like an exciting iteration of the popular title, which was already pretty darn good on WiiWare; not to mention the fact it has 24 TV Colour Modes for messing about with the display. We'll be putting it to the test for a review, soon.
So, it arrives sooner than we may have previously thought. Let us know if you plan to pick it up, while below is a video showing some of the major updates in action.