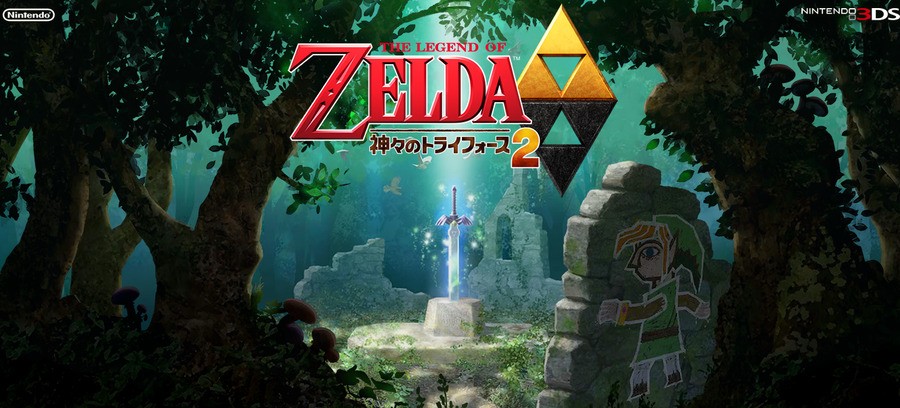 Famitsu has released its multi-format sales figures for Japan, covering 23rd to 29th December. The title of this news post has given away who "won", but can you guess by how much? Wii U and 3DS games took eight out of the top ten positions, with the only non-Nintendo game to break it up being the Vita and Playstation 3 releases of Final Fantasy X/X-2. The Legend of Zelda: A Link Between Worlds went straight in at number one, selling 225,418 units since its release on 26th December, knocking the other 3DS mega-hit Puzzle & Dragons Z into second place.
Looking further down the charts it's still good news for Nintendo fans, with evergreen titles like Mario Kart 7 still sitting at 25th and Mario & Luigi: Dream Team at 29th; more niche games — from a Western perspective — such as Taiko no Tatsujin: Wii U Version! at can be found in 20th place.
The full top ten is as follows, with sales numbers also provided:
1) The Legend of Zelda: Link Between Worlds — 225,418 (3DS)
2) Puzzle & Dragons Z — 198,968 (3DS)
3) Final Fantasy X/X-2 HD Remaster — 182,638(PS3)
4) Pokemon X and Y — 156,483 (3DS)
5) Final Fantasy X/X-2 HD Remaster — 134,645 (Vita)
6) Wii Party U — 87,262 (Wii U)
7) New Super Mario Bros. U — 75,131 (Wii U)
8) Super Mario 3D World — 71,159 (Wii U)
9) Monster Hunter 4 — 40,338 (3DS)
10) Animal Crossing: New Leaf — 37,300 (3DS)
Famitsu has also published some hardware results. The 3DS family of systems is top on 208,893 units, well ahead of the rest. The Wii U is the second highest-selling system on 79,174 units, a little ahead of the PS Vita's festive boost to 75,207. It's another top two lock-out for Nintendo's hardware.
We'll keep an eye out for the updated Media Create results later this week, but in the meantime let us know what you think of these Famitsu figures in the comments section below.
[source famitsu.com]