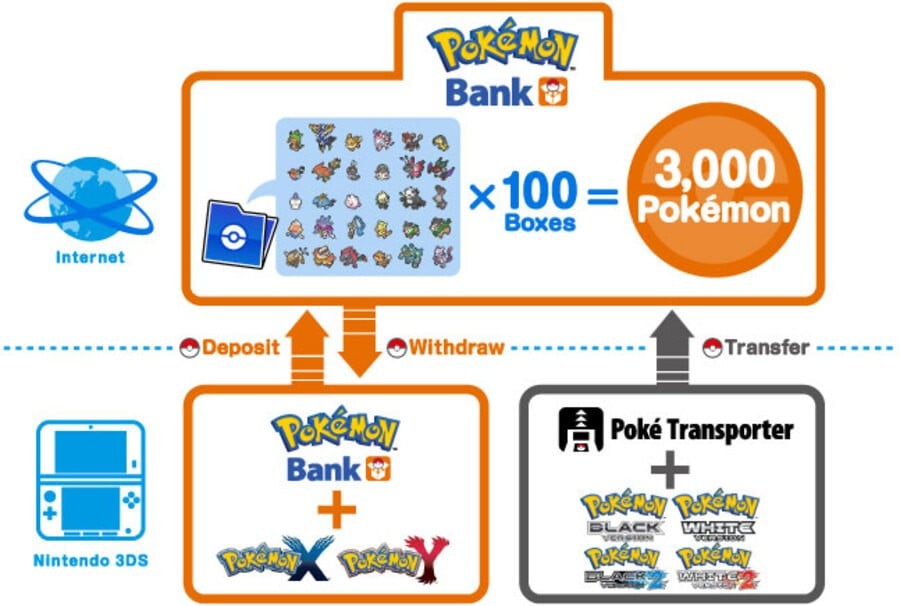 If you that plan to devote some time to Pokémon X & Y during the upcoming festive season, it's worth remembering that the Pokémon Bank and accompanying Poké Transporter will arrive on 27th December, just in time to shake up the experience when you have all that free gaming time.
For those that don't remember, the Pokémon Bank is a subscription-based service that allows you to store your 'mon online in the cloud, providing a valuable backup should anything go wrong with your game. Poké Transporter is also available (but only with the Bank app), and that has the neat feature of allowing you to transfer your pocket monsters from DS titles Pokémon Black and White as well as Pokémon Black and White 2 to the Bank; you can then move them from the Bank into X & Y, bringing your past-generation creatures into the latest games. The bank allows you to store up to 3000 Pokémon, and the cost for a full year is $4.99 / £4.49 / €4.99.
Those that download and activate the Bank before 31st January 2014 can also enjoy a free 30 day trial. Will you be making use of this service?