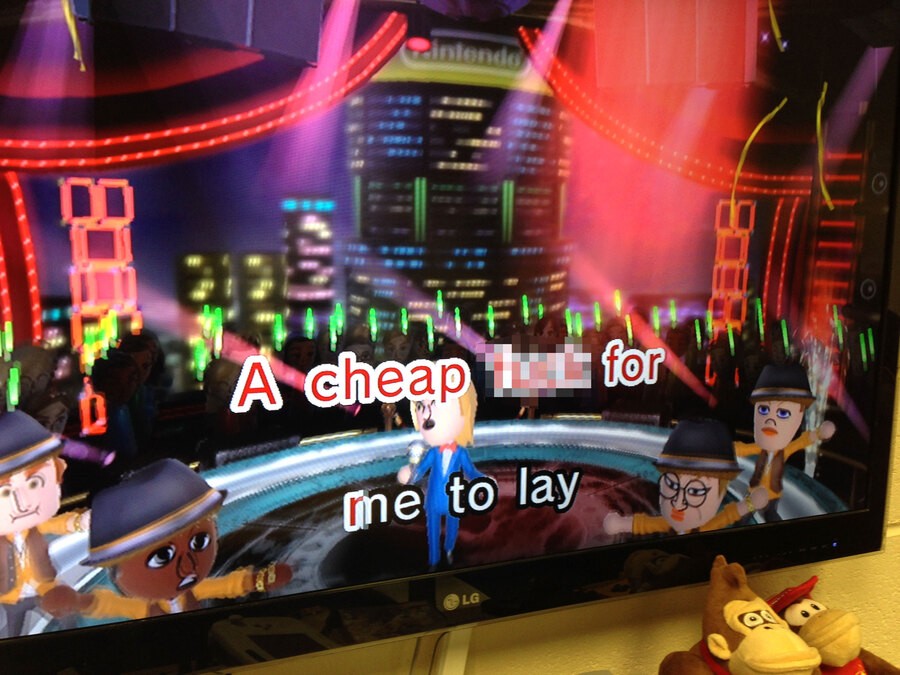 This morning, we reported that Nintendo had disabled Swapnote's SpotPass functionality due to safety concerns. The Japanese giant is clearly mindful of its younger fans, but doesn't seem to have checked the kind of songs which are available through Wii Karaoke U.
We've discovered that the Wii U title grants access to songs with explicit content, and even worse it makes no attempt to warn users that they may see naughty words appearing on their television screen. The images you see here are taken from our own copy of the game — the free version which allows for an hour of play before you actually have to pay anything. So technically, anyone with access to the Wii U could download and view these lyrics.
The game isn't created by Nintendo itself, but by Japanese company JOYSOUND. The tracks in the Wii Karaoke U library are taken from JoySound's own servers, but you would have assumed that Nintendo would have checked and verified the track listing before making it available to players.
Other music-based titles — such SingStar and Rock Band — provide "clean" versions of songs which contain swearing. The only hint that something might be amiss is the loading screen, which warns that none of the available tracks have been rated by PEGI — however, this is a pretty standard disclaimer and could well be ignored by parents.
We've contacted Nintendo for official comment and will report back once we have it. In the meantime, you might want to keep your younger relations from playing the game unattended, lest they should shock you later in the day with some choice lyrics from an Afroman song.
Thanks to NoMagRyan for the tip!