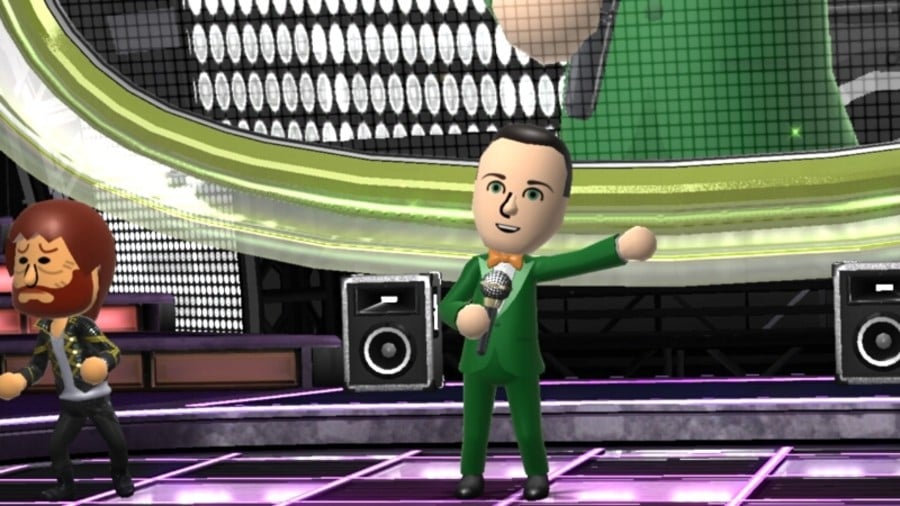 Nintendo has previously stated that one of its main objectives with the Wii U is to provide experiences that can't be done on other video game systems. In addition to this rather admirable quest, the company has also been keen to emphasise the fun that can be had with the system in local multiplayer.
So far it hasn't had a great deal of success in convincing the masses about either of these things, but it's true to say that it has nevertheless lived up to its word with titles like Nintendo Land. In this regard, Wii Karaoke U by Joysound — which released on the European Wii U eShop recently — is another title in the Wii U library that aims to hit all the right notes by bringing a semi-professional karaoke experience to your living room in an affordable fashion — a bold objective to say the least. Recently, we took a night off to indulge our inner divas and put Wii Karaoke U by Joysound through its paces to see what kind of experience it delivers; needless to say, we now fully understand the reason why we're writers and not popstars.
Our musical failings aside, Wii Karaoke U by Joysound differs from other music games in the sense that it's actually a fully-fledged karaoke service. This isn't a retail release with only a select number of songs; through the wonders of the internet, users have access to a whopping 1500 tracks, with more planned to gradually arrive over time. Not only that but it has a number of advantages over your standard karaoke machine, namely the fact that it's all contained within a multi-purpose video games console, and that it also allows for competitive play without the need for a panel of human judges. It's both value for money and convenience all wrapped up into one neat package.


Moreover, Wii Karaoke U by Joysound benefits greatly from the dual-screen setup afforded by the Wii U GamePad. Other systems could quite easily provide an online karaoke service of their own – in fact, the Wii had the Japan-exclusive Karaoke Joysound Wii, which also used the internet to stream songs. However, neither this — nor any other Karaoke game to date — offers as streamlined an experience as the Wii U version does. That's because the GamePad acts as an all-in-one control panel which can be accessed at all times – even during a song. It's far from revolutionary, but being able to queue up numerous songs for multiple users, tinker with the sound settings and even choose different costumes for your Mii removes any hassle and saves a surprising amount of time; this is something that most party hosts will want when trying to simultaneously cater for numerous guests.
So how does it all work? The Wii Karaoke U by Joysound software itself is free to download, but you need to buy timed tickets in order to sing songs. You can access every other part of the software — including the complete list of tracks — while in free mode, which is certainly beneficial as this way you can decide what you'd like to sing before activating your allotted time. Time is sold in three different denominations: a 1-hour ticket, a 24-hour ticket and a 30-day ticket for those of you who are permanently glued to your microphones. Pay-to-play tends to be a deal breaker for some people, but given the type of service that this is, the setup actually makes good sense. For example, a 24-hour ticket costs £4.49 in the UK — not exactly a tall order in comparison to renting an actual karaoke machine. Furthermore, it's highly unlikely that you're going find yourself using Wii Karaoke U by Joysound on a daily basis; not to mention that you'd need to have 10 karaoke sessions before you actually paid the same as you would for a full retail release.
The amount of options available in Wii Karaoke U by Joysound is quite simply staggering. You can adjust pretty much anything, be it the pitch, song speed, microphone volume, guide vocals and so on. It's impressive to see a Mii-themed title go into such detail, and this is another area in which Wii Karaoke U by Joysound sets itself apart from the competition.
With that said, Wii Karaoke U by Joysound isn't perfect. While it does feature over 1500 tracks to which you can sing along, the selection seems a little sparse when it comes to solid-gold classics. Naturally, there's only so much that can feature – not to mention that the service will grow over time – but there are certain songs that you'd expect to find that are nowhere to be seen (or heard, for that matter). The song library does feature tracks from a wide range of artists — many of which are current — but in some instances their most famous songs are conspicuously missing. Therefore, in its current form Wii Karaoke U by Joysound will mostly appeal to those with a wide appreciation of musical genres and tastes — pure Metalheads and Blues Brothers, for example, may feel a bit left out.
If you want to get the most out of Wii Karaoke U by Joysound then you'll need to invest in a USB microphone. It is possible to play the game using just the Wii U GamePad, but it was clearly never designed with singing in mind, not to mention that it's then very difficult to manage the playlist and settings at the same time. In fact, Wii Karaoke U by Joysound offers lots of fun little diversions to explore via the GamePad, such as creating custom stage designs for your Miis to perform on, as well as enabling backing instruments. Up to four Wii Remotes can be configured to play specific sounds over the top of the music, although you shouldn't get your hopes up; this isn't Guitar Hero or Rock Band, and it simply allows you to make a bunch of annoying sounds to throw someone's concentration when they're trying to sing.
Nevertheless, Wii Karaoke U by Joysound does go beyond the standard karaoke offering and provides a number of competitive features. Karaoke nuts will likely get a kick out of the online rating and karaoke battle modes, in which you are scored on your performance. We especially like how easy it is to turn the rating mode on and off; not everyone likes to know how brutally they're murdering an 80s classic, after all.
Another feature that truly makes the title stand out is its glorious presentation. During a song, your Mii performs on-screen in front of a rather large crowd of Miis, complete with band members and choreographed dancers for added effect. It gives the game a fun, albeit cheesy atmosphere that's undeniably endearing. It's possible to sing along to a photo slideshow or visualiser, but you're really missing out on a charming little performance if you do. You're able to choose from a range of different costumes to suit your Mii and your mood, and can take screenshots mid-performance and upload them to Miiverse (it doesn't pause the performance either). The camera shows the on-screen action from a number of different angles, making for some really great photo opportunities.
With a sensible price of admission, an ideal setup that makes the most of the Wii U GamePad and a decent — if slightly incomplete — line-up of tracks, Wii Karaoke U by Joysound is certainly worth bringing out for a special occasion or party. It's promising to see Nintendo offer something a little out of the ordinary, and we wouldn't be surprised if this helped the Wii U to find its way into the homes of ardent karaoke fans and families around Christmas time. Of course, Nintendo needs to get the word out there first, and judging by the popularity of similar titles like Just Dance, it certainly wouldn't be a bad idea to give it some exposure.
Wii Karaoke U by Joysound is available to download from the Wii U eShop now, and all Wii U owners receive a free 1-hour trial. So why not give it a go? And if so, don't forget to show off your inner superstar by posting your in-game screenshots to Miiverse for us all to see!