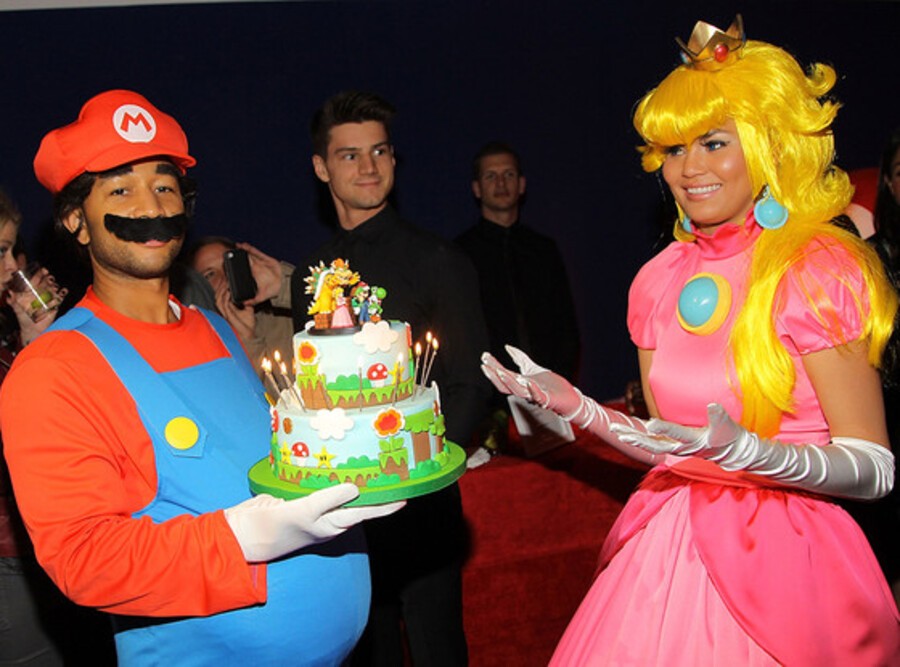 Singer-songwriter John Legend has got to be feeling pretty good right now. Marrying a model is one thing, but marrying a model who later decides to celebrate her 28th birthday with a Super Mario twist is something very special indeed. After tying the knot in September this year, the newly-weds moved on to the natural next step — dressing up like video game characters and eating cake. Makes sense to us.
Never one to turn down an offer of baked goods, Mario was first on the scene as a mustachioed John Legend arrived in full costume. Though he looked a little more pregnant than portly, we can't deny the effort both celebs put into their impressively accurate outfits. Teigen even went all out and wore a pair of blue contacts to match her favourite Princess. For anybody in attendance who made the mistake of showing up in something silly like an Armani suit or a Louis Vitton dress, an on-site photobooth was available and fully stocked with props. Nothing like a Toad cap to fix a fashion faux-pas!
Themed cocktails flowed while Super Mario 3D World played on giant screens in the background, like the Princess Peach Bellini, or the ambiguously-named Mario Power-Up. Fried Oreos, mini-hamburgers and grilled cheese sandwiches were all on offer as well, with a disappointing lack of pasta dishes for the plumbers. Fortunately, the cake arrived without a kidnapping-attempt to speak of, and eagle-eyed readers might even recognize the colourful statue on top as a Club Nintendo prize.
A self-confessed fan, Teigen shared her passion with everyone in attendance by offering a variety of games to play, including Mario Party: Island Tour, which must have created a strange 'party within a party' effect. Luckily, Mario Kart 7 was also available for those who just wanted a quick thrill.
All in all, guests certainly came away with an experience, and maybe even as a Nintendo convert. Teigen affectionately labelled it as the "weirdest party ever", which seems like a good way to sum it all up. If you've ever had a Nintendo-themed birthday, be sure to let us know with a comment below!
[source omg.yahoo.com]