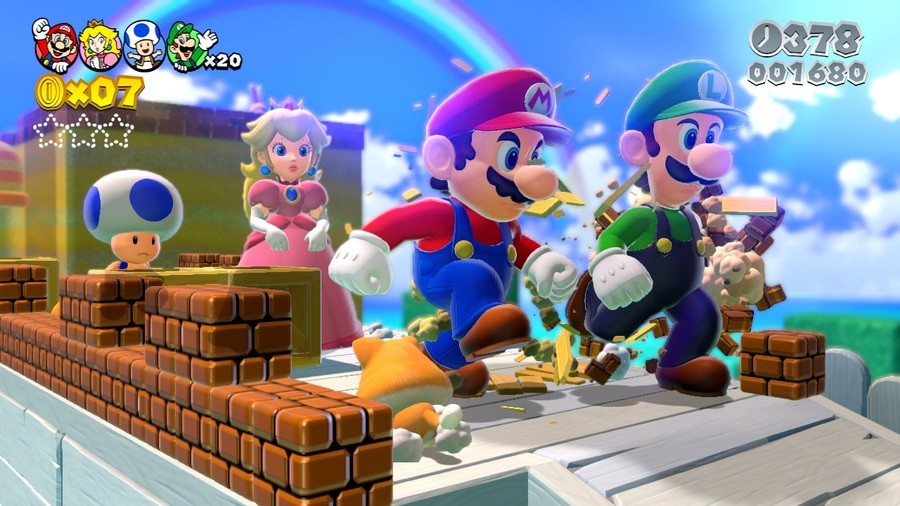 Today's a particularly busy day in the games retail industry, and certainly one of the most crowded in recent memory. There's new hardware, of course, with last week bringing the PS4 to North America — which arrives next week in Europe — and today delivering the Xbox One throughout both regions and beyond. But, wait, this is Nintendo Life, so we're rather more interested in three big-name titles coming to Nintendo systems today.

This one comes first simply because more of us can join in. Available today in multiple regions, this latest handheld Zelda title has received plenty of praise from the gaming press; we awarded top marks in our own review, unequivocally stating our belief that it's "currently the greatest game you can experience on the 3DS". It blends the nostalgia of the Hyrule represented in Super NES classic The Legend of Zelda: A Link to the Past with some bold changes to the standard formula — you can now rent items and tackle dungeons in your own preferred order, while also mastering Link's new technique of merging with walls.
It's a special game, which also has the ability to create a link between generations.

Coming to Europe on 29th November and available in North America right now, this is the latest 3D Mario home console title, words likely to get the blood of platforming enthusiasts pumping. After a somewhat underwhelming E3 2013 reveal, we've learnt — to our relief — that the initial taster wasn't an accurate reflection of what was to come. It's pure, unremitting fun in both single and multiplayer, with the latter option easily the best implementation of four player mayhem in a main series Mario game. We said the following as we awarded 10/10 in our review
This is a definitive 3D Mario experience, successfully finding a middle-ground between the iconic Super Mario 64 and Super Mario Galaxy. You may not swing Bowser by his tail or run upside down, but it's bursting with creativity nonetheless, while delivering on the craft and skill that defines the Tokyo EAD studio. It's unmissable.
The critical acclaim and buzz has been significant for this one, and if you're still waiting for it you can always head over to our YouTube channel where we're uploading footage of one new level every day up to the release in Europe.

Arriving today in North America, though not until 17th January 2014 in Europe, this is the third portable entry in the mini-game franchise, serving up 80 new bite-sized slices of fun wrapped up in different boards and modes. We've given this a modest 6/10 in our review; the plus points are largely enjoyable mini-games and decent use of the hardware's control options, with modes focused on these experiences — particular in multiplayer — being worthwhile. There is some fluff, however, which combines unfavourably with some disappointing boards and underwhelming single-player options to detract from the experience — that said, we still feel it's worth consideration.
Thankfully, the great collection of mini-games ensures that there may be enough reason for many people to roll the dice.
With two more notable titles from Nintendo and rival consoles to see off, perhaps this 3DS release has the toughest task ahead of it.
---
So, which will you be picking up (when released, in some cases) or getting packed away as festive gifts? Let us know in the poll and comments below.
Which of the big-hitting Triforce of Nintendo games will you (eventually) pick up? (166 votes)
I plan to get all three, of course!

15%

Just A Link Between Worlds

9%

I'll only splash out on Super Mario 3D World

14%

Mario Party: Island Tour, but not the other two.

1%

Zelda and Mario 3D World, without a doubt

51%

Zelda and Mario Party, no Wii U action for me

4%

Both the games with Mario in the title, no Zelda

2%

I don't know yet

2%

None of them, actually

1%
Please login to vote in this poll.