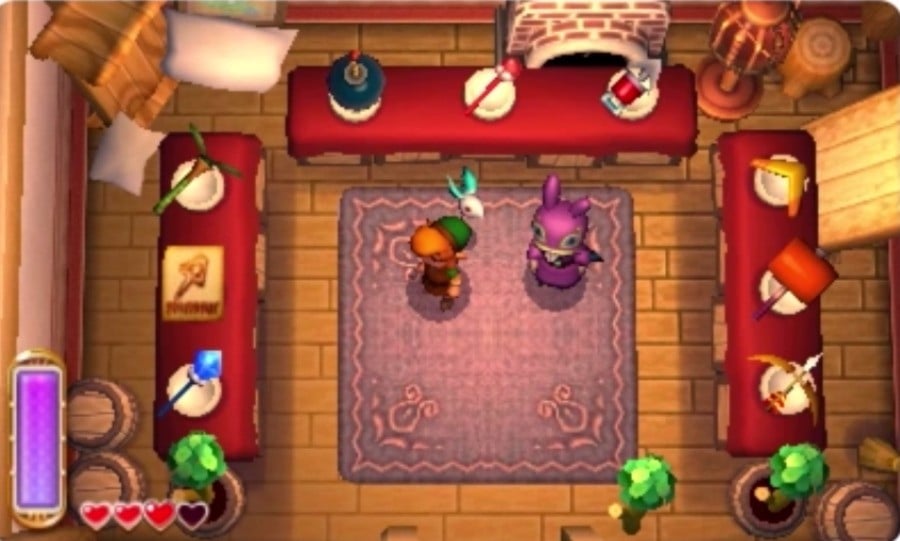 While the Wii U gets the remake treatment with The Wind Waker HD, the 3DS is getting the all-new The Legend of Zelda: A Link Between Worlds, which itself is set in the same world as Super NES classic A Link to the Past. Relatively little has been revealed to date, with Nintendo teasing small details and revealing returning mechanics such as a dark / light world.
In today's Nintendo Direct presentation, Satoru Iwata outlined a shift in convention that could have a fairly substantial impact on the way the 3DS title is experienced. Whereas the series is known for introducing new items and abilities with fairly structured progress, with these options then utilised in increasingly challenging puzzles in relatively linear dungeon routes, this time around players will have greater freedom deciding the order of dungeons to play. With obtaining money clearly hugely important, you rent or buy key items — those typically obtained with progress in previous games — and essentially determine your own path; naturally we'd expect certain items and areas to have some form of linearity, potentially early and late in the game.
It was also clarified that the shop owner responsible for supplying most of these key items is Ravio, who despite visual similarities is not related in any way to Nabbit from New Super Mario Bros. U; that puts that speculation to bed. Some familiar characters, such as Dampe, will also appear in the game.
This new entry in the Zelda franchise arrives on 22nd November in North America and Europe. What do you think of this new approach to obtaining important items?