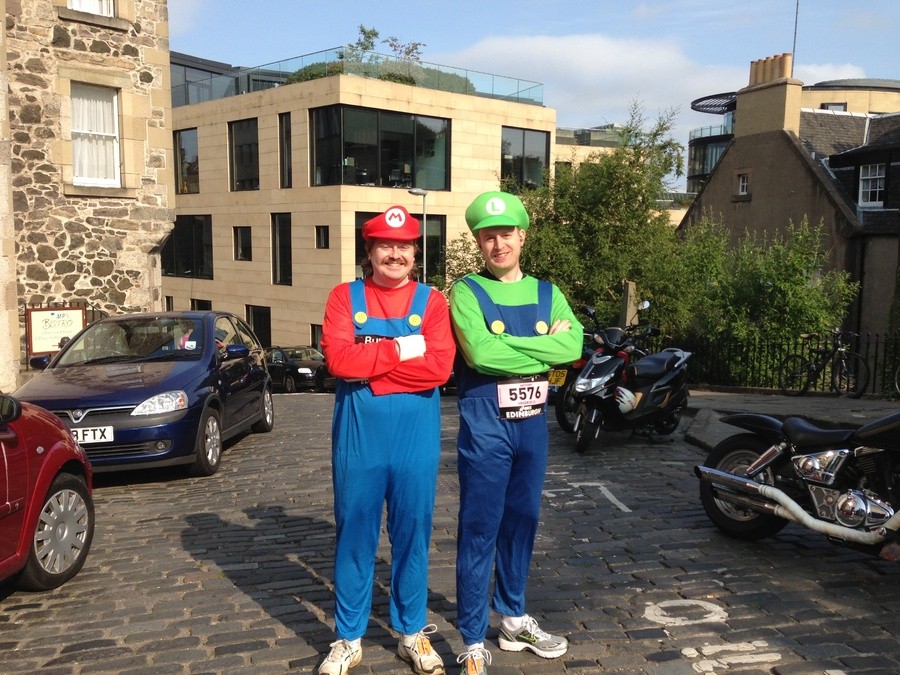 Update:
We've reached the flagpole! Anthony (Luigi) finished in 1 hour 4 minutes 31 seconds, while Tom (Mario) — with the extra necessary tummy to fill the role — completed it in 1 hour 12 minutes 53 seconds. Now both are having some well-earned rest, though you can check out a victory image below.
Original Article:
Two weeks ago we confirmed that Nintendo Life's Managing Director Anthony Dickens and Features Editor Tom Whitehead will be running 10km in the Great Edinburgh Run to raise money for GamesAid. Well, we say running, but as it goes on it may be running a bit, staggering, then walking, and then running again.
It's all for a good cause, with GamesAid supporting multiple charities that fund worthy projects and initiatives. In order to make the day more interesting, Anthony and Tom decided to run while dressed as Mario and Luigi; as you can see in the picture above, they're as good as their word. They also asked you to vote for who would run as each brother; as the taller, slimmer individual Anthony was voted as Luigi in a landslide victory, a decision that's filled Tom with much bitterness. The community has spoken, and the outfits are being worn.
We'd like to thank everyone that's supported the guys with votes in the poll and contributions to the fundraiser. If anyone would still like to contribute towards the cause or simply spread the word, then by all means still hit up the fundraising page.
We'll post a photo of the sweaty and exhausted Mario Bros. when the run is done, but once again our thanks for your support.