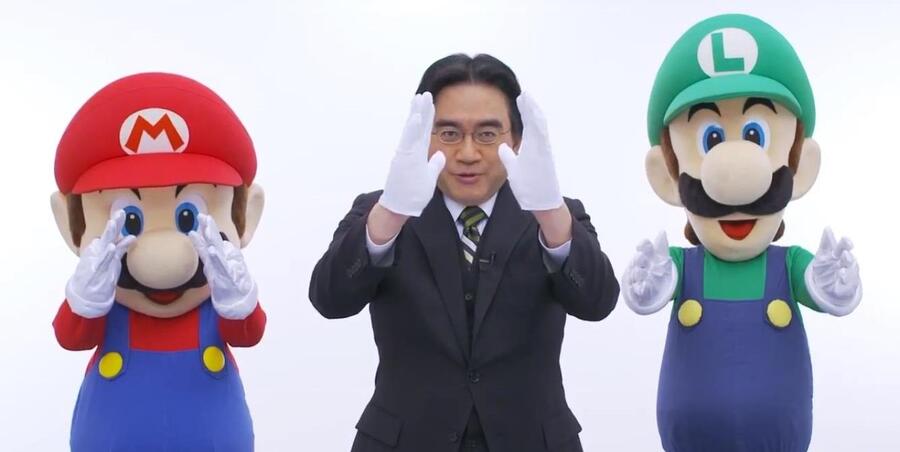 So, yesterday brought us another Nintendo Direct, or 3DS Direct to be accurate, and once again Nintendo threw caution to the wind and got enthusiastic fans rather excited. There were some major announcements made, alongside a smattering of pleasing release dates, which successfully covered many bases.
Keep an eye out for our extensive no-holds-barred summary later today that'll give you all of the links that you needs to see what went down, but before then below are the collective thoughts of four members of the Nintendo Life team. As you can tell, we were pretty pleased with Nintendo's efforts, overall.
Darren Calvert
Given the wobbly start that the 3DS had back in March 2011 with its perceived lack of games, it's amazing to see how Nintendo has turned it around. This Nintendo Direct focused mainly on upcoming 3DS titles and did not disappoint.
Nintendo has never been shy of raiding its old IPs for inspiration, and it seems to me that Mario Golf: World Tour, Donkey Kong Country Returns 3D and Yoshi's Island 3DS will be a perfect fit for the portable 3D powerhouse. Of course what most excited me was the Legend of Zelda: A Link to the Past sequel, which looks absolutely superb. Nintendo sure does know how to give fans of its classic franchises exactly what they want.
This coupled with all the other announcements really fills me with confidence that the 3DS is going to have an amazing year ahead of it; there really is something for everyone to look forward to in this software line-up.
As this was a 3DS themed Nintendo Direct I wasn't expecting to hear much Wii U news, but it was encouraging to hear that the Spring system update is not far away. Also the New Super Luigi U DLC is something nice to look forward to, along with Pikmin 3 which will hopefully get an August launch in Europe, too. Roll on a Wii U themed Nintendo Direct which should give us even more to look forward to later in the year!
Mike Mason
Once again, Nintendo Direct delivered. The latest broadcast surely cemented 3DS as a powerhouse for the foreseeable future, with more details on previously announced titles such as Mario Golf: World Tour and a couple of new hype-inducing announcements. Based on the present line-up, Nintendo might as well just reach into my pocket and pinch my bank card.
As much as I enjoyed seeing Iwata's face plastered onto a lamp in Animal Crossing: New Leaf, it was the new games that had me most excited. The Legend of Zelda: A Link to the Past sequel looks great, and I'm a fan of the wall-inhabiting new power, which reminds me of glitching in the original. And Yoshi's Island is one of my favourite games ever, so there was never going to be any other response than a gigantic grin to the reveal of the new game.
The best thing of all, though, was seeing evidence that Nintendo is listening to its audience. A localisation of Bravely Default: Flying Fairy has been secured, and I can't overstate my glee at seeing Earthbound finally, finally, scheduled for a European release on the Wii U Virtual Console. I've still not played the game at all – is it wrong for a 19 year old ROM to be one of my most anticipated releases for the year?
I saw several complaints about the lack of Wii U focus, given its current lack of momentum, but I remain optimistic. The system update looks like a huge improvement and even incorporates PlayStation Plus-style features such as automatic game updates, and remember that we're still only a few months from launch. 3DS is getting an overflow of titles now because it's a couple of years into its life and those developments are maturing; I fully expect to see the same treatment extended to Wii U in the next 6 – 12 months as its own games move closer to completion.
Tom Whitehead
Overall, I think that was an excellent Nintendo Direct from the big N, both in terms of the worldwide Iwata segment and then the regional sections. Then again, that's little surprise, as the 3DS is in rude health.
For one thing Nintendo delivered a few nice release dates, reaffirming the summer arrivals of Mario & Luigi: Dream Team Bros. — top of my personal summer wishlist — and Animal Crossing: New Leaf; throw in the likely arrival of Mario Golf, and that's a great time to own a 3DS. On top of that I got a real buzz from the new titles revealed. New Zelda and Yoshi's Island games are absolutely huge, especially the former. If Zelda and the new Mario Party both arrive in time for Christmas, meanwhile, the handheld could potentially have a terrific Holiday bump in sales. Oh, and Bravely Default: Flying Fairy is expected this year in Europe, which pleases me greatly.
There was a bit of Wii U thrown in, which was a relief, but they were token announcements really. The system update and VC can't come soon enough, but it's clear that Wii U's hype generator is being charged for another day. I agree with Mike though that the same flood of exciting titles is likely on Wii U once it matures; I also think the current state of 3DS — robust games library, solid sales in various territories — is a good barometer for where the home console could be a year from now. It needs some things to happen, such as a strong lineup at Christmas and either a modest price cut or, if that's not on the table, a series of attractive bundle offerings.
Nintendo can't wait until Christmas to start the Wii U turnaround, though, and to be fair there are some exciting games coming towards Fall; maybe a follow up Wii U Direct with more footage and some solid release dates is next on the agenda. I hope it comes within the next month, to be honest, as Pikmin 3 is still too far away for comfort, while the likes of The Wonderful 101 still need a release date.
Andy Green
I'm not overly sure what I expected from the Nintendo Direct presentation, but the revelation of some brand new games including a new Legend of Zelda title caught me by surprise!
After watching the show I couldn't help but be staggered by the sheer quality of the 3DS catalogue. I personally feel it's the best console on the market right now simply because of the titles it has on offer both in the retail and eShop environments. With Luigi's Mansion: Dark Moon recently being released and the likes of Fire Emblem: Awakening, Mario Golf: World Tour, Mario and Luigi: Dream Team Bros, Animal Crossing: New Leaf, Pokémon X & Y, Yoshi's Island AND The Legend of Zelda all on the way, the dilemma for many 3DS owners will be what to pick up and what to leave on the shelf.
I only wish I could say the same about Wii U, although I'm confident Nintendo has a few big announcements up its sleeve for E3; the delay to Pikmin 3 is a severe disappointment. Don't get me wrong, there are some top titles already on the system but I just feel it really needs that one big-hitting first party title to really help it on its way. We'll see more at E3, keep the faith!