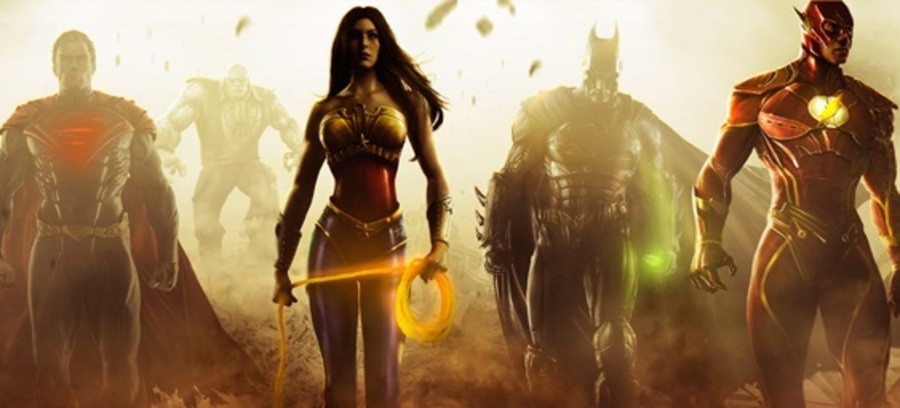 Upcoming beat 'em up Injustice: Gods Among Us features a plethora of characters from the DC universe and is fighting its way onto consoles on 16th April in North America and 19th April in Europe.
Considering just how many characters have graced the pages of DC comics over the years, its understandable that the developer NetherRealm Studios couldn't include them all. In an interview with Siliconera, the game's producer Erin Piepergerdes said there was plenty of heated debates over which characters should make it and which ones would be cut, but in the end it was logic that made the choices more than anything else:
Obviously, we want to have a mix of big power characters like Solomon Grundy and Bane as well as a mix of the more agile guys like Flash and Nightwing. We look for a good mix of powers and styles. We kind of put characters in a few different broad categories and from there make sure we're pulling evenly. While paying attention to at the same time fan favorites as well as we got some characters in there that are maybe a little more obscure to appeal to fans of the comic books. There are a lot of things we have to juggle and balance so it is certainly not an easy process by any means.
Naturally, fan favourites such as Batman, Bane, Superman, Wonder Woman, The Joker, Green Arrow, The Flash and Green Lantern will all be playable but that doesn't mean all members of the team were totally happy with the selections, with Piepergerdes saying there was one particular character he would have liked to have seen included:
Detective Chimp. I'm not even lying. Adam [Urbano] and I have been fighting to get Detective Chimp in the game, but we were overruled. It's probably a little too crazy. We have fun making our games, but at the end of the game we want it to be a serious game and not super silly.
NetherRealm is well versed in fighters - its previous games include Mortal Kombat - but the studio didn't want to create an identical experience, instead it opted to try new things. Injustice: Gods Among Us features a playing style similar to Street Fighter in that there are three buttons to attack, with blocking being done by walking backwards.
Piepergerdes said this new style was implemented to freshen things up, but also to attract a more broader audience:
The three button control scheme does tend to lend itself well to a more casual market. Also, this game is teen rated compared to our last game, Mortal Kombat, being rated M. It does go into our thought process to reach a larger audience.
As with most fighters, DLC will most likely be available for Injustice: Gods Among us at some point down the line. Piepergerdes said the DC universe has "a lot of content" that can be added to help expand the game's longevity.
The Wii U edition will largely be the same as the PlayStation 3 and Xbox 360 versions, although it does feature some GamePad specific extras such as off-TV play.
What are your thoughts on Injustice: Gods Among Us? Are you interested in it? Let us know in the comments section below.
[source siliconera.com]