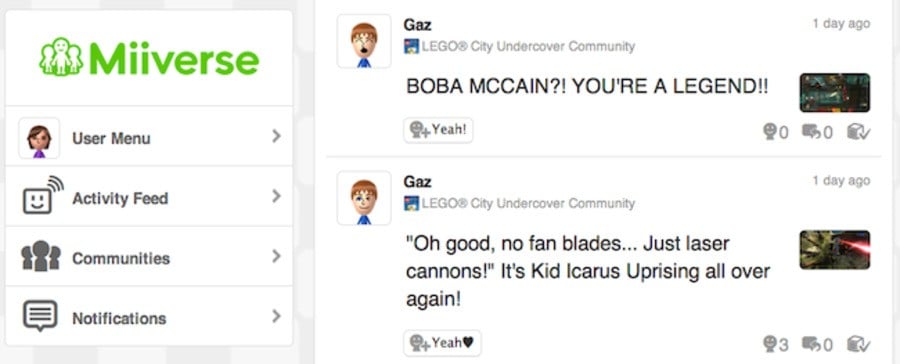 Miiverse, that perfectly civil, friendly and downright jovial Wii U utopia of a social network, which doubles as a place to discover just how much patience people have for creating incredibly elaborate works of art using two colors and a stylus, is now available in your browser. You're now free to sit in the back of the bus and marvel at all the illustrations of Adventure Time and Midna you want.
The browser version is almost the same as what you'll find on Wii U, with a few features reserved for the console. You can scroll through your activity feed, hop in to Communities, view screenshots, drawings and user profiles, and Yeah! or comment on other people's posts. However, if you want to post directly to a Community or add a friend, you'll still have to do that from the ol' Wii U.
Miiverse requires a Nintendo Network ID account, which can only be created on a console.
Desktop and mobile versions of the site are available, and functionality is the same no matter your browser.
Nintendo has previously talked about bringing Miiverse to 3DS but doesn't really want to talk about it right now.
If you like Miiverse then Yeah! this post.
[source miiverse.nintendo.net]