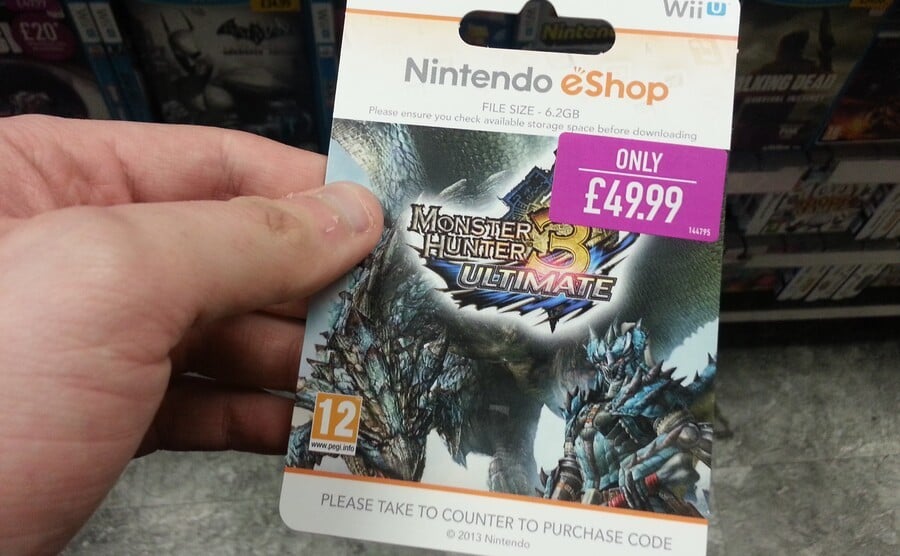 UK video game retailer GAME has announced an exclusive partnership with Nintendo which allows it to sell software via eShop codes in-store and online. The agreement will allow Wii U and 3DS owners across Europe to purchase digital content for their consoles via GAME's chain of physical stores and via its website.
Previously, GAME sold eShop cards for set values. However, this new system will allow consumers to purchase special cards for individual games — as is the case with select retailers in Japan.
In the UK, GAME is also offering an additional 25% trade-in value on selected games against Nintendo eShop purchases made in store.
The full press release is below.
From today, GAME will become the first retailer in Europe to sell Nintendo eShop codes online and in store.

The new offering, which coincides with the launch of Fire Emblem, is exclusive to GAME and will allow customers across Europe to purchase digital games for Wii U and 3DS consoles.

Customers will be issued codes via till receipt (for in-store purchases) or email (when bought online), ensuring they are the first to get their hands on the latest games.
Once activated, codes can be entered into the Nintendo eShop on the console and the game will be downloaded.

The Nintendo partnership with GAME also makes it possible for gamers across Europe to purchase codes through its online store via PayPal or credit/debit card.

For customers in the UK, GAME is also offering an extra 25% trade-in value on selected game trade-ins* against Nintendo eShop purchases in store.

Charlotte Knight, Category Director for GAME says: "We're really excited about this partnership with Nintendo, as it makes it so much easier for gamers to access Nintendo digital content, not just in the UK but across Europe.

"We're thrilled to be able to offer brand new Nintendo Wii U and 3DS releases as digital download from day one of release, and that starts today with Fire Emblem Awakening on 3DS."
What are your thoughts on this move? Will you be tempted to purchase codes in-store, or do you not see the point when you can simply make purchases via the console itself? Drop a comment to tell us your feelings.