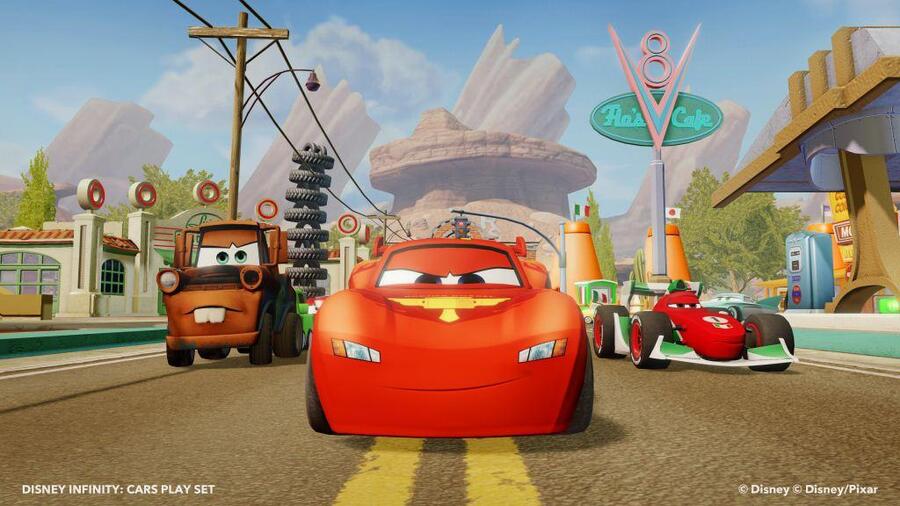 Ahead of the summer release of Disney Infinity on Wii U, 3DS and Wii, we can expect Disney to continually reveal more details about the optional extras that we'll be able to buy. Like Activision's Skylanders series, there'll be all manner of toys that unlock characters, as well as other add-ons that'll act as buffs for your characters. The most expensive additions will be Play Sets — at $34.99 in the U.S. — and Disney has today confirmed a new play set that will be available separately from the Starter Pack; it'll be for the popular film franchise Cars.
In the structured Play Set area in the game — which will contain a story and various challenges and puzzles — the player will "enter the virtual world of Radiator Springs, where they will prepare the town for a big international racing event". There will be customisation available in that world, but the true sand-box area that allows freedom is the Toy Box, with this set allowing track pieces and car racing gameplay options to be added to this user-created portion.
Naturally this set will also open up an increased role for characters such as Lightning McQueen, Mater, Holley Shiftwell and Francesco Bernoulli. It's still a little unclear if any of these toy figurines are included with the Play Set, or whether they come separately — previous confirmed pricing listed individual character toys at $12.99 or three packs for $29.99. We've sought clarification and will update this article if we receive confirmation.
Cars is a particularly successful franchise, so it's no surprise that it'll be joining those already confirmed: Monsters University, Pirates of the Caribbean and The Incredibles. Are you pleased about this news, and are you intending to dive into Disney Infinity and its various toys/accessories this summer? Let us know in the comments below.