So here we are, North America, your Wii U day has arrived. It's a Super Sunday, and some of you will be lucky enough to have a midnight launch, while others will need to have a good night's sleep and wait for the stores to open. Either way, you're first up for Nintendo's brand new system, so we expect you to be rushing home, impatiently twiddling your thumbs as the day one update installs, and then playing games, games and more games.
There are plenty of boxed games to look forward to, of course, and there'll be a juicy collection of eShop games to choose from as well. There's only one negative: at some point you'll need to plug your GamePad in for a charge.
Of course we're working on bringing you extensive coverage over the coming days and weeks, reviewing the launch library and dissecting every inch of Wii U's hardware and software. But today is about launch day excitement, the first day of a new era of home console from Nintendo. We have three team members who'll be sharing their launch experiences with you: Ron DelVillano (possibly gloating from a midnight launch), Joe Walker (who'll bring you a video later in the day) and Morgan Sleeper (picking his up and strapping it to his Vespa for the ride home).
They'll be updating the live blog below with thoughts and photos, and preceding posts with their initials so you can keep track of who's doing what. We also want to post your launch day photos and comments, so if you want to share your Wii U experience with the rest of the community email us — [email protected] — and we'll pick the best photos and messages for the blog. Some of the posts throughout the day will also be tweeted, so follow us on Twitter for all of the launch day excitement.
So, here we go.
Live Text - Updates will load here automatically, no need to refresh the page.
03:25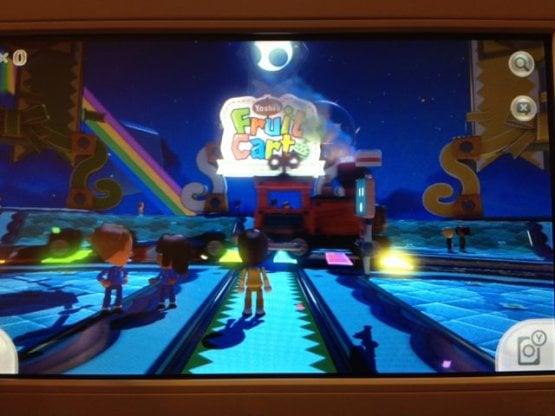 Morgan - And that about does it for me tonight! I couldn't agree more with Joe, it's been a seriously great day!! A huge thanks to Joe & Ron for being the best live-blog Nintendo Life News team anyone could ask for, and an equally huge thanks to everyone reading at home for your comments and for letting us share our launch day excitement with you!! If you've got any more questions or requests keep 'em coming in the comments and we'll do our best to help you out! For now, goodnight Nintendo Life!! =)
03:17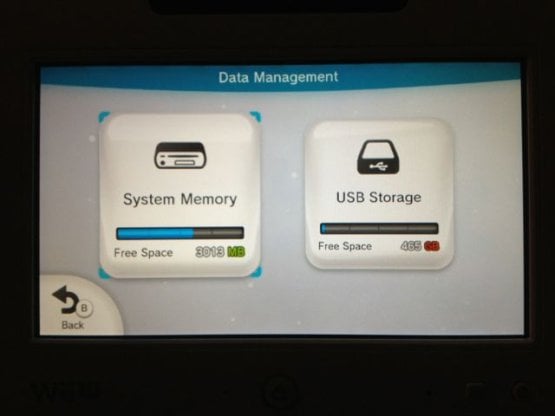 Morgan - And here's how it shows up on the data management screen. I moved Hulu Plus to the USB drive and back again just to test it, very simple process!
03:16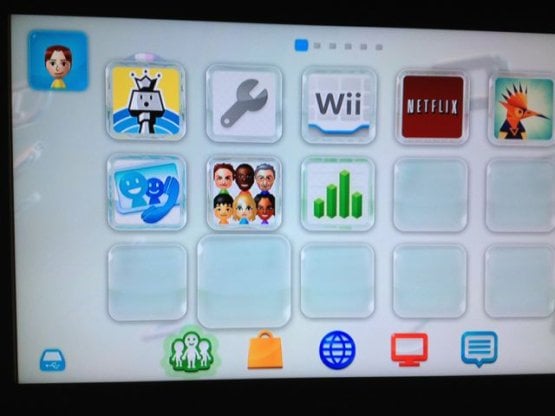 Morgan - Just hooked up & formatted a 500gb USB drive with no problems at all - the little icon in the bottom left means it's connected & working!
03:10
Morgan - Having had a chance to play some 3-player Nintendo Land, I can totally vouch for the awesomeness of it all!! It's amazing how much fun it is to play digital tag! I've got one last thing to try for you dear readers before I call it a night, pics in a second! =)
02:06
Joe - Well folks, I've think I've said just about all I can say today. I've had an absolute blast with the Wii U. It's everything I wanted it to be and more. It's an incredibly charming console and you can't help but smile when you play. Thanks to Morgan and Ron for teaming up with me on this, and huge thanks to all of you for letting me share my launch experience with you! Long live Nintendo! Long live Wii U! Goodnight!
01:24
Joe - Showed my in-laws the system and Nintendo Land and they were VERY impressed. My father-in-law said Nintendo Land was more impressive than Wii Sports and that the Wii U was the greatest console upgrade he's ever seen. Take THAT, haters!
01:21
Joe - Having someone creating blocks on the GamePad in NSMBU makes for a chaotic time!
01:00
Morgan - Also, after playing far too much Wii U today I can confirm that the GamePad is way more comfortable than it has a right to be! I got a bit over 3.5 hours on my first charge & it's recharging now, but since the GamePad charger cable's 8 feet long I've had no trouble playing while it's charging!
00:57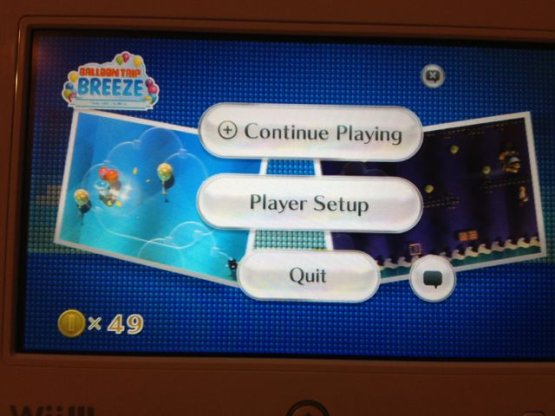 Morgan - A nice Nintendo Land touch: after you play each attraction, the little photos scrolling by in the background are actually from your last playthru!
00:32
Morgan - Hey cool, I "yeah'd" that =D Miiverse really is a great little ecosystem, the Swapnote/Letterbox-style handwriting makes it a lot more personable than similar ideas! Also, Art Academy has obviously been working because there are some talented artists on there!
00:17
Joe - Wii U, where "unyeah" is a thing.
" />
00:07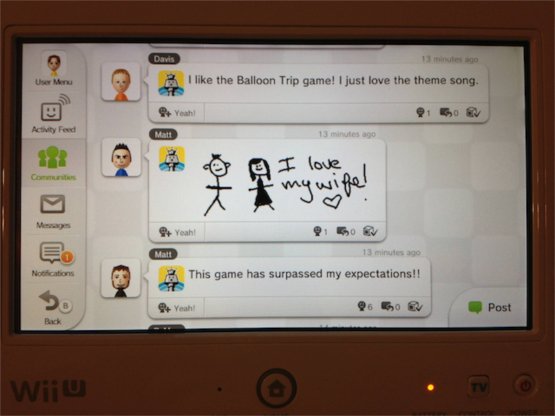 Morgan - Here's what Miiverse looks like in the wild! (Aww =D) Shout out to Matt, a fellow romantic!
23:46
Morgan - Make sure you check out Joe's brilliant impressions video ( http://youtu.be/3PQc-naKkI0 ), and let us know if you've got any questions in the comments section! And don't forget you can email us your launch day photos & thoughts at [email protected], too! In the meantime we'll keep posting as we keep playing! =)
23:45
Ron - I noticed the music in the eShop too, Morgan! Very well done.
23:43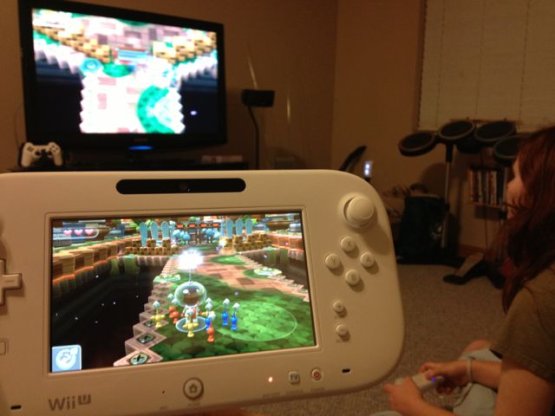 Morgan - Zelda & Pikmin are both great fun even with just two players!
23:43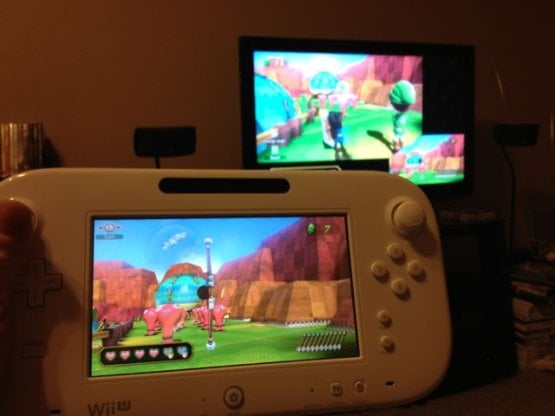 Morgan - Here's a few pics of Nintendo Land co-op attractions!
22:40
Video - Joe's Initial Wii U Impressions
22:28
Morgan - Just played a game of Animal Crossing Sweet Day in Nintendo Land! Awesome!! Didn't notice my face showing up on the screen til it was pointed out to me! Lots of neat little surprises like that everywhere! =)
22:08
Joe - While the wife is shredding some delicious pulled pork I've got a first impressions video rendering...!
22:00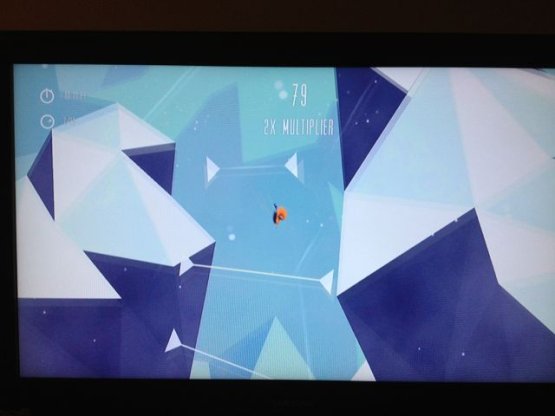 Morgan - Here's a pic of Chasing Aurora, it looks beautiful in action on the HD screen! I've noticed it's rather hard to soar and take pictures at the same time. Re-doing that level!
21:44
Morgan - Yes! Miiverse connection success!
21:29
Joe - The wife and I need a break, so we're stopping to catch our breath and make dinner. I'll be back with a short video with my initial impressions later!
21:27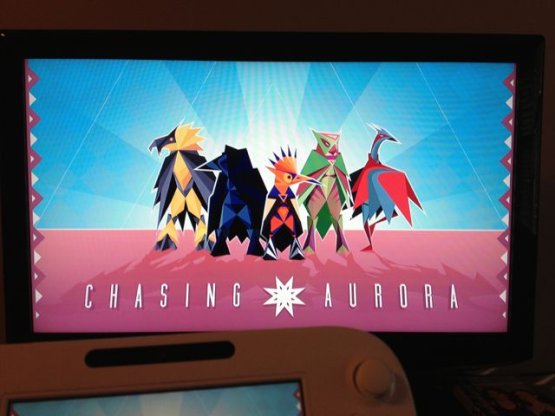 Morgan - Chasing Aurora!
21:17
Joe - The Mii chatter on the WaraWara Plaza is incredibly charming.
21:12
Morgan - On the home screen, I keep thinking I'm hearing loquacious cats somewhere just outside my house. It's the Miis in WaraWara!
21:11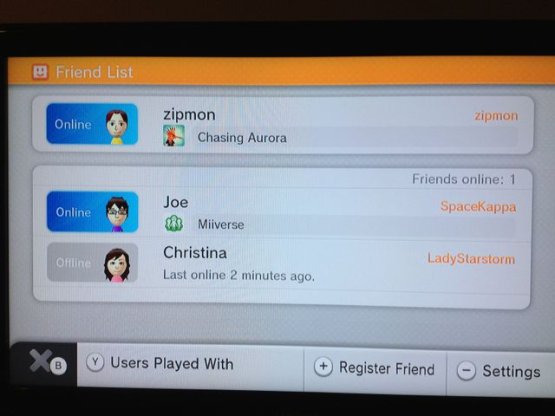 Morgan - My now populated friends list!
21:08
Joe - Mighty Switch Force HD is about 530 MB. I forgot to write down the exact filesize!
21:04
Joe - SO many, not no many! :s
21:04
Joe - There's no many neat little details and features on this system. It's really something special.
20:48
Morgan - Just had my Home button blink blue to tell me a friend's online!
20:33
Morgan - Once a game's finished downloading, you have to go back into Download Management and manually install it, and then it'll be added to the Wii U Menu.
20:31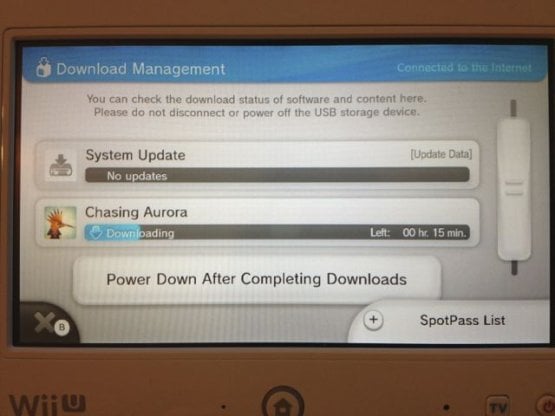 Morgan - The download defaulted to the background and let me keep on shopping! You can check on progress in the "Download Management" section of the home menu.
20:29
Morgan - Walked into my room to get my credit card & ended up staying in there to buy the game on the GamePad, worked flawlessly ~20ft away from the Wii U and through a wall. Neat!
20:25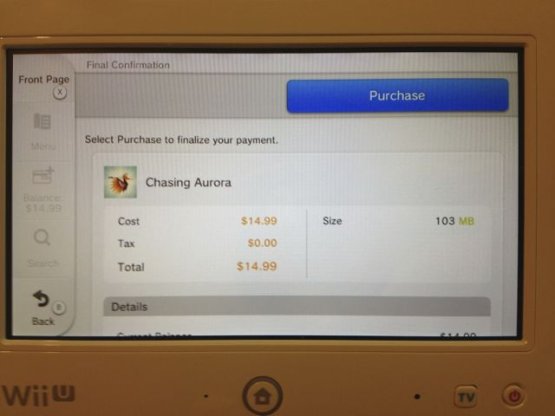 Morgan - eShop download sizes are shown in MB, not blocks! Very cool/helpful!
20:24
Morgan - eShop looks great & navigating it on the GamePad is way easier than the Wii Shop Channel or even the 3DS eShop. Coolest feature though? The awesome background music is split between the TV speakers and the GamePad speakers, each playing different parts! That's gotta be the coolest "woah" Wii U moment yet for me!
20:24
Joe - This just in: New Super Mario Bros U is an absolute blast! Film at 11.
20:15
Morgan - Except that I'm getting a Miiverse error at the moment, so I'll come back to that later! eShop adventure incoming, stand by!
20:12
Morgan - "Have fun in Miiverse!"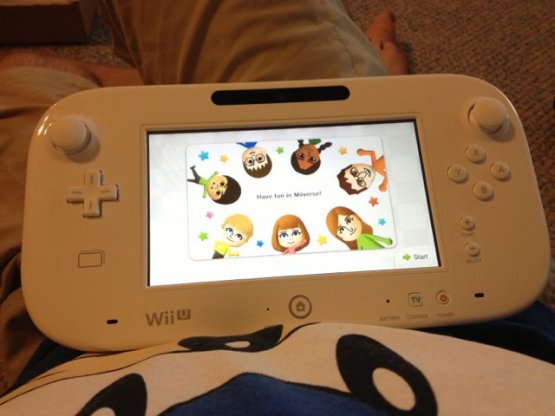 Thanks Nintendo! I'm sure I will! =)
20:03
Morgan - Setting up Miiverse now! You know, I fancy myself an "Expert" player but I really prefer the chick with the fork icon of "Intermediate"!
20:01
Morgan - Pulling out the stylus a lot, can't seem to bring myself to smudge the GamePad screen with my fingers! =)
19:49
Morgan - Up and running! WaraWara plaza looks great!!
19:49
Joe - New Super Mario Bros U has an update as well! It's short though.
19:43
Joe - The Wii U has a small white LED to indicate when there's a disc in the system. Handy if you plan on moving the console between rooms a lot!
19:35
Morgan - In the meantime, this just in: Wii U box is 100% bunny approved!
19:34
Morgan - Woohoo!! Update's finally downloaded, installing now!
19:26
Joe - GamePad battery is already crying uncle!
19:21
Joe - This is what the Wii U friends list looks like.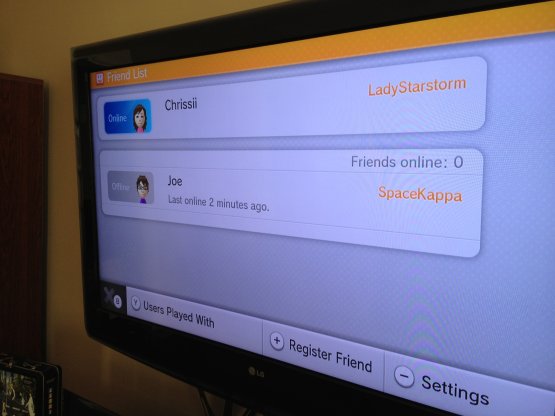 19:12
Joe - Can't connect to Miiverse, keep getting errors! Grrrr!
18:56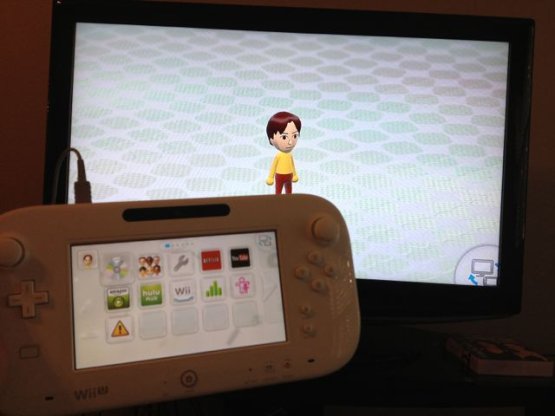 Morgan - Here's some of the interface and my lonely Mii, before I restarted the update!
18:35
Morgan - Menu & background music is all wonderful! Feels like I've just walked through the doors of a space-spa.
18:29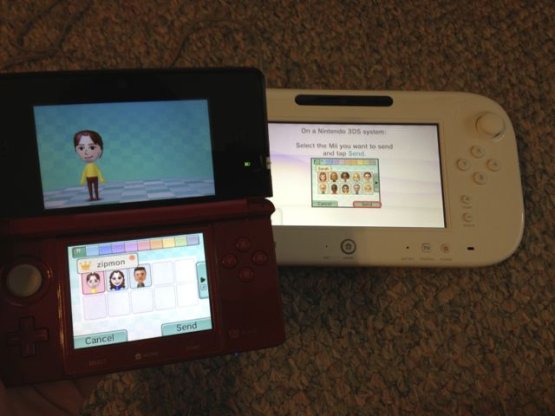 Morgan - Transferring my Mii from the 3DS! Protip: make sure you set yours to "Allow Copying" before you send it over!
18:25
Morgan - Wow, good news & bad news! Bad news is my system got unplugged while downloading the update, good news is it isn't bricked! =O More good news, got some pics of the interface & Mii transfer in the process, will upload in a sec & then get back to the update! =)
18:12
Joe - The rounded disc edges ARE awesome... they're oddly fun to hold!
18:08
Morgan - Also, rounded disc edges are awesome!
18:06
Joe - Popped in Nintendo Land, it has its own 10 minute update.
18:06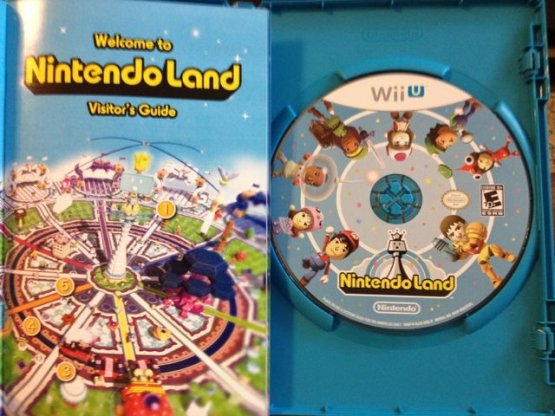 Morgan - And these games are gorgeous! Love the blue!
18:05
Morgan - I'm about 1/3rd of the way through the update, in the meantime I can confirm that Club Nintendo is live for Wii U game registrations!
18:03
Joe - Got my Nintendo Network ID set up... As you could probably guess, it's SpaceKappa!
18:00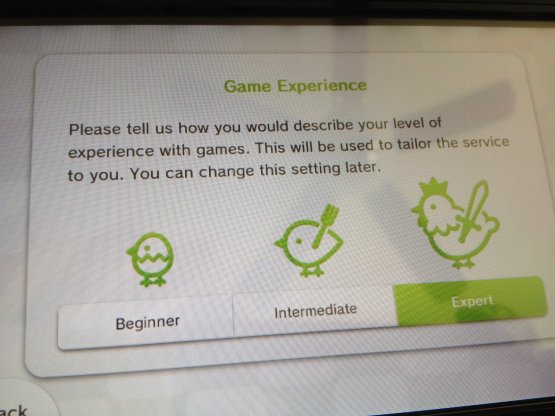 Joe - Haha!
17:59
Joe - Oh Nintendo!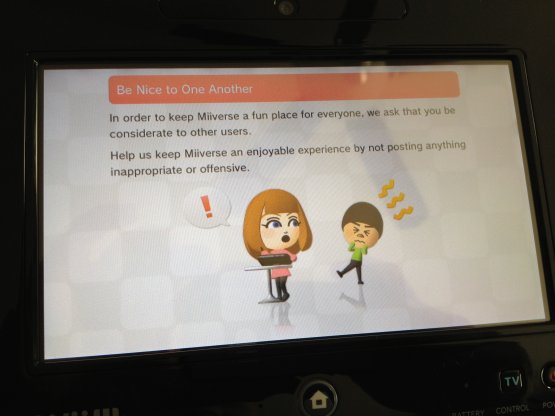 17:48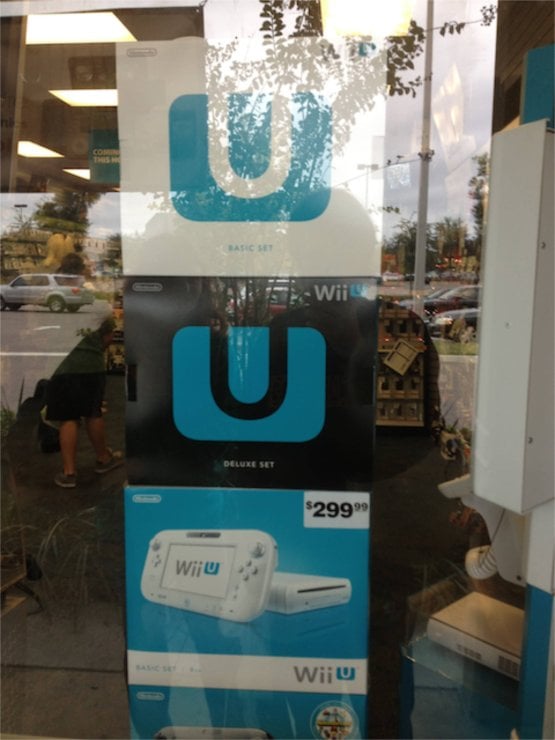 Morgan - signage!
17:47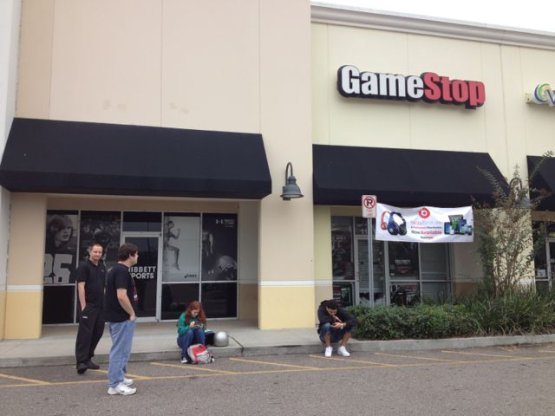 Morgan - How bout some pix from the pick-up while I wait for the update? Here's a few early birds before opening, and lots more arrived as the doors opened, I'd say about 20 people there all together by the time I left!
17:39
Morgan - Just wanted to say I think it's really nice they put Nintendo Land in a proper box for the Deluxe set pack-in! The other Nintendo consoles I've bought with pack-in games (Mario Kart DS set & a Wii) both had cardboard packaging for the included games.
17:33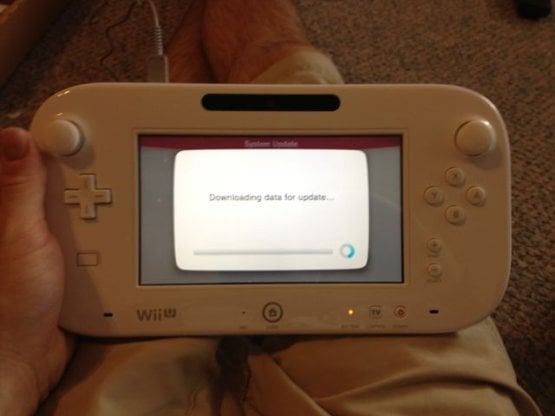 Morgan - Now a proud member of the Hurry Up & Wait club! This is a seriously beautiful system, btw!
17:28
Morgan - Setting up internet now, this stylus makes a huge difference in inputting a 32 character passcode!! =D
17:28
Morgan - Joe's right, the screen on the GamePad's amazing!
17:28
Joe - I can't get over how sharp the GamePad screen is. Naysayers who wrote it off for not being HD have definitely misdirected their complaints.
17:23
Morgan - Wow, the gamepad really does feel great!
17:22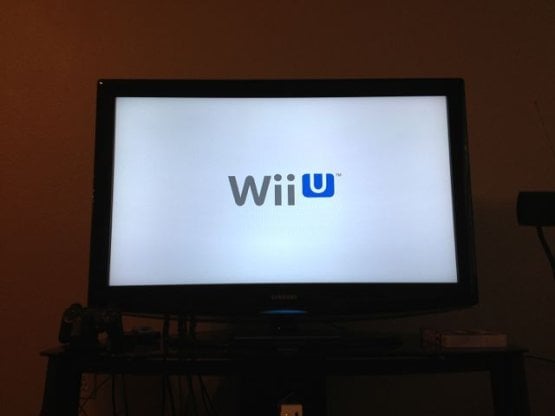 Morgan - we have liftoff!!
17:20
Joe - Stop me if you've heard this one... A guy walks into a progress bar...
17:17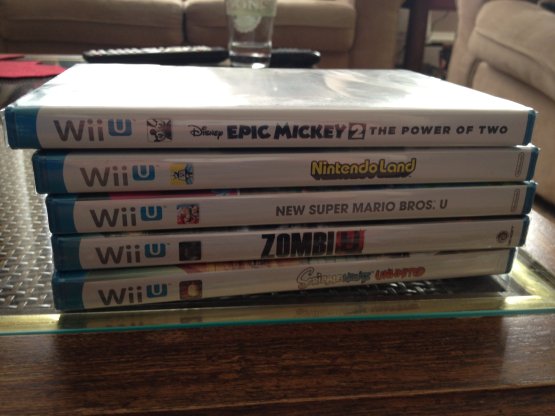 Joe - The game cases look great. The spines are like 3DS cases, all white with an icon and title. The color blue they used is gorgeous.
17:14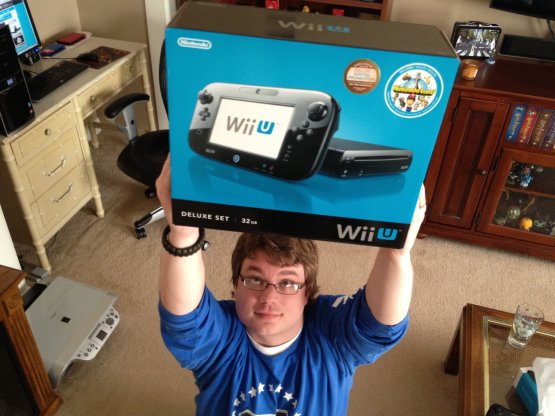 Joe - I took a Zelda-style picture and kneeling makes me look short!
17:12
Joe - Pro controller is so shiny I can see my reflection! It feels wonderful though. I was concerned that the analog stick/button placement would feel weird but it's very natural. Feels solid to hold, not too light or heavy.
17:11
Joe - Pro controller feels great!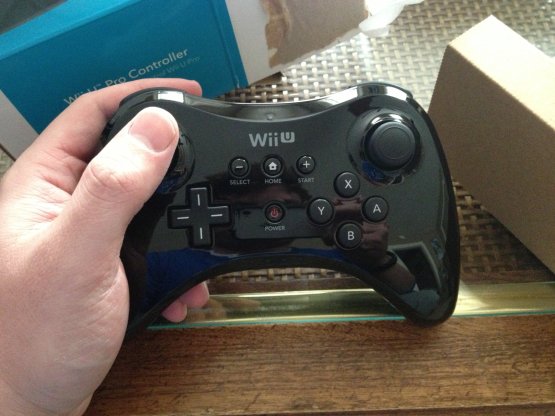 17:06
Morgan - If you need to protect yourself from rabid shoppers on Black Friday, this Wii U power brick has got your back! Just sayin'.
17:03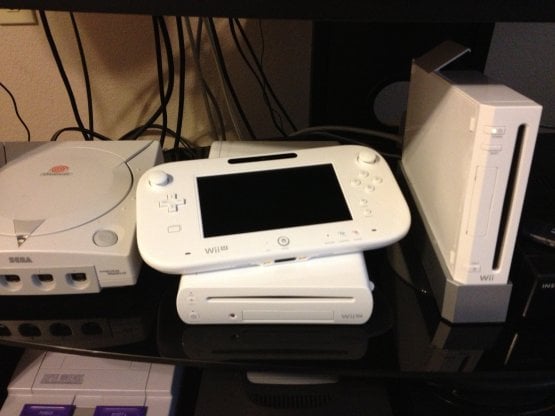 Morgan - taking its place among giants!
17:00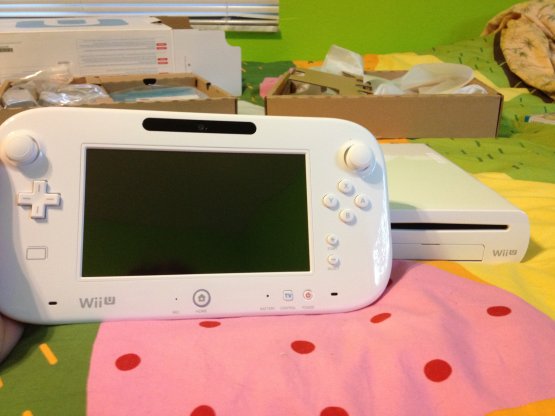 Morgan - out of the box!
16:58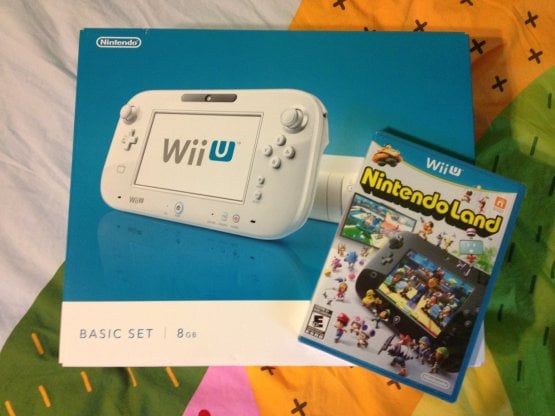 Basic set! =D
16:56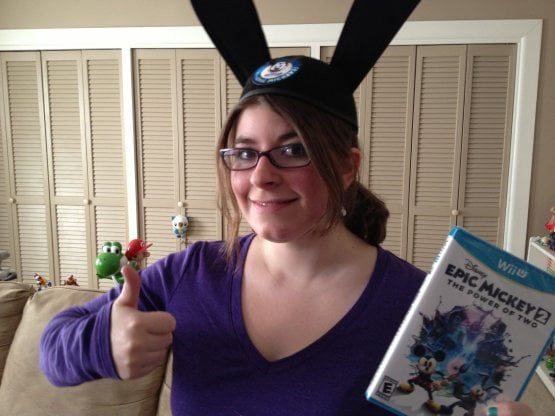 Joe - My wife is totes excited for Epic Mickey 2, can you tell?
16:53
Morgan - Just home now, store experience was great! About to do some unboxing! =D
16:52
Joe - Any questions or photos you want to see? Let me know in the comments!
16:50
Joe - The update's gonna take a while, so time to do dishes. Morgan wins coolest Wii U launch photo.
16:48
Morgan - Success!!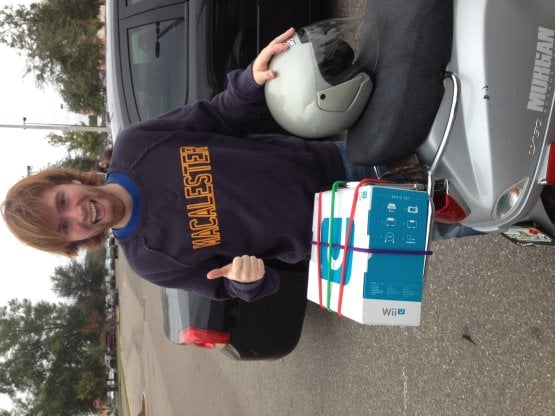 =D
16:44
Joe - Setup was a snap. Using the GamePad to control my TV and cable box is surreal. My wife and I knew it was going to work and still blew us away.
16:43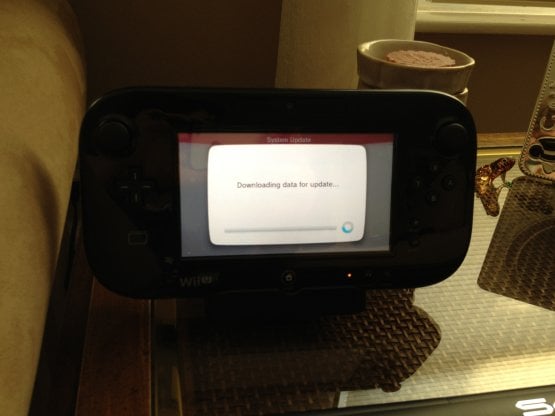 Joe - The charge cradle for the GamePad that comes with the deluxe system is going to be an invaluable accessory!
16:41
Joe - What everyone will see today!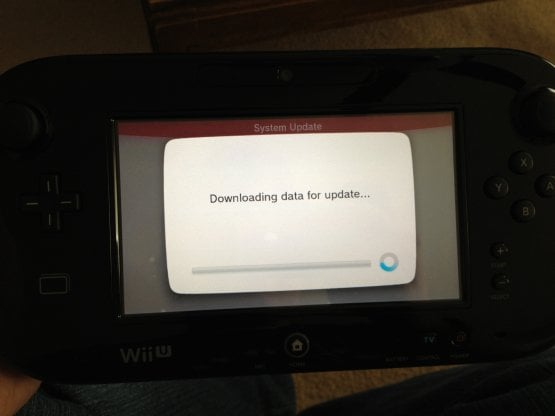 16:33
Joe - We have liftoff!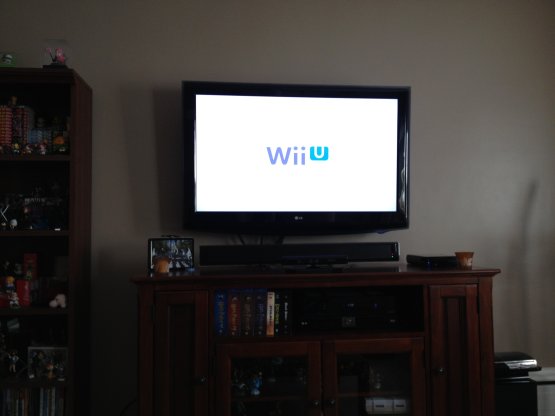 16:31
Joe - Turning it on for the first time...!
16:23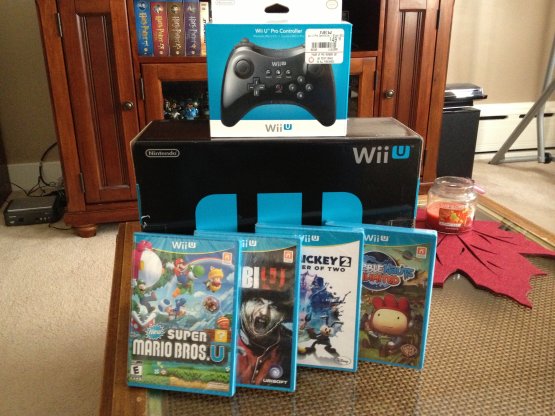 Joe - Eagle to nest, the package is secure. I repeat, the package is secure!
16:16
Morgan - Wii U in hand!! =D not enough cell service to upload pics so ill send them when I get home - met lots f great Nintendo fans in line, lots of excitement for the new system!
15:58
Morgan - Made it to the store! No signage up but chatting with some Nintendo fans outside!
15:40
Joe - The first piece of Wii U signage goes up!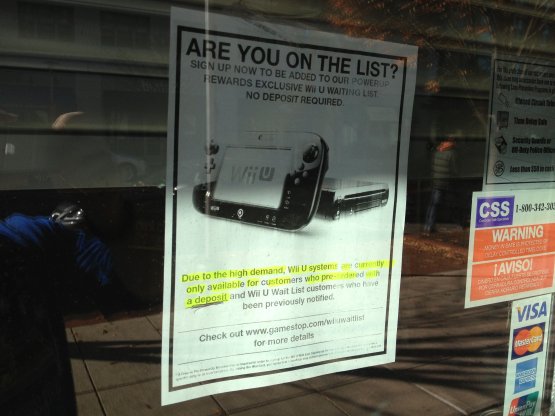 15:36
Joe - Standing right outside the door in an attempt to get them to open a few minutes early!
15:33
Joe - T-minus 30 minutes and we're still the only ones here!
15:32
Ron - When I woke up this morning I grabbed my GamePad and used it to turn on both my Wii U and my TV separately. It was awesome. Good luck, Morgan and Joe!
15:32
Morgan - Headed out to the store! =D Watch this space!
15:26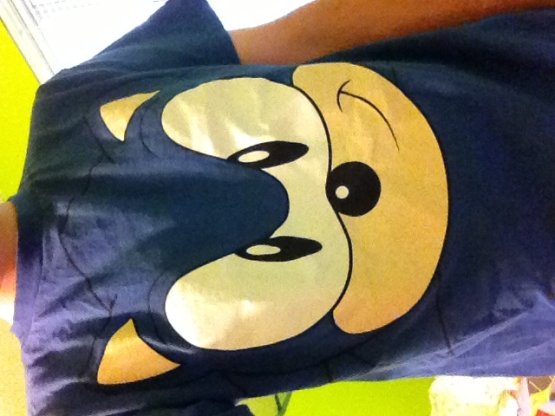 Morgan - James would be proud of my ceremonial outfit choice today, I think! =)
15:15
Morgan - I'll be picking up the Basic bundle today, so if anyone wants to see some pics of the Wii U in King Boo White, I'm your man!
15:10
Joe - But some guys at Starbucks just complimented me on having "the coolest shirt ever" so there's definitely Nintendo love in the air!
15:08
Joe - It's sad to see there's absolutely no Wii U signage outside this GameStop. This is big, people!
15:01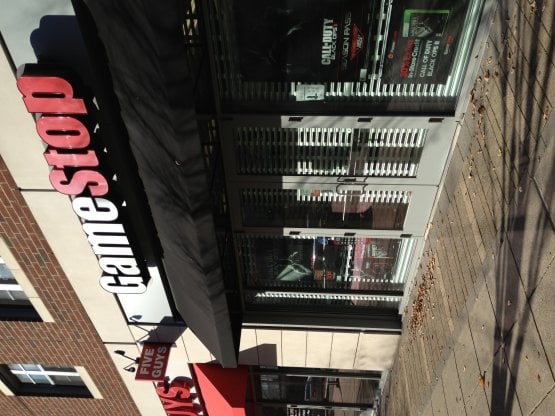 Joe - One hour until open at the Everett, MA GameStop and no line. I know for a fact they have a few extras, too!
14:57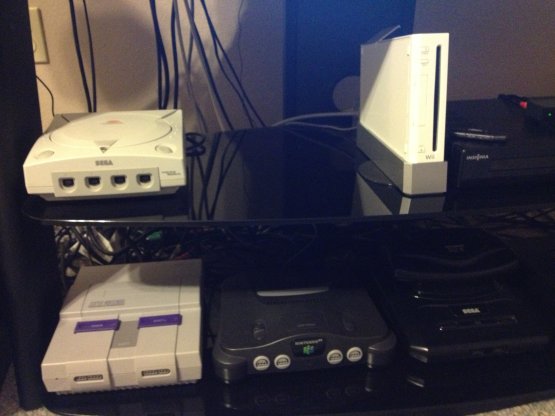 And U will go riight here!
14:31
Morgan - Goooood morning Nintendo Life!! Ron was a hero last night, everybody give him a hand! I'm grabbing a breakfast of champions & clearing off some shelf space before heading out for the big day!
14:04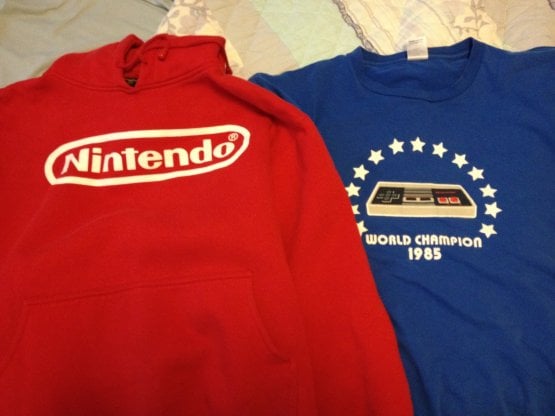 I'm up and getting ready to head out... just gotta decide what to wear! - Joe
13:14
Tom: Keep an eye out for Joe and Morgan's own Wii U Adventures soon, and maybe a well rested Ron will make a return, too.
09:25
Ant: thanks Ron! Get some sleep...
09:21
Ron - My body is ready... for bed.
09:14
Ron - Well, folks, that's it for me tonight. I know many of you will be out getting your own Wii U consoles tomorrow, but be sure to tune in tomorrow morning to hear how my dear friends Joe and Morgan fare in their quest to acquire consoles of their own. Should be quite the adventure for both of them!
08:48
Ron - No signs of virtual console games yet, but I suspect they'll be coming soon. I'll hold out hope for VC games soon.
08:46
Wii U eShop screen and a brief description for those of you wondering.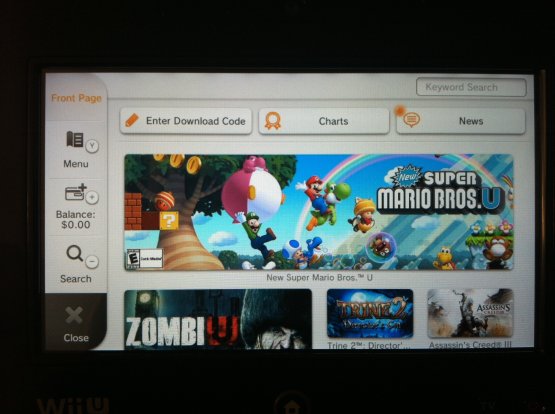 Ron - This is what the "Front Page" of the Wii U eShop looks like. It's different in layout, but it actually works a lot like the 3DS eShop. Tapping different games will bring up more info about them, and most have videos as well. There are also videos available for games that are coming soon, or are only available at retail.
08:30
Ron - Without loading up any actual Wii U games, that seems to be about it for now. A lot of the features have little nuances and things to explore, but everything is pretty straight forward. Was there anything specific that people want me to check for right now?
08:17
Ron - To play Wii games you have to launch an app called "Wii Menu." This basically causes the Wii U console to run an emulated version of the Wii software that shows the windowed menu that we all remember from the Wii. Kind of strange, but whatever works works.
08:12
Wii to Wii U system transfer - it's all or nothing!
Ron - According to the Wii U instructions regarding Wii system transfer "You canot selectively transfer individual pieces of data." Sorry, folks.
08:10
Ron - When you press the "Home" button on the GamePad you can access the Download Manager. It shows you what you're downloading in the background, but you can still run other games and apps while downloads are happening.
08:08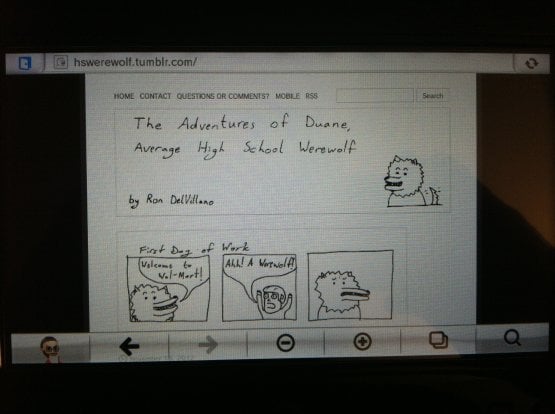 Ron - The web browser seems to work pretty well. A little faster than the 3DS, and you can choose to display on either the GamePad or both the GamePad and TV. Perfect for reading your favorite webcomics!
08:03
Ron - Have I mentioned how great things look in HD? The Wii U menus are all really crisp, and they don't look bad on the GamePad either!
08:02
Ron - Trine 2, Little Inferno, and Mighty Switch Force are among the available games thus far. Should be enough to keep gamers busy for a little while!
08:01
Ron - Checking out the eShop right now. Everything looks pretty good, but it's a little light on content. According to the shop, there are 45 downloadable items right now, but this includes videos and retail games as well. With any luck, it'll start to fill up pretty quickly.
07:54
Netflix is alive on Wii U! Still no Nintendo TVii thought.
Nintendo TVii isn't up and running yet, but the Netflix app is! Hulu+ and Amazon Instant should be good to go with a coming update.
07:43
Ron - After the update, I have 25 gb left on my 32 gb harddrive.
07:42
Ron - Miiverse looks a little barren right now, but it appears to be a notification center where you can add friends and send messages to other Wii U users. Should be pretty cool once more people get their consoles up and running.
07:37
Ron - loading up Miiverse. Details to follow.
07:28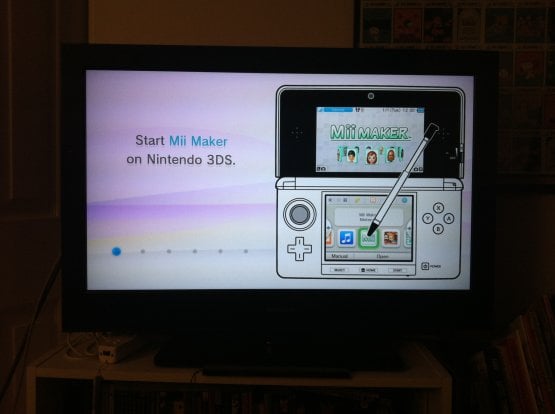 Ron - about to transfer my Mii from my 3DS to my Wii U!
07:24
Ron - Update just finished! What could be next?!
07:20
Ron - Just folded and put away laundry that I've been avoiding during the system update. The Wii U is already changing my life for the better!
07:15
Ron - Good news, everyone! The initial wait time was just to download the update, now it's installing! Going MUCH quicker this time.
07:08
Ron - This update has given me plenty of time to think and reflect on life. I just remembered that I forgot to pick up more dental floss tonight. If I had to guess, the update is at about 92%.
06:58
Ron - Just kidding! We have way too much to cover still! I am putting on another pot of coffee though...
06:57
Ron - Well, it's late, and I'm going to head to bed now.
06:55
Ron - Still updating, but we're in the home stretch. I'm pretty excited to check out Miiverse and see what's on the eShop.
06:40
Ron - I hate to say it, but this update is still going. Hopefully future updates will be much quicker than this one.
06:28
Wii U game discs have full color art!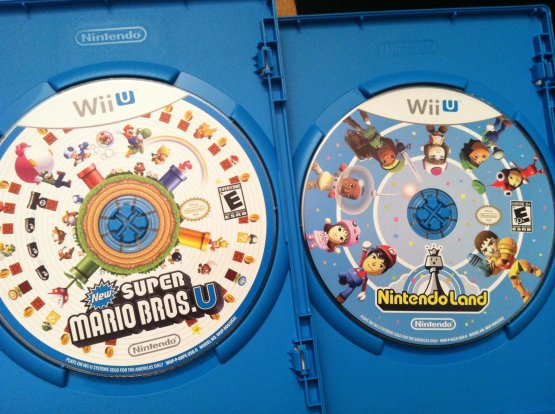 Ron - They look so good. It's the little things in life that matter. Can't wait to play!
06:23
Ron - If anybody has any Wii U questions for now, feel free to leave 'em in the comments section. I'll try to get to as many as possible.
06:19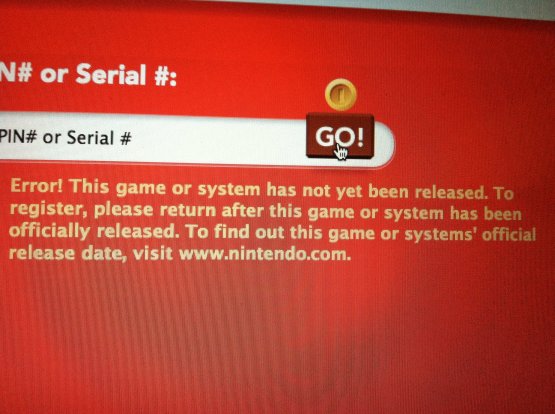 Ron - D'oh!
06:18
Ron - Update is taking a little longer than expected. I'm using this time to register new Wii U games to my Club Nintendo account!
06:06
Ron - I just tried to take a picture of just the console, but I can't get one without absurd amounts of glare. Use your imaginations! Still downloading that update...
06:03
Ron - Just connected to the internet. Running an update right now. This might take a minute...
06:01
Ron - Looks like I can use the GamePad as a TV remote even when the Wii U console is off. Nice!
05:59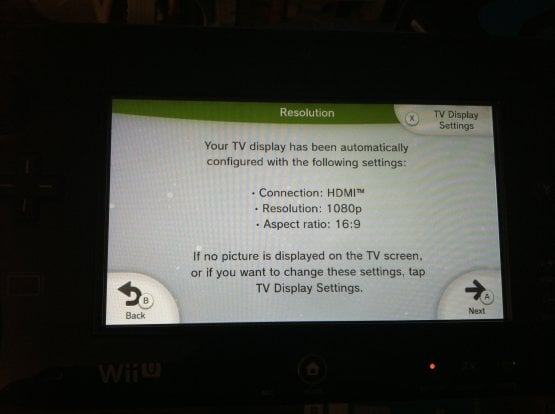 Ron - Almost all set. Nintendo gaming in HD? Don't mind if I do!
05:53
Ron - Still setting everything up. In case you were wondering, the black console is a fingerprint magnet
05:46
Ron - That's pretty much it as far as box contents go. Now I just need to clear some space to set it up. Please stand by.
05:45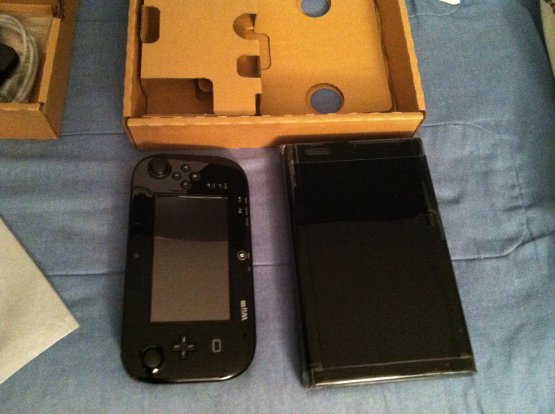 Ron - Box 2, GamePad and Wii U console. You know, just the necessities.
05:43
Ron - Box 1, cables, cradles, documents, and Nintendo Land!
05:41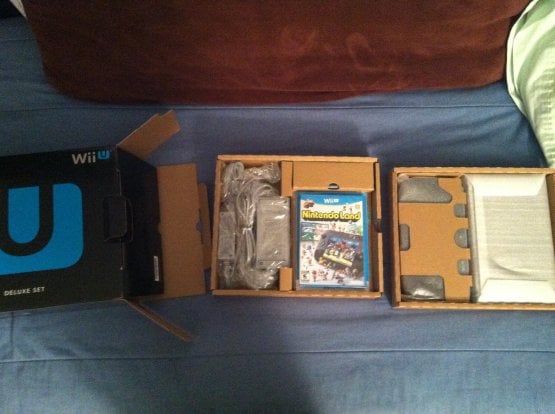 Ron - The entire contents, reminiscent of the Wii packaging.
05:40
Wii U unboxing! Feast your eyes!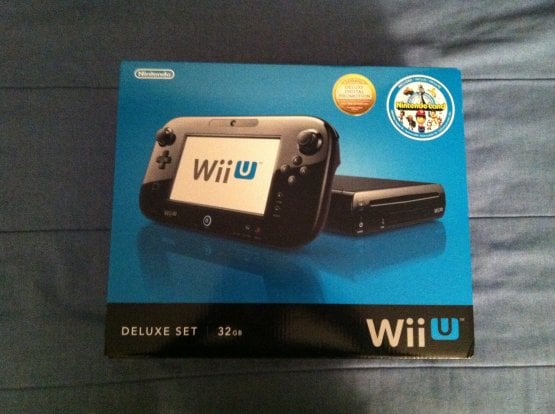 Ron - The box, unboxed.
05:35
Ron - Just got home. Unboxing pics to come soon. Hold on tight!
05:26
Got my Wii U!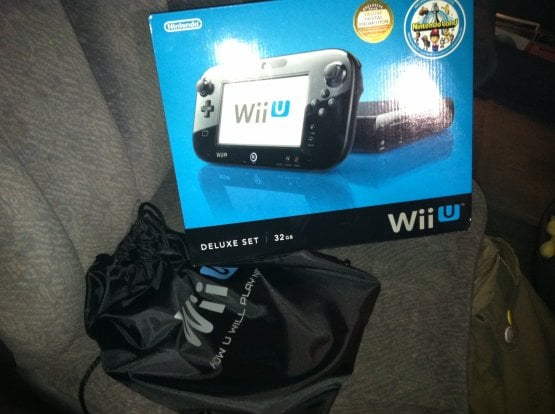 Ron - It came with a pretty sweet bag too! Now I need to get home and unbox!
05:09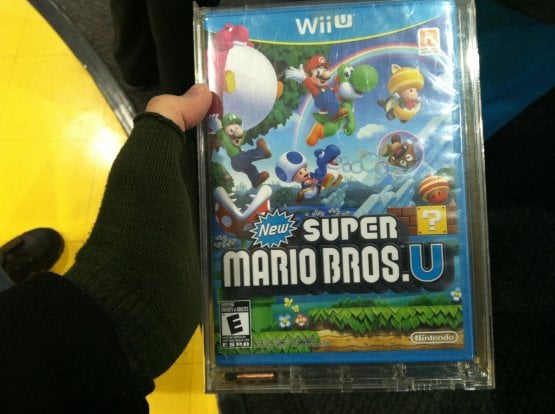 Ron - Standing in line with this in my hand. Feels so good.
05:00
Ron - Sorry! Those last few updates were from me. Forgot to tag myself.
04:58
In the store! Plenty of Wii U consoles in stock!
Out of the cold and into the store. Soon... U shall be mine.
04:50
Decent line in front of me. Plenty of excited Nintendo fans!
04:48
Morgan - It does totally feel like Christmas Eve! Except it's that other kind of Christmas where Ron gets his presents 12 hours before we do!
04:47
Ron - I broke the barriers of both light and sound, but I have arrived. Now I hope they have a Wii U for me!
04:33
Joe - My adventure won't start until tomorrow morning, but space has been cleared on my entertainment center and now I'm just buzzing around like a kid on Christmas Eve!
04:26
Morgan: While Ron's tearing across the nation chasing down his pre-order (GO RON GO!) I'm at home getting everything set up for tomorrow morning! I know I've got a hard drive around here somewhere...
04:16
Ron - I've got a bit of a drive ahead of me, but I'll keep you all posted!
04:15
Off to a rockey start!
Ron here, kicking off the Wii U NL launch!
04:15
Uh-oh, trouble for our man Ron, being redirected to another store for midnight launch. He now has a fun drive ahead of him.