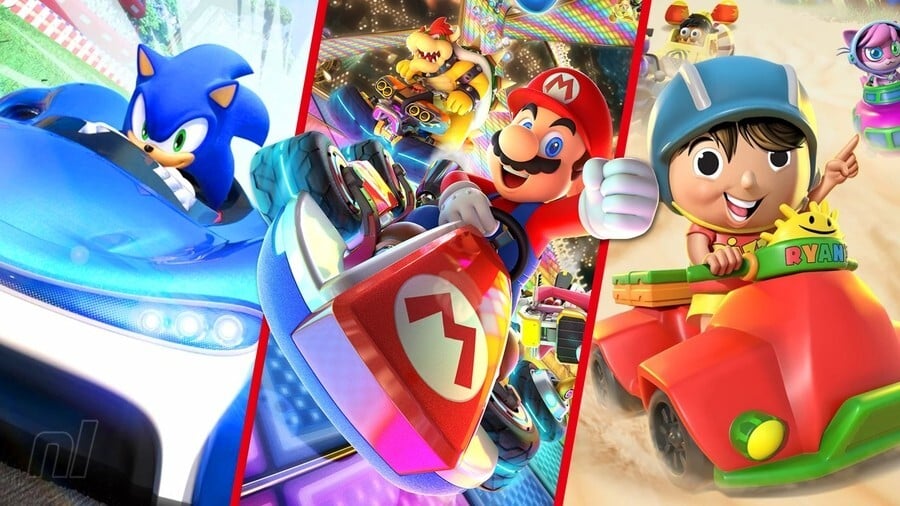 When it comes to kart racers, there's one undisputed king of the crop on Nintendo systems, and we're not talking Crash Bandicoot. Let's not kid ourselves here - we all know what's sitting at number one on the list below of the best (and worst) kart racers on Nintendo Switch. With a record like Schumacher in his prime, it's a wonder that any other racers bother to turn up to the track at all with a certain moustachioed plumber so far ahead of the pack.
Still, there are a whole bunch of kart racers on the Switch starting grid, and while the winner might be a foregone conclusion, there's plenty of drama to enjoy in the lower ranks. Therefore, we've assembled this ranked list of the best kart racing games on Switch (well, all the kart racing games on Switch, actually) to help you sort the promising upstarts from the total non-starters.
If you've got racing in your veins, be sure to check out out selection of the best Nintendo Switch racing games (with or without a kart) and find out how many of the kart racers below survive against the more serious racers on Switch.
So, start your engines and prepare yourself for the best kart racing games on Nintendo Switch, presented in descending order...
---
What do you mean you knew Mario Kart would be at number 1? Well, aren't you a smart cookie. Yes, the winner was never in doubt, but as you can see there are some great alternatives if you ever get bored of the same dude winning the race over and over again. Let us know how this grid of competitors stacks up for you with a comment below.
This article is one of our Switch Essentials guides which cover a wide variety of genres, including the Best Switch FPS Games, the Best Switch RPGs, the Best Switch Games For Kids, the Best Switch Couch Co-Op Games and the Best Switch Fitness and Exercise Games. We can also help out hunting down the Best Switch Horror Games, the Best Switch Racing Games, the Best Switch Action-RPGs, the Best Nintendo Switch Roguelikes, Roguelites and Run-Based Games , the Best Free Switch Games, and even Games to Play After You've Finished Zelda: Breath of the Wild.
Whatever your favourite genre, we've got you covered: Strategy Games, Metroidvanias, Puzzle Games, Party Games, Online Multiplayer Games, Shmups, Fighting Games, Hidden Gems, 2D Platformers, 3D Platformers, Sports Games, Beat 'Em Ups, Chill Games, Family Games, Retro-Inspired Games, Short Games, and the Best Switch Exclusives, as well as Every Arcade Archives Game, Every ACA Neo Geo Game and Every SEGA AGES Game On Switch.
If you're looking for the best Switch games regardless of genre, our reader-voted selection of the Best Nintendo Switch Games should help you out, and you can also find the Best Nintendo Switch Games of 2017, 2018, and 2019. And finally, if you're interested in other Nintendo consoles and retro games, check out the Best Game Boy Games, Best Nintendo DS Games, Best Nintendo 3DS Games, and the Best GameCube Games, as well as Every Nintendo Switch Online NES Game and Every Nintendo Switch Online SNES Game.