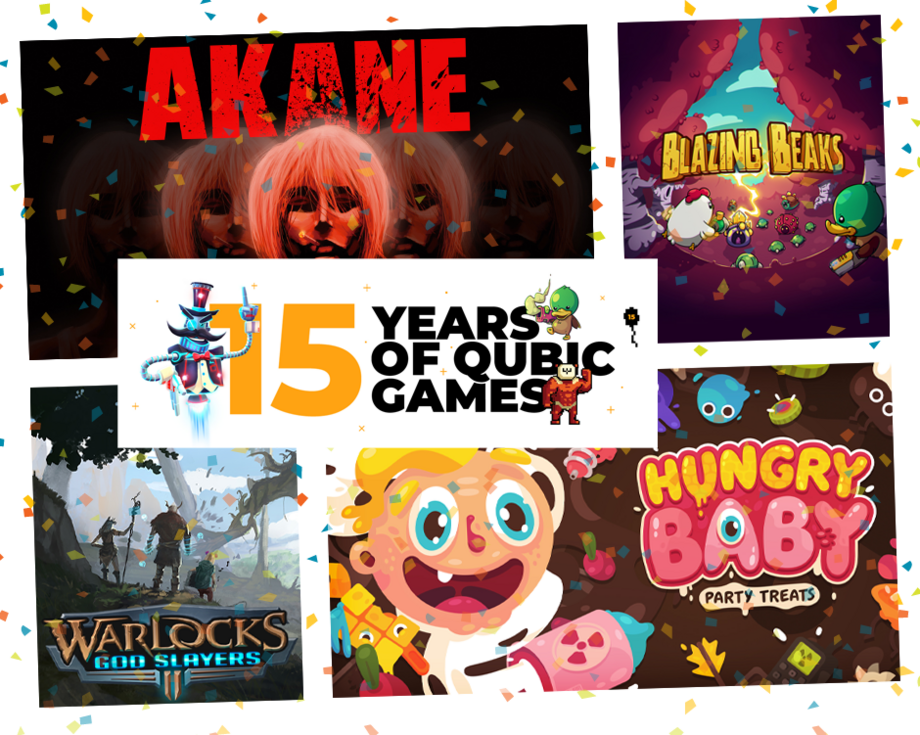 To celebrate 15 Years of QubicGames we've teamed up with the company in question to bring you a massive code giveaway. Along with heavily discounted games on the eShop QubicGames have kindly donated over 100(!) Nintendo Switch download codes for a selection of their games including Akane, Blazing Beaks, Mana Spark, and Super Hero Fight Club: Reloaded.
All you need to do to enter and be in with a chance of winning a download code is answering the question below, remember the studio has also heavily discounted a number of its games on the eShop at up to 94% off.
About The Prize
We have a host of Nintendo eShop download codes for QubicGames. All the codes are either for NA or EU and will be assigned to users of those regions (or closest region). Codes will be assigned randomly to correct entries and you won't be able to choose your preferred game (sorry!).
Find Out More
One man started QubicGames back in 2004 while he was studying at Warsaw University of Technology. Years have passed and what once was a small company with big dreams evolved into an experienced developer and publisher.
How To Win
It's simple, login or register and answer the question, we'll randomly select the winner(s) and contact them via email.
Enter The Competition
Sorry, you're too late, the competition is now closed, please try again another time!
And The Winner Is...
Thanks to everyone that entered, the winners have now been selected and emailed their codes. The winners are: denes, Josavin, WillQuan, E_maniac, CrazyMackenzie, 9Volt4ever, BommyUK, Kurusu, YoshiTails, Riff-the-Don, Itsacardgame, renegadetx, Pajee, Flowerlark, benjamines, Robubie, ThePirateCaptain, booteboy, RobShep80, VGScrapbook, N8tiveT3ch, LADDLY, ecynet, Spudtendo, DayOfLavos, PBandSmelly, jERS, KIT786, macapple, willemhustinx, CowardlyHero, Bosson87, jongred, Illusionary, SpeedyRogue98, Erchitu, Jxshi, Tschai, PsychoMikey, WalkerSeventeen, BafTheFreak, bigcalsworld, Randomlight, vermatec, KouNaN, Kaas, Carnimand, JulioMorataya, Nokondi, ItalianBaptist, Xlat95, davidmt, RyanSilberman, RiggsHB, daveh30, dvbooth, FlyingBuzz, ilikeike, andrewman37, Alexg99, tkfan75, WomboCombo, silentj78, Mikeopferman, Davisj2, gone262, Mach_Rider, BensonUii, sportvater, Retro82, immergingvirus, Clacko, Kartio, Lionyone, PrecursorDST, EchnaTron, Kirigirisu, dr_j, dAvecaster, MagnaRoader, KammyWh1te, AJDarkstar, Issy543, Magonigal, TipsySonic, AlexSora89, dsiebert812, UtopiaXD, njbrong, mauhlin12, lostprophet87x, linkorn81, ripper624, roccochacon, swagbag713, RappinRootbeer
Rules
Closing date for entry is midnight GMT Fri 17th May 2019, winners will be contacted via email, prizes will then be provided by download code or gifted directly to the console. You may only enter once, duplicate entries will be removed. Please read our full competition terms and conditions before entering.