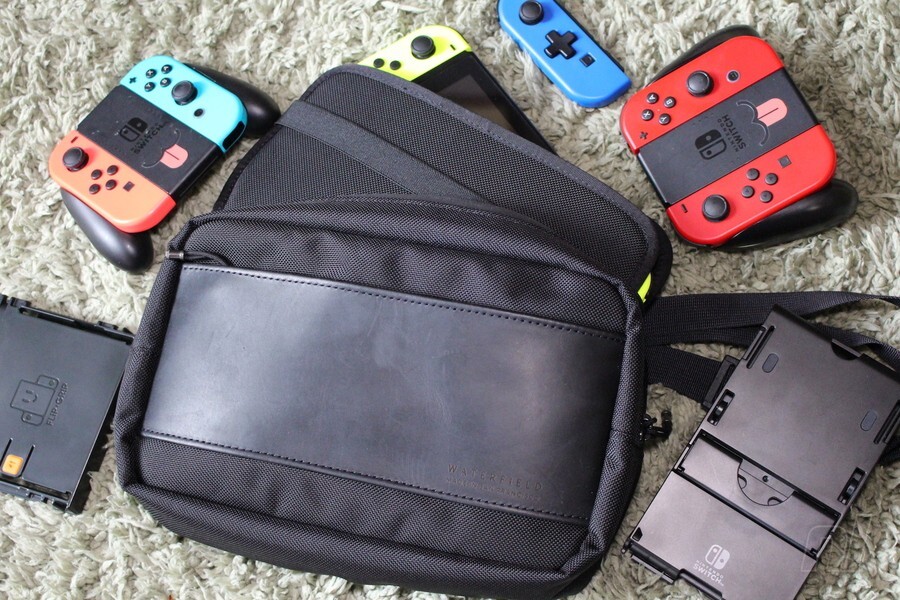 We're big fans of WaterField's cases and carry-bags, as you'll know if you've been following the site closely for the past few years. This San Francisco-based company does a great line in high-quality storage solutions and has recently gone all-in with gaming-focused bags, some of which we've covered in the past.
The company's latest bag – the Sutter Sling Pouch – isn't exclusively focused on the Switch, but WaterField has produced a handy cover – known as the 'Switch Taco' – which surrounds the console so it can be safely and securely placed inside.
We've been lucky enough to get our hands on an early review unit of both the pouch and the Switch Taco, and can confirm they're just as good as WaterField's other products. Measuring 10.25 x 6.25 x 2.75 inches, the pouch boasts an angled strap design so it rests comfortably flat against your back or side. Inside, there's plenty of room for your Switch, as well as other items such as spare Joy-Con, Hori stands or even the near-essential Flip Grip.
The Sutter Sling Pouch's origins as a multi-purpose bag are betrayed by the inclusion of key hook, which we found got in the way when we used the bag solely for transporting the Switch. Still, some of you might find it useful if you're using the bag to transport more than just your games console.
The Taco is arguably the star of the show here; it's made from a shock-absorbing shell covered in ballistic nylon (on our unit, anyway – a waxed canvas version is also available) and features padded sections which protect the screen and keep the console secure. A pocket is included which can hold a WaterField 10-game holder or 20-game wallet – or, if you wish, you can simply jam in your games loose. A nylon band keeps the Taco tightly closed so your Switch doesn't accidentally fall out when you remove it from the main bag.
While the Sutter Sling isn't as roomy as the SwitchPack Carry Case, it's a tad larger than the Arcade Gaming Case, if you want to get an idea of the size. While you're going to struggle to cram stuff like Pro Controllers and Joy-Con grips in there, we imagine that the Sutter Sling has enough space to keep most upwardly-mobile Switch fans happy.
And guess what? There's more good news. if you pre-order the Sutter Sling Pouch before February 25th using this link, you'll get the Switch Taco for free.