Farewell, stable bank balances. Prepare yourselves, credit cards. The Holiday season is upon us, with Black Friday — which is really Black Friday Week now — already kicking into gear in the U.S. and plenty of other places besides. It's the season to be jolly and generous to others, while risking financial ruin, and we feel that such reckless spending should have plenty of Nintendo goodies thrown in for good measure.
And so we've put together a list of consoles, games, accessories and gifts that we think should be on some lists to Santa or the bank manager. We've been selective — we're leaving out plenty of alternatives and delightful treats — and are only listing specific retailers or regional limitations when applicable; for the rest you can hit up the online search engine of your choice, as all of these items are available to buy in some form or other.
We hope this list also highlights that, for Nintendo fans, there are a lot of great potential gifts out there. Let's get right to it.
---
Consoles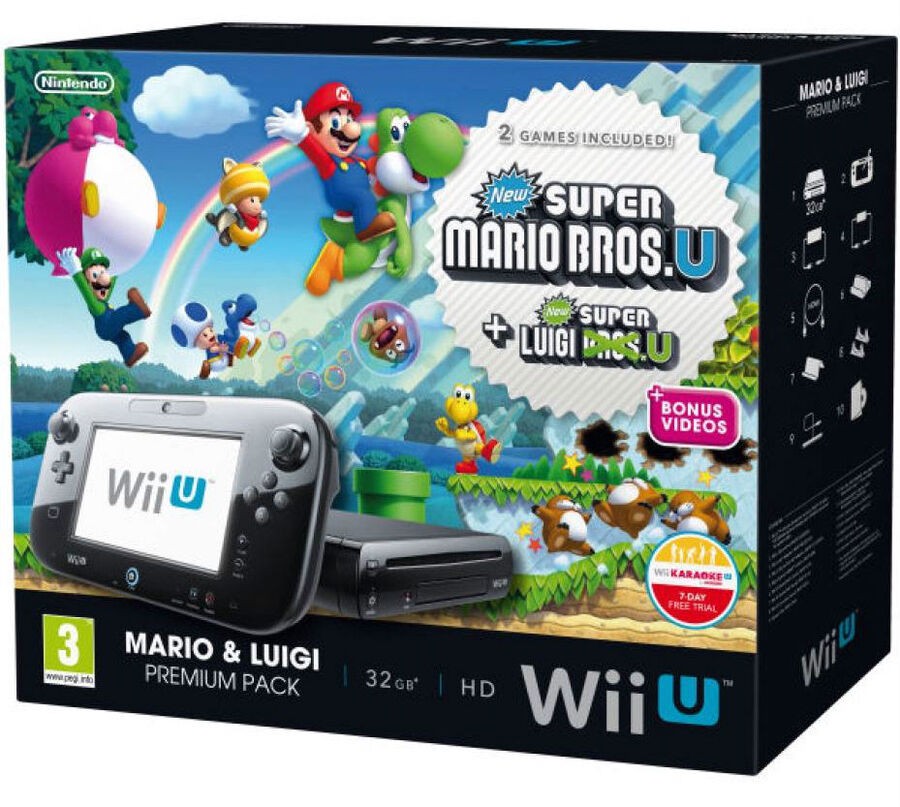 Easily the most heavily marketed Wii U bundle, this offering comes with a 32GB system and copies of both New Super Mario Bros. U and New Super Luigi U on a single disc; an introduction to HD Nintendo gaming with some familiar 2D platforming.
This one is a UK exclusive we're afraid, and only on the official Nintendo Store; this is the same as above but throws in the brilliant Super Mario 3D World, a lovely Mario-themed Wii Remote Plus and a Mario hat — it costs £299.99, which essentially means the Remote and hat are free extras when everything is considered at its standard retail price.
We reckon these The Legend of Zelda: The Wind Waker HD 32GB bundles will still be kicking around at various retailers, and it's a lovely option. It includes a special GamePad design, a download code for the game and a digital copy of Hyrule Historia.
One of multiple 8GB bundles targeting families and those in need of an extra Wii Remote. This will typically cost the same as the 32GB equivalents outlined above, with the difference being that it comes with a bundled game — Wii Party U — and a Wii Remote Plus; it's a trade-off, ultimately.
We think the box says it all. This is the much publicised and rather attractive Zelda-themed 3DS XL, which comes with a copy of the marvellous The Legend of Zelda: A Link Between Worlds. Just look at it.
This Cobalt Blue standard 3DS comes bundled with one of 2013's most charming and entertaining games, Luigi's Mansion: Dark Moon. It'll arrive in stores on 2nd December and be exclusive to North America.
This Year of Luigi 3DS XL was initially released in Japan but has now made its way to the UK, available only through the Nintendo UK Store; it's rather pretty, though unfortunately the online store doesn't deliver to mainland Europe, while there's been no announcement of an equivalent in North America as yet.
The 2DS, which prompted many snorts of derision when announced, has been cited as a strong contributor to 3DS 'family' sales in Europe and North America. This is an excellent budget option for young gamers in particular, and takes away any concerns over the 3D screen; many retailers on both sides of the Atlantic are running bundles and promotions, some with the hardware dropping below $100 / £100.
---
Over on the next page we recommend 10 games each for the Wii U and 3DS.