A manic 9-player party game for Wii U.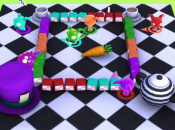 We ask about the plot too, because why not?
Just recently we held our Nintendo Life Gaming Night in Cambridge (England), in which lots of responsible adults (mostly) gathered to play all sorts of delightful games, both retro and brand new. We had a couple of Nindies at the event, and we've previously shared our video interview for the F-Zero-ish...
Hold on there, you need to login to post a comment...