Description will appear here shortly...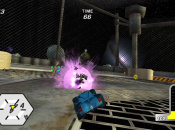 Another gaming revolution from Archer Maclean?
Wheelspin is an unashamedly old-school arcade racer, with exaggerated physics, rollercoaster-style tracks and an emphasis on enormous speed. Its influences are clear - F-Zero and San Francisco Rush 2049 are the strongest - but sadly Wheelspin never feels more than the sum of its parts. The single-player campaign asks you to fulfill certain objectives..
Hold on there, you need to login to post a comment...