Description will appear here shortly...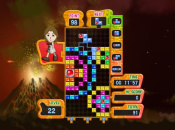 The latest cross-platform puzzler has its release date slotted in
Tetris is one of those franchises that just won't go away, whether you want it to or not. The simplicity of its premise has lead to countless variations in rule-sets, and the latest instalment that's out on the Wii and the DS – Tetris Party Deluxe – has had its European release date confirmed. From 3rd September onwards,..
Hold on there, you need to login to post a comment...