Description will appear here shortly...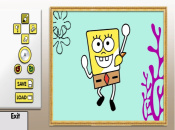 No more Mr Squarepants
THQ's uDraw GameTablet is causing quite a stir in North America where it's proved hard to find for many, and it's sure to sell bucketloads more once THQ's next title for the tablet, SpongeBob Squigglepants hits the shelves. Developed by WayForward – A Boy and His Blob, Shantae: Risky's Revenge and so on – the game will take a WarioWare Smooth Moves-esque approach,..
Hold on there, you need to login to post a comment...