Description will appear here shortly...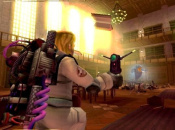 Euro PS3, PS2 and PSP versions in June, other formats later in the year
It has been revealed that Sony has signed a deal with Atari which will allow the company to publish Ghostbusters: The Video Game on its PS3, PS2 and PSP formats. The release of the PS3 and PS2 versions will tie-in with the Blu-ray 25th anniversary release of the original 1984 movie. It has also been confirmed that the agreement..
Hold on there, you need to login to post a comment...