Description will appear here shortly...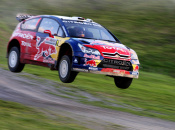 Here's mud in your eyes
3DS has already proven itself capable of handling accomplished racing games, with Ridge Racer 3D a highlight of the console's launch line-up, and Ubisoft is preparing its own four-wheel outing with World Rally Championship 2011. The game will be the first fruit of Ubi's recent acquisition of the WRC licence, meaning a full array of real-life cars, drivers and courses all..
Hold on there, you need to login to post a comment...