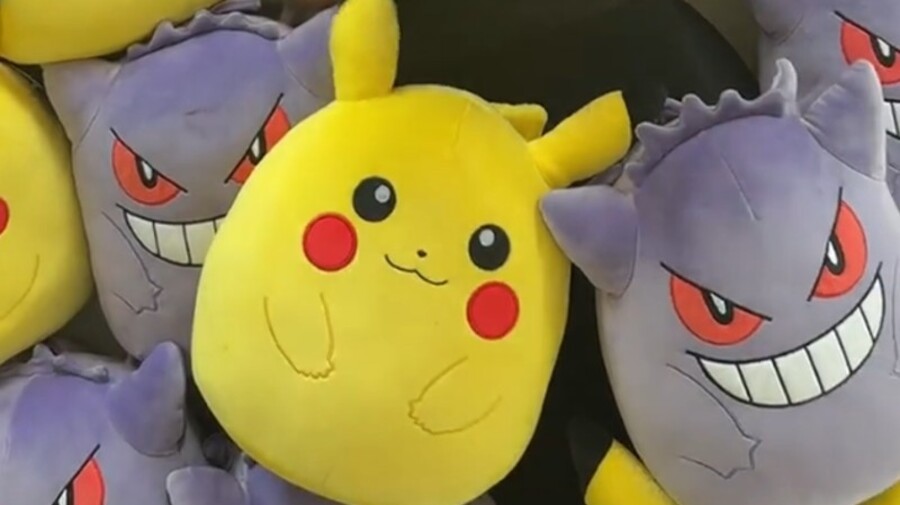 Kids love Pokémon, right? Kids also love Squishmallows too. If you don't know about Squishmallows, these are irresistible plush animal (or sometimes food and drink) toys that you can't stop squeezing. The company itself claims that they are "the softest, cutest, cuddliest plush around." Okay, we have to believe that.
So surely these two things are a match made in heaven? Yesterday on Twitter, Squishmallows and Pokémon playfully teased a collaboration and appearance at this weekend's San Diego Comic-Con.
And, just hours later, the folks over at Nintendo Wire managed to get a look at the brand new toys. So far, only Pikachu and Gengar have been announced, but the possibilities are making us a little dizzy!
Here's a good look at both of these cuddly fellows from Twitter user @FizzOpera.
The attention to detail is phenomenal on both soft toys, but we're in love with Gengar in particular! The spikes on its back are perfect, and the signature grin just makes this mischievous Ghost-type Pokémon look even cuter.
Attendees got a sneak preview before Comic-Con officially opens up later today, so for now, these are the only two Pokémon Squishmallows we know about. We'll make sure to update you if more information comes out about the toys!
What do you think of this collaboration? Which Pokémon would you like to see be made into a Squishmallows toy? Let us know!
[source nintendowire.com]