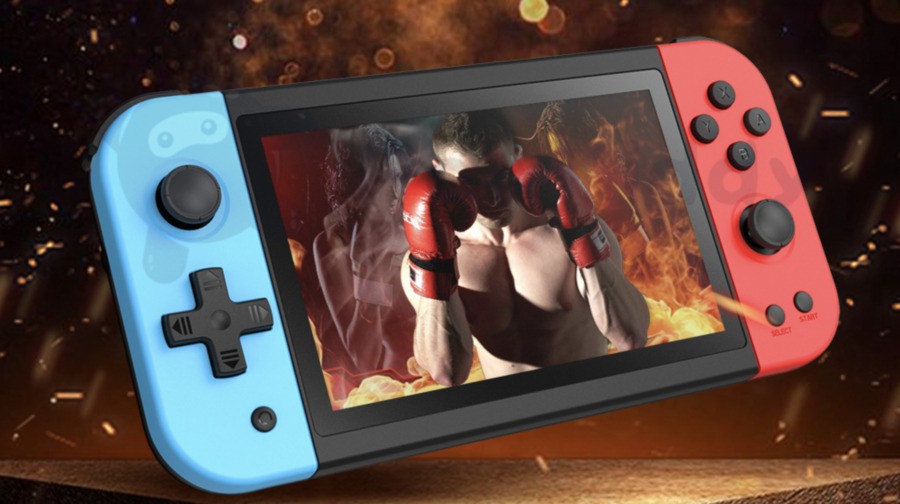 Powkiddy, a company known for producing retro gaming consoles, has introduced its latest effort: the Powkiddy X51. It looks pretty familiar, right?
Yes, in designing the X51, Powkiddy has unashamedly tried to emulate (chortle!) the look and feel of a Nintendo Switch, right down to the neon red and blue casing. As expected, however, the console doesn't offer any of the Switch's functionality; yes, you can play the system on a TV ("big screen, more happy") or via a 'table top mode', but additional controllers are mandatory if you wish to do so.
What it does offer, however, is emulation for Game Boy, Game Boy Advance, Neo Geo, and PlayStation games, among others. The console comes with two USB Type-A ports, a USB Type-C connection, an HDMI port and a 3.5 mm headphone jack. Micro SD card support is also present and accounted for, but again, you could argue that this is a mandatory requirement, since the system itself comes with just 128 MB of internal storage.
If you want to get yourself one (look, you do you), you can order the X51 from AliExpress for $52.99 / £44.33. At the very least, if you're after a relatively cheap emulation console, this might just do the job for you. As a neat little bonus, if someone not "in-the-know" asks to play on your Switch, chuck one of these at them so you can keep your real Switch nice and pristine!
What do you make of the Powkiddy X51? Are you likely to pick one up? Let us know!
[source notebookcheck.net]