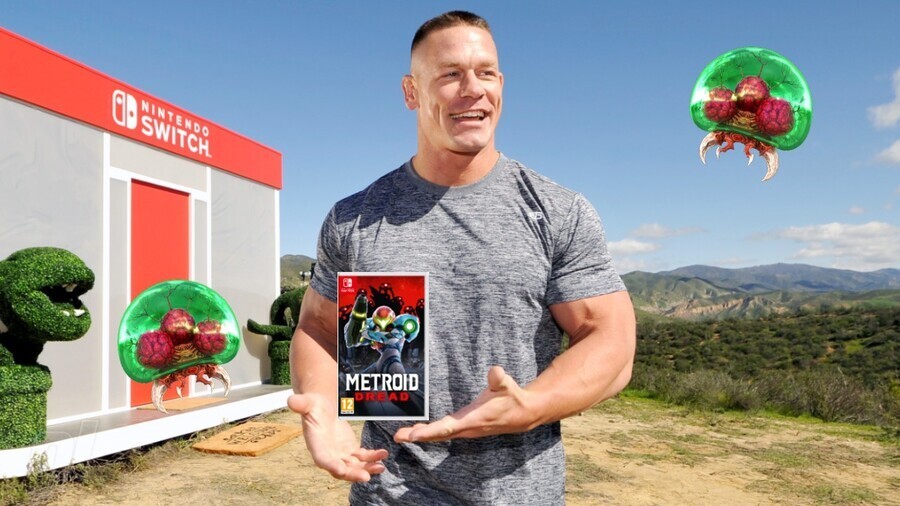 John Cena is one of the most recognisable faces in the pro wrestling world. He's widely regarded as one of the best wrestlers of all time and has been the world champion for a record 16-times (joint with Ric Flair), but the star is also known as an actor and a rapper. And as the face of the Nintendo Switch in America prior to the console's release.
Back in 2017, the professional wrestler filmed a number of promotional ads for the Switch which included him playing the console in 'unexpected places' while also being present at events where fans could play 1-2-Switch at pop-up locations.
But according to wrestling fan and Giant Bomb creative director Dan Ryckert, Cena didn't just turn up, film his part and leave. GoNintendo reports that the wrestler apparently asked Nintendo for a brand new 2D Metroid game. Of course, we did eventually get a brand new one (ignoring Metroid: Samus Returns, a remake of Metroid II) in 2021's Metroid Dread.
Even though it was four years after Cena had filmed the adverts, Ryckert says that Nintendo send Cena a copy of Dread, and Cena's team emailed the Big N back saying that "John loves it". Aww!
We're glad John Cena finally got his wish for a new Metroid game. Well, we're all glad we got a brand new brilliant Metroid game.
Former Nintendo Minute co-host Krysta Yang replied to a fan's response to Ryckert's tweet, confirming that this discussion would've happened around the time of the advert's photoshoot. She also corroborates that Cena was indeed a huge Metroid fan!
Perhaps John Cena can be an eventual guest on the Kit & Krysta podcast?
Cena isn't the only professional wrestler to be interested in video games, particularly Nintendo ones. A few months back, Steve Austin and Cody Rhodes briefly debated which was the best Zelda game in a short clip advertising Austin's podcast.
In case you missed it around the time of the Switch's launch, here's one of the advertisements John Cena did for Nintendo. If you can see him, that is.
[source gonintendo.com]