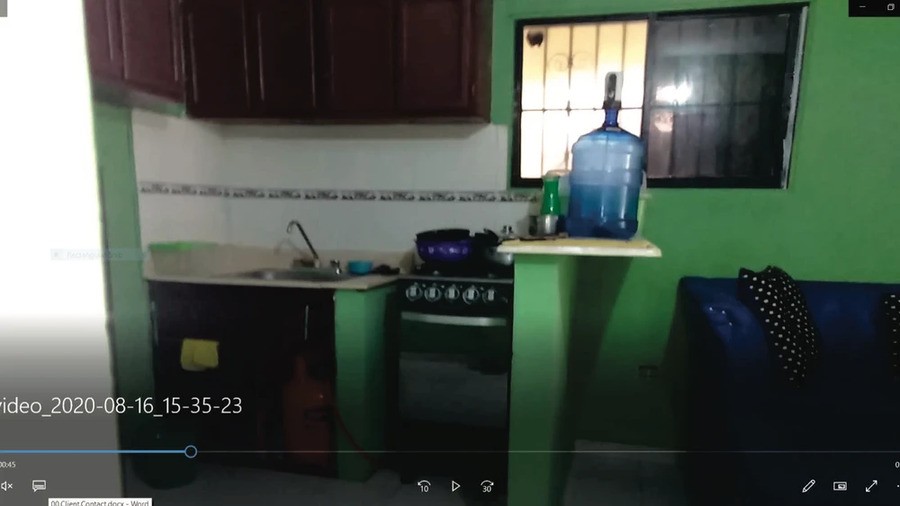 Last week, former Team Xecutor member Gary Bowser was sentenced to more than three years in prison in addition to paying Nintendo a combined total of $14,500,000 for damages related to piracy.
However, images taken at his home in the Dominican Republic (thanks, Vice) show he was leading an incredibly frugal existence; there's very little furniture and his computer desk sits right next to his refrigerator. At first glance, it doesn't appear to be the home of someone who has apparently made millions from selling piracy devices.
Prosecutors in the recent legal case described Team Xecutor as "one of the most prolific video game hacking groups" and claimed that Bowser, in addition to being the mouthpiece of the group, also ran a website that hosted illegal copies of over 10,000 video games.
However, Bowser's lawyers Michael Filipovic and Christopher Sanders told the court that Bowser lived a modest life and did not profit massively from the group's activities.
Bowser was charged In 2020 by the U.S. Department of Justice along with 49-year-old Max Louarn, the leader of Team Xecutor who is alleged to have recruited investors and developers. Louarn also established the group's manufacturing arm and its network of global resellers. 36-year-old Yuanning Chen, who managed distribution company ChinaDistrib, was also charged, but neither Louarn nor Chen have been apprehended at the time of writing.
Bowser's lawyers claim that "Mr. Bowser was used by Max Louarn," and that "unlike other unindicted conspirators, [Bowser] was not part of Louarn's social life, which included lavish vacations and parties. Unlike Louarn's lifestyle, Mr. Bowser lived a modest life in a modest apartment." They also claim that Bowser was paid $500 to $1,000 a month over the course of seven years to maintain Team Xecutor's websites. "Thus Mr. Bowser is left to take the full brunt of the government's argument that the Court must 'send a message' of general deterrence by imposing a lengthy term."
Bowser's defence team added that prior to working with Team Xecutor, he created a successful business making interactive kiosks for the government in Toronto. The sentencing memorandum also states that he was the victim of domestic violence from a girlfriend, while another of his girlfriends was murdered. His mother passed away when he was 15, while his older brother died in a plane crash. The court records state that Bowser turned to drink as his life unravelled. He was charged in Canada in 2004 in a fraud case concerning a sum less than $5,000.
The prosecution insists that Bowser was "the megaphone through which Team Xecuter's products were introduced to the public" and that he was "the link between the Team Xecutor enterprise and its customer base. This is not a peripheral role but an essential one."
Bowser's lawyers, however, stressed in their sentencing memorandum that his role within the group does not reflect the harsh sentence:
Mr. Bowser was essentially a paid employee of Max Louarn, with the added benefit of keeping modest ad income from the website. Mr. Bowser did not have a proprietary role in the enterprise, and he did not have control over the manufacture of the circumvention devices. The amount of pay he received, and the exposure he had to arrest and prosecution, compared to Chen and Louarn, speaks loudly to the wide disparity in culpability.

Mr. Bowser is a person who wants to be liked, and his generosity is something that others have taken advantage of. In this case, Louarn used Mr. Bowser to be the public face of the enterprise, while Louarn remained in the background. It is now Mr. Bowser alone facing the brunt of this prosecution.
Max Louarn's Facebook profile remains active and shows him in various glamourous places around the globe, including a 5-star hotel in Paris. According to Vice, "Louarn responded to a request for comment but asked to provide the questions to his lawyers first. He did not provide a response in time for publication."
[source vice.com]