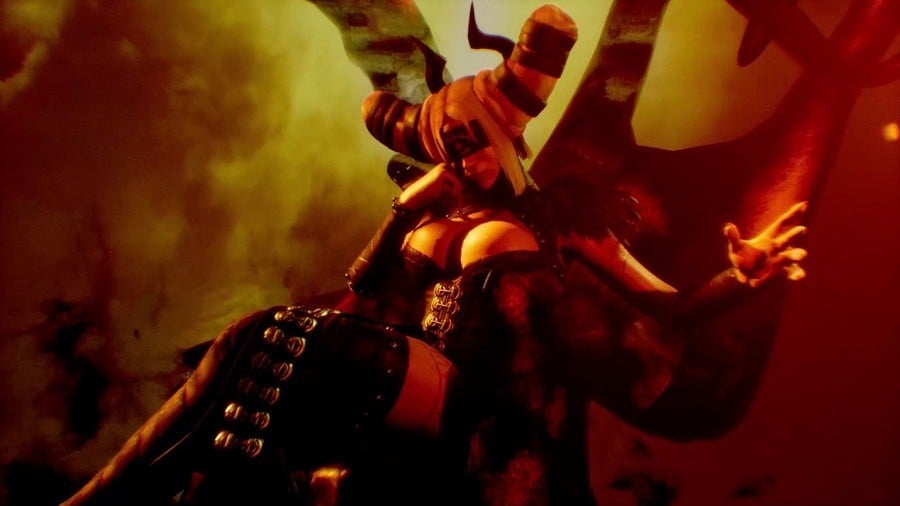 Publisher Eastasiasoft has announced that it is bringing AOne Games' gory, horror-style one-on-one fighter Omen Of Sorrow to Switch and PS5 in physical form.
This edition will boast 'expanded' content when compared to the previously confirmed Steam version. That means revised story content and new endings for the game's arcade mode. The game hit Xbox One in September of last year, and that edition will also receive this content via a free update.
To cap it all off, cross-play online multiplayer is coming to all versions of the game published by Eastasiasoft. No release date has been given so far, but pre-orders for the physical editions open on February 24th at 7:00 a.m. PT / 10:00 a.m. ET via online retailer Play-Asia. 2,000 limited editions will be produced for Switch and 1,000 for PlayStation 5. The 'standard' edition will also be available to pre-order.
Confusingly, publisher Soedesco released a physical version of the game on PS4 some time ago. It is not known if this version will also benefit from the revised content.
Omen Of Sorrow currently holds a rating of 64 on Metacritic. Its cast is a mix of horror tropes, such as vampires, werewolves and other monsters.
Here's some PR for the game:
Since its original launch, Omen of Sorrow has become a cult hit with fighting game aficionados. AOne Games and Eastasiasoft Limited have focused on evolving that experience in order to bring a definitive revision to more players across multiple platforms and in more territories. Powered by Unreal Engine 4, Omen of Sorrow's 2.5D brawling spans a multitude of detailed locations with handcrafted animations and cinematic finishers, all set to a masterful soundtrack by composer Francisco Cerda.

In a hidden underworld ruled by creatures of the night, a new terror has awakened! Omen of Sorrow brings monsters of horror, literature and mythology together for a fighting game experience unlike any other. Inspired by numerous arcade classics but offering its own unique innovations and mature aesthetics, Omen of Sorrow positively bleeds style! Featuring a roster inspired by such icons as Frankenstein's monster and Egyptian high priest Imhotep, this traditional 4-button fighting game rewards or punishes players based on how aggressive their playstyle is, putting a skill-centric spin on combat while keeping the experience accessible to newcomers.
Key Features

+ Select from a varied roster of characters inspired by horror classics.
+ Use cinematic finishers to take down opponents in style!
+ Explore single-player modes against the CPU or challenge friends online.
+ Strategize on the fly and turn the tide of battle through aggressive play!
[source gematsu.com]