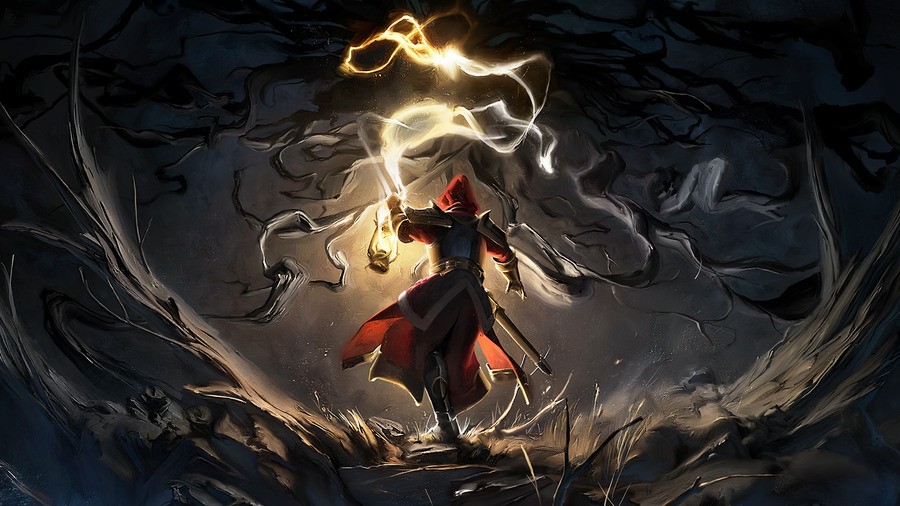 If you like side-scrolling action games of the Metroidvania variety, Marvelous Europe has announced a new fantasy action-RPG called Mandragora for Switch (and other platforms) which you may want to investigate.
To aid you in your investigations of this self-described "epic and dark fantasy" game from Primal Game Studios, the reveal trailer — age-gated and therefore available to view on YouTube — gives a good idea of what to expect from its painterly 2.5D world: lovely-looking vistas, dank dungeons, hulking beasties, and heavy weaponry to swing their way. The trailer is worth watching, if only for the bit at the end where the knight chap starts pulling on a plant and, true to the game's title, things takes a turn for the screamy. We never were a fan of mandrake-y things.
As you can see, the world in Mandragora isn't particularly inviting for its inhabitants, save for marauding monsters and the like which seem to be having a field day. Looks like it's up to you to battle the nasties, make a few moral choices, and dish out some justice.
If that's all a little vague — hey, what game doesn't have you setting out to rid the land of a terrible evil, right? — here are some more specific details from the official press blurb, along with a clutch of screenshots:
▪ Explore a universe of gorgeous paint strokes: Immerse yourself in a rich, dark, painterly 2.5D world as the epic and twisted music composed by Christos Antoniou brings this atmospheric world to life.
▪ Delve into a story-driven dark fantasy adventure: Leave the sanctuary of the Crimson City and travel through a vast, interconnected world that will take you from dark forests to deadly swamps, burning deserts and more.
▪ Enter the dark realm of Entropy: Acquire the legendary Witch Lantern and enter the dark realm of Entropy through tears in the fabric of reality.
▪ Encounter horrific monsters and terrifying creatures: Add fallen foes to your bestiary as you battle distinctive enemies and unique, deadly bosses to discover what really lurks in the shadows.
▪ Upgrade your toolset: Find artisans to join your growing caravan to unlock new upgrades. Grow herbs to brew beneficial potions and craft powerful weapons, armour and trinkets to help you along the way.
▪ Play your way: Master the punishing side-scrolling action as one of multiple unique classes and customize your character's active skills through a deep and rewarding character development system. Complete the game and start anew on countless NG+ difficulty levels.
The game certainly looks pretty — it'll be interesting to see how that beauty translates on Switch versus the more powerful consoles (and PC) this is destined for.
Like the look of this? Madragora's launch date is "TBA" right now, but let us know if you'll be keeping an eye on this below.