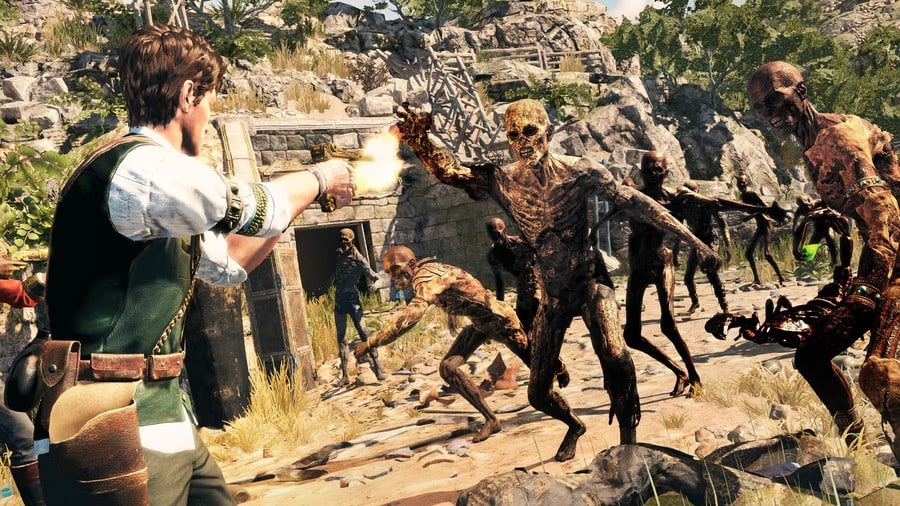 The latest Nintendo Download update for North America has arrived, and it's bringing new games galore to the eShop in your region. As always, be sure to drop a vote in our poll and comment down below with your potential picks for the week. Enjoy!
Switch eShop - Highlights
ENDER LILIES: Quietus of the Knights (Binary Haze Interactive, 21st Jun, $24.99) - Unravel the mystery of a kingdom destroyed by the Rain of Death in this dark fantasy action-RPG. Journey through the sprawling and hauntingly beautiful locations of Land's End, including a submerged forest, a sealed-off contaminated underground cavern and a grand castle. Formidable bosses await that will gladly claim your life given even the slightest chance. Defeat these powerful foes to turn them into allies as you search for the truth. ENDER LILIES: Quietus of the Knights will be available June 21.
Strange Brigade (Rebellion, $34.99) - Erased from history and buried in a nameless tomb for 4,000 years, Seteki the Witch Queen has risen once again. Only one troop of heroes can stand against her army. In this third-person adventure, blast through an army of mummified monstrosities while solving perilous puzzles in booby-trapped ruins. Go it alone or team up with other daring adventurers in local wireless* co-op and online** play. Will you answer the call to adventure?
Switch eShop - New Releases
7 Years From Now (PQube, 17th Jun, $9.99) - Play as Haruto Soraki, a high schooler in his quest to find the memory he presumably lost in an accident seven years ago. As you begin your journey in your hometown, meet with forgotten friends, uncover the town dark secrets, leap in the past to out-think the people trying to stop you and try to piece back together what really happened 7 years ago.
Alex Kidd in Miracle World DX (Merge Games, 22nd Jun, $19.99) - The iconic Alex Kidd is back! Jump straight back into Miracle World and experience it like you've never seen before. Complete with new HD graphics, gameplay improvements and animations, rediscover all the levels from the original game, as well as brand new levels which expand the lore and story behind Alex Kidd. Destroy the evil Janken the Great and rescue the people of Radaxian once and for all! The world needs a hero - what are you waiting for?
Aquatic Rampage (19th Jun, $9.99) - Become an aquatic animal and join these frenetic fights in the depths of the Ocean. Complete the missions and defeat each boss in this shooter arcade game.
Bear's Restaurant (18th Jun, $12.99) - In this restaurant, the dead will have the last supper. Hamburgers, omelets, sushi, pudding, anything. Let us cook your favorite dish when you were alive. This is a story about "Bear" and "Cat". You are "Cat", the assistant of "Bear", who is running this restaurant. Players can know about their favorite things by "diving" into the memories of the customers... but in fact, you do not remember who you are. Not even your favorite dishes.
Beasts of Maravilla Island (Whitethorn Digital, $9.99) - Beasts of Maravilla Island is a 3D adventure game where you take on the role of a young wildlife photographer who traverses Maravilla Island's magical ecosystems to discover extraordinary creatures, learn their behaviors, and, most importantly, photograph their majesty!
Bitmaster (23rd Jun, $4.99) - You need to destroy the enemies and collect power-ups to improve weapons. Game balance changes periodically, which makes the game unpredictable and difficult to get a high score.
Bullseye (17th Jun, $12.99) - The official Bullseye™ family game based on television's classic darts quiz game for 1 to 4 players Put your dart throwing skills and trivia knowledge to the test to win points and ultimately the game. Bullseye™ is party gaming at it's very best in an easy, out of the box, pick-up-and-play game that keeps everyone at the edge of their seat. Bullseye™ is a great way to while away the time, giving a brilliant game show experience at home with family and friends of all ages. Jam packed with 5,000 multiple choice trivia questions in ten genre categories, no game will be the same.
CANNON ARMY (18th Jun, $3.99) - Trained at the U. S. Army Camp, you have been a part of US Army forces for a long time now. Get ready to fight the war on crime in the immersive situation against a group of terrorists trying to suppress the nation with their evil plans. Collect grenades and power-ups to succeed in this never-ending game that guarantees long hours of fun. Your country needs you!
Cross the Moon (18th Jun, $4.99) - Something once great lies dormant beneath the cold streets of Armorica's isolated capital, L'Amour. When it sleeps it dreams, and when it dreams it hunts. Fates converge as a young man's mysterious death brings sibling vampires Aurore and Lux Amanite into a world of occult obsession and corporate corruption. Meanwhile, police inspector Ryouko Otsuki arrives in L'Amour to find a city whose identity is just as severed and broken as her own…
IdolDays (17th Jun, $7.99) - A love-adventure game where you can enjoy the heart-pounding roommate life of a rookie producer and a delinquent girl turned idol. A young man working at an Akihabara-based agency that manages underground idol groups has been ordered to discover new idols by his boss. Now, he's at the end of his rope. The protagonist is at a loss, finding that girls with the talent to become the kind of idol he's picturing are few and far between. He's sitting defeated on a park bench when he comes across a girl singing to herself while feeding some cats. The girl's song is delicate, but her voice shakes him to the core. His heart stolen in an instant, the protagonist turns to the girl and tries to scout her to become an idol. However, the girl flatly refuses him, saying the idea is stupid, only to then disappear.
LEGO Builder's Journey (The LEGO Group, 22nd Jun, $19.99) - A story about play, connections and adventure. Step through levels brick by brick with puzzles that sometimes ask us to follow the instructions… and sometimes to be creative and break the rules. Builder's Journey is a poetic puzzle that takes place in a LEGO® brick world, brought to life with the most accurately rendered LEGO® elements yet to feature on screens. Be taken through a breathtaking world filled with brick-by-brick effects, accompanied by a beautiful soundtrack. Throughout the narrative, there will be ups and downs, challenges and celebrations. Take the time to experiment, and most importantly, to play. Figuring out who we are and what we become is the Builder's Journey.
Luciform (17th Jun, $4.99) - What is Luciform? Luciform is a 2D color-based precision platformer. This basically means that in this game you can ONLY interact with the same colored platform as yours and that you will fail MANY times trying to beat the next level. Traverse the world while avoiding hazards and deadly falls, Timing jumps with the utmost precision is a must! This game offers you: Color-based gameplay that will challenge any player Tons of levels to explore, die, and beat Epic fight vs the Red-Eyed Gorila (He kidnapped Luci's family) Two gameplay options, for the casual and the hardcore gamers. Endless & random level to test your skills Four colorblind options.
Metal Unit (17th Jun, $15.99) - Metal Unit is a sprawling side-scrolling platformer with roguelite features. Play as Joanna, a soldier on a mission to capture her treasonous sister. Wear the M-Unit 11 suit and battle against monsters and aliens while uncovering the truth about humanity.
Minute of Islands (Mixtvision, 18th Mar, $19.99) - Minute of Islands is a transformational journey in a faltering world. Explore a strange and wonderful archipelago in this classic comic-style adventure. Guide young mechanic Mo on a journey to find the strength to let go in a world about to collapse. The powerful Omni Switch at your disposal may not be enough to fix all that is broken…
Olympic Games Tokyo 2020 – The Official Video Game (SEGA, 21st Jun, $39.99) - The Olympic Games are back, and this time it's your chance for glory! Whether you play with friends, family, or go for gold on the global leaderboards, this is a party game that anyone can pick up and enjoy! Prepare to unleash the competitor within as you create your athlete, customize their skills and pick the perfect costume. Why settle for standard sportswear when you can take center stage as a pirate, astronaut or cowboy? Choose between 18 fun-fueled sporting events—from Tennis and Football to the 100m, Basketball and Boxing—there's always a record to beat and a score to settle. Going for gold has never been this much fun!
Plastic Rebellion (16th Jun, $7.99) - When the parents are out, the whole house becomes a playground. But when a malfunction infects your 3D printer and starts mischief, it's up to you to defend the place you call home and turn your playground into a battlefield! Armed only with your cherished toys, you must face an ever-growing army of plastic and stop the malfunction before it takes over the world (or at least your bedroom, kitchen and basement)! Experience a unique twist on the tower defence genre – work out the best strategy and place your defensive troops in levels full of interactive elements, then support them with a set of specialized weapons.
Rotund Takeoff (17th Jun, $7.99) - You are Chubbit, a plump bunny plunged into a precision platforming nightmare! To escape, simply move left, move right, and master the nuanced dynamics of ceaseless bouncing! Playing well means playing fast, exemplified by the simple stopwatch HUD. Earn gold medals through speed and strategy to open map shortcuts and bonus levels as you journey across vibrant worlds toward the light of home!
Rangerdog (17th Jun, $5.99) - About this game: "Rangerdog" is a cute retro-style side-scrolling shoot 'em up. Choose one of the three ranger dogs and defeat the boss waiting at the end of 7 different stages.
Super Magbot (Team17, 22nd Jun, $17.99) - A precise 2D platformer with a twist. NO JUMPING. Master your magnetic powers to beat each level with speed and skill. The system of Magnetia is in great peril as an evil villain tears through the galaxy. It's all down to one robot explorer to save the day – Magbot! Armed with the power to control both positive (red) and negative (blue) magnetic polarities, Magbot must navigate through a myriad of challenging platforming environments to save his home planet of MagTek.
Together (16th Jun, $6.99) - Color the World together! Discover a new world, but do not do it alone - take a friend, play together! Travel together through increasingly demanding levels of difficulty in many interesting biomes. Color the world decolourised by the evil Mona Chrome! You will be accompanied by some popular and distinct heroes who can, but certainly do not, remind you of familiar characters. Our heroes are monophobes, so they must act together to get her!
Wood Block Escape Puzzles 2 (21st Jun, $5.99) - Wood block escape puzzles a fun and simple way to relax and challenge your logical reasoning and concentration.
So that's your lot for this week's North American Nintendo Download. Go on, be a sport and drop a vote in the poll above, and comment below with your hot picks!