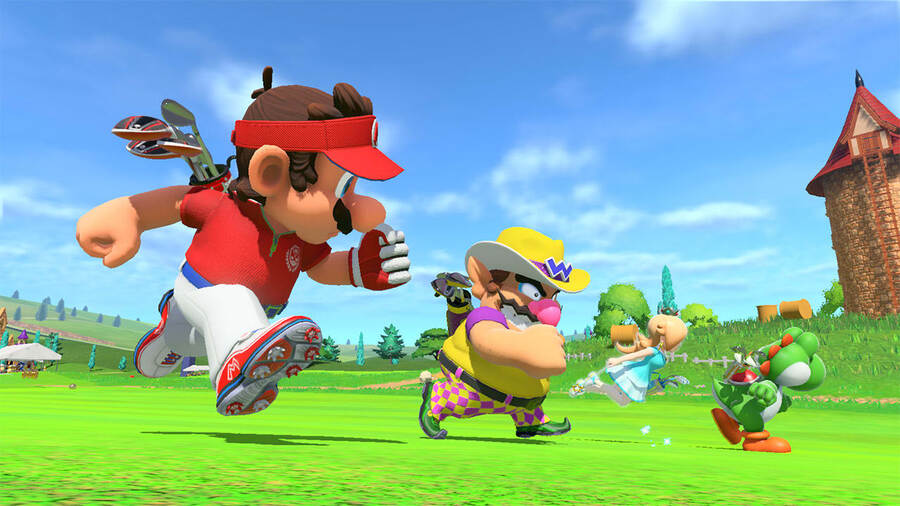 Mario Golf: Super Rush is just a few weeks away from launching on Nintendo Switch, and it looks like it could be a perfect pick for families and groups of friends to enjoy together. If you're keen to try out the game's new Speed Golf mode, though, it looks like you might have to take it in turns.
The game has several modes on offer, some single-player (Golf Adventure and Solo Challenge), and some multiplayer (Standard Golf, Speed Golf and Battle Golf). If you've seen footage of the game, you'll know that four-player multiplayer is available to those who want to play with friends, but a closer look at Nintendo's official website reveals a caveat.
You see, four-player gameplay is only available in certain scenarios, depending on how you choose to play. Confusingly, Nintendo's North American website lists all multiplayer modes as being just "2 players per system," which would make you think that four-player is only available by matching up with others online. The Japanese site is a little more clear, however, noting that up to four players can play on one console by taking turns and passing the controller around, but any split-screen situation will be limited to just two people.
So, while all of the game's multiplayer modes supposedly allow players to play at the same time, you'll only really be able to do this when just two of you are playing. As for the Speed Golf mode, which is entirely built around simultaneous play, it seems that four-player local gameplay is simply off the cards.
It's a bit of a shame in all honesty – Speed Golf looks like it could have that four-player Mario Party-style magic in the right company – but unless an update addresses the matter post-launch, it looks like we'll simply have to put up with two-player or jumping online. The gameplay itself looks like it'll be good fun, at least.
Is four-player split-screen a big deal in your household, or does this news not impact your plans? Let us know with a comment below.
[source nintendo.co.jp, via reddit.com]