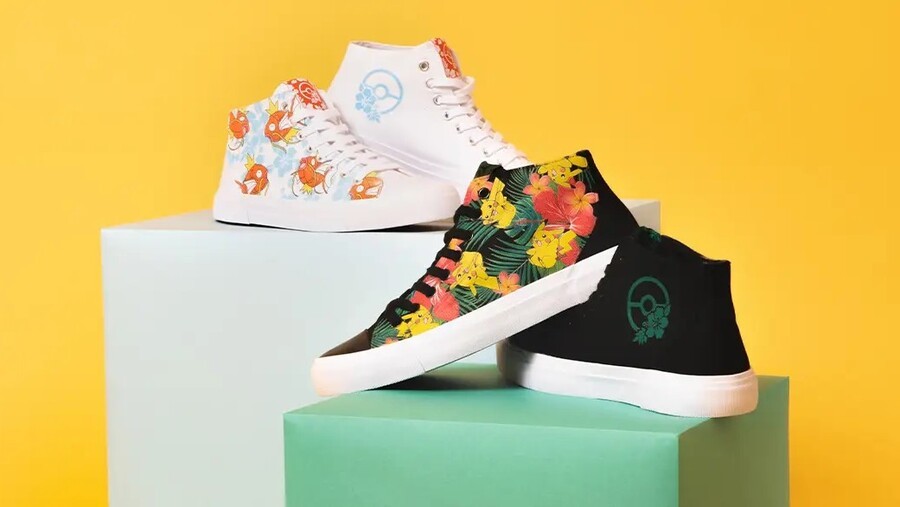 A new range of Summer-themed Pokémon clothing has launched in a collaboration between The Pokémon Company and online retailer Zavvi.
Described with tantalising adjectives such as "exclusive", "limited-edition" and, most importantly, "fully licensed", this collection of new designs features a bunch of your favourite 'mon including Pikachu, Squirtle, Exeggutor, Psyduck and Slowpoke.
Being inspired by the Hawaii-esque aesthetic of the Alola region from Pokémon Sun & Moon, there are plenty of surf-y, flowery, and above-all colourful options if you're after t-shirts, hats, sneakers, or other summer accessories with a vintage vibe.
"There will also be two limited-edition Zavvi x Pokémon handcrafted canvas high-top designs" we're told via a PR release ('high tops' are the shoes, if you're not down with sneaker lingo). "Choose from either an underwater Magikarp trainer or a tropical Pikachu theme."
Well, there's only one correct answer there as far as we're concerned, although we shan't reveal which for fear of incurring the wrath of the PokéPosse. Here are some pics of the various designs and objet Poké available at the time of writing, plus a small selection of our favourite items from a sizeable selection:
We've got our eye on the Squirtle swimshorts, but feel free to let us know below if you'll be picking any of this summer swag up for your hols.