An area that sets the audience for Nintendo Switch apart from its gaming hardware rivals, arguably, is the desire for limited editions of download games. It's an industry of its own, and certainly a lucrative one, as quality eShop games that typically cost less than $20 get limited runs of physical copies that, very often, sell out quickly.
Some games deserve the approach more than others, and indeed some physical editions show more effort than others. Cursed Castilla EX is a strong candidate; originally found on 3DS (for Nintendo gamers) to much acclaim, it made its way to Switch back in 2019 with improved performance. The retro-styled game is now, a few years later, getting a rather lovely Collector's Edition through publisher Abylight Studios.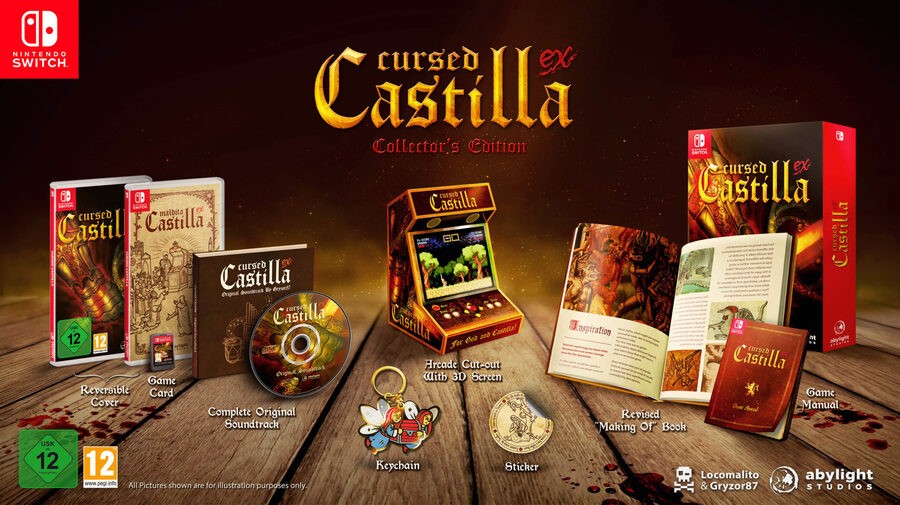 It sure looks the part, below is the official breakdown of what you get.
Game Card: the most important item of all… the game card for Nintendo Switch.
Reversible Inlay: choose between the classic cover and an alternate design inspired by Medieval engravings.
Manual: learn more about the foes you'll have to face in order to banish the Evil from this Earth.
Soundtrack CD: full Original Soundtrack by Gryzor87 in all its chip-tune glory!
Sticker: the legend says a demon used tears of a young witch to open the gateway to hell. This fateful moment is represented in this circular sticker.
Making-of Book: from freeware to the collaboration with Abylight, the amazing journey that started in Locomalito's notebook is now documented in a book!
Keychain: may the fairies grant you bonus items!
Arcade Cut-out: build your own cardboard cabinet and bring some of that classic arcade spirit into your home! Lenticular 3D screen!
Pre-orders for European collectors are open right now on the official Abylight store, priced at 49.95€. If you're in North America pre-orders will start on Limited Run Games today (20th May), while Spanish gamers will also be able to find it at GAME.es.
Are you thinking of adding this to your collection?