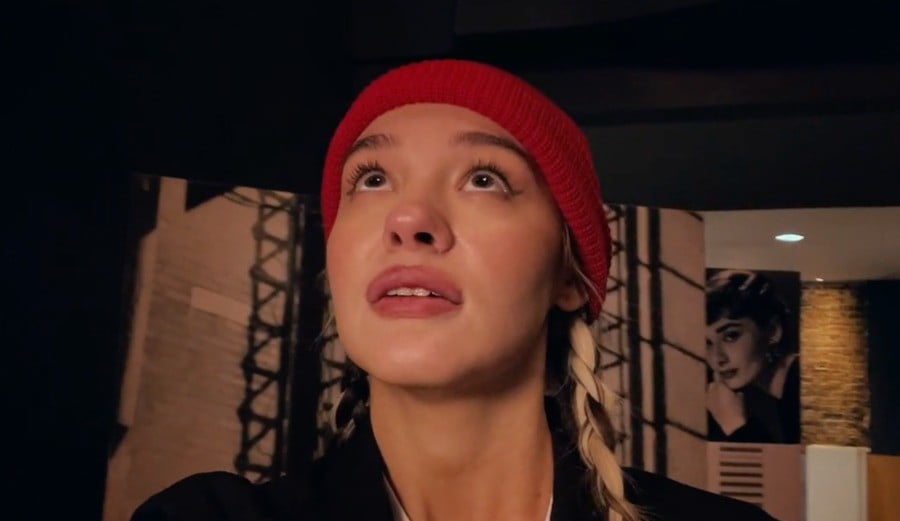 Back in the '90s, FMV video games were seen as a way of harnessing the amazing storage potential of CD-ROM to create immersive, life-like video games – but although cult classics like Night Trap found an audience, few would argue FMV gaming was a true revolution; the lack of interaction was painfully clear, even back then.
However, seemingly against all odds, FMV gaming has undergone something of a resurgence of late thanks to titles such as Her Story and Telling Lies, as well as the continued efforts of Wales Interactive, which has produced the likes of Five Dates, Late Shift and SIMULACRA – all of which have come to Switch.
If you're a fan of such titles, then you'll be interested to learn that Jed Shepherd – writer and producer of critically-acclaimed 2020 horror movie Host – has teamed up with Visible Games and Limited Run Games to create Ghosts, a full-motion video game which "aims to truly chill your blood and send full-motion video games screaming into the modern-day".
Showcasing much of the same talent that worked with Shepard on Host – including Haley Bishop, Radina Drandova, Jemma Moore, Caroline Ward and Emma Louise Webb (all of which starred in that particular movie) – and featuring contributions from writer and illustrator Trevor Henderson (he of Siren Head fame, no less) and the legendary Jim Henson's Creature Shop, Ghosts places you in the role of a producer on a failing TV show that focuses on hunting spooks – one of which is the sinister Long Lady, an urban legend you'll encounter during your time with the game.
The premise is pretty interesting. Rather than watching segments of the game unfold bit by bit, Ghosts happens in real-time, just like a live TV show. This looks set to lend the game some tension and urgency, two things that are often missing from FMV titles. Because you're the producer, you'll need to keep in mind that your job is to entertain, so you'll need to spice things up to keep the audience gripped.
Even more interesting is the fact that the "full terrifying real-time version of the game" can only be accessed by playing at 10 pm in your local time zone. Loading the game before this time will give you an old-fashioned TV 'test card', which can be 'cracked' to unlock the pre-watershed version of the show which allows you to save your progress as you play. Furthermore, leaving the game while it's running causes the session to end, potentially killing off some of your cast. It's certainly an interesting setup, and one that should use FMV in new and interesting ways.
If all goes according to plan, Ghosts will arrive on the 22nd February 2022, and has been confirmed for Switch release. We were fortunate enough to speak with Shepherd about the project, which is currently on Kickstarter and has raised more than £63,000 of its £165,000 goal with 22 days left on the clock.
---
Nintendo Life: First up, Host was very well received, so why make an FMV video game and not another movie?
Jed Shepherd: The response to Host was incredible and very unexpected. We just made a movie in lockdown with our mates. The way it has been received worldwide has been a real rollercoaster for us all. It provided many new opportunities and I am exploring those in multiple upcoming movies for Blumhouse, Sam Raimi, Studiocanal and more. As a hardcore horror fan myself, I am always looking at new ways to tell stories and most importantly, new ways to scare people. Host was called "The Scariest Movie of the Decade" by Dreadcentral and has already entered Total Film's "greatest horror movies of all time" list, so I knew my horror sensibilities could translate well to the wider public. I've always been a fan of Full-Motion Video Games and I've played them all. I'm fascinated by them, but have not yet been truly terrified by one. So I wondered what would happen if I brought my particular horror point of view to FMV games; taking everything I've learnt from scaring people on film, and transplanting it into a video game. A truly interactive experience where you are not just a passive watcher; you're really there. You are inside the game experiencing the horror. What's more terrifying than that?
How has your experience with Host inspired and influenced your approach on Ghosts?
I learnt that a project is only as good as the people you choose to surround yourself with. On Host, we surrounded ourselves with our friends and made something special. I used the five lead girls in a short called Multiplex just before we made Host and once again their real friendship and kinetic energy together is palpable. If I was going to make a video game for the first time, why not use these amazing actors (Haley Bishop, Radina Drandova, Jemma Moore, Caroline Ward and Emma Webb) again to help me navigate my way through it? In Host, the entire world saw how amazing these ladies are and I want everyone to see a new side to them.
You've got some impressive collaborators lined up for the project – can you tell us about how they got involved?
I'm very lucky to have some amazing people involved. As well as the five leads of Host, I have the creator of Siren Head himself Trevor Henderson (aka: slimyswampghost). I've been a fan of Trevor for ages and when I knew I needed creature design for my game, there was really only one person to turn to. Trevor is awesome and jumped at the chance to design The Long Lady, sending me a lot of sketches and mock-ups until she looked like the image I had in my head. He has the unique ability to manifest fear in his illustrations better than anyone around. Now that I had Trevor on board, I needed someone with the skill to fabricate his design and once again, there was only one place you go for that – Jim Henson's Creature Shop. Their ability to bring creatures to life is borderline necromancy. It's the first time they've worked with Trevor, too, so I feel like I've potentially opened a portal to a world of incredible creatures who are about to walk through and take over the world! Having Limited Run Games releasing the game is also a bit of a dream come true as I've collected every one of their releases since the start. They really are the high-water mark when it comes to physical games releases.
The real-time live-action element feels super unique – where did the idea come from and how do you think it'll affect players' experience – especially with the 10pm unlock of the 'uncensored' version of the game?
Not coming from a game-creating background, I didn't have a rulebook laid out in front of me. It's the same with Hollywood movies. I never went to film school, so I'm making things the way I think they should be made. I go for the things that interest me the most; the unique things that excite me. The conceit for the game is that you play the producer of a live TV show, so it just made perfect sense that the game would have a live element to it. Visible Games are the games company helping me make this game and to their credit, when I pitched the idea of the 10 pm lock, they said an emphatic "Hell Yeah"! There hasn't been a game like this before and I'm so excited about creating something that gamers haven't seen before. Besides the FMV games of the 90s that I love – Night Trap, Double Switch, Phantasmagoria, Sewer Shark – I'm a little obsessed by a little known Japanese Game Boy Advance game called Boktai: The Sun Is In Your Hand. That game had a solar panel on the cartridge which encouraged you to play at certain times because you had to fight vampires. I love games that take big leaps.
Will the game have replay value, like alternative story arcs or paths that players can experience?
Yes, there are myriad ways to play the game. There are many different paths you can take because as the producer of the show, you choose what happens. It's a live show, so anything can happen. Because everyone is playing at the same time in your time zone, you will be experiencing moments in sync, but also you may miss things that other people see. I've built the story so there is a prime way to experience everything I want you to see, but you may be interested in one particular aspect of the story and just follow that. I think it will be rare that two people take the same route to the conclusion. There are surprises everywhere.
What inspired the concept of the 'Long Lady'?
After Host, I spoke to many Hollywood studios about projects and one of the things that kept coming back is that we don't have enigmatic antagonists anymore. Where is the new Freddy Krueger? Where is the new Pinhead? It's difficult to create an antagonist that can induce absolute fear but also one that is layered enough that you care about them. I've had The Long Lady in my head for years. I've had multiple nightmares about her. She is genuinely terrifying for me to even think about. The process of putting her in this game is my way to get it out of my head before she drives me crazy! The urban legend of The Long Lady is that she appears in times of great tragedy. She is always seen moments before a horrible event. The rumour is: If you look directly at her face, you die. I have included a real photo of her from a south London street. This photo was sent to me anonymously.
Tell us a bit about the process of working with the Jim Henson Creature Shop. That must be a dream come true!
It really is a dream come true! I'm a super fan first and foremost. I'm actually writing this while wearing a Labyrinth t-shirt! The first meeting I had with them I wasted the entire time telling them my favourite moments from Labyrinth and re-enacting them badly. They're just the loveliest people and the most talented people in the world in what they do. They've created some of the most memorable creatures ever committed to film, so I'm beyond honoured to be involved in their first foray into live-action video games. When I get sent their in-progress creature building emails, it's like getting a message from another, more beautiful dimension.
Finally, your favourite ever FMV game?
This is an easy one. Phantasmagoria. It's a massive influence on me. It's not perfect, but it's the most fun you can have playing an FMV currently I think. I want to give a shout out to 7th Guest too. For me, that game has the best storyline and story is often the last thing you often think about in FMV games. It's the thing I think about first because it's what you hang the whole game on. I'm incredibly excited for people to experience Ghosts!
---
We'd like to thank Jed for giving up his time to speak with us. You can back Ghosts now by visiting the Kickstarter page.