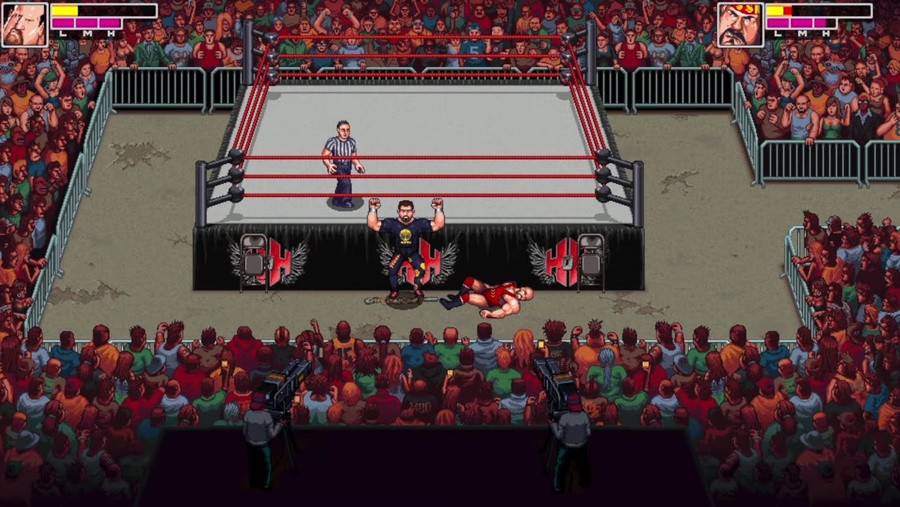 After several disappointing wrestling games on Switch, we're looking forward to RetroMania Wrestling. An official sequel to 1991 arcade title WWF Wrestlefest, it was previously confirmed for a February 26th release. Sadly, we'll be waiting a little bit longer before it launches.
It comes down to late certification issues and developers Retrosoft Studios has confirmed this affects all console releases, not just the Switch version. Currently, only the Steam edition is still releasing on February 26th.
Outlining this via a Twitter thread, team lead Mike Hermann offered this statement.
We will most likely have a short delay in the console release of RetroMania Wrestling as we have not yet completed the certification process.
As such, we will be extending the pre-order price of $24.99 into our launch window to give those of you to get the game at the pre-order price who were planning on pre-ordering the game once it was on the eShops and stores. We do not expect the delay to be more than two weeks and we are hopeful that it will be less than that.
The Steam version will still be launching as planned on February 26th. Thank you to all of you as we start the launch of the game. Every pre-order gave me reassurance that we were doing something that a lot of people will love to play. We have some cool plans to add more content if the game takes off like I think it will. If at any time you have any questions or concerns, please email me directly at [email protected]
As you might expect, it's not live on the eShop currently, but you can pre-order a Switch digital copy through Retrosoft Studio's website. Normally priced $29.99, early adopters can grab it for $24.99. A Limited Run Games physical release is also confirmed but right now, we're awaiting further details.
Disappointed to see RetroMania Wrestling delayed? Tell us what you think in the comments.
[source nintendoeverything.com, via twitter.com]