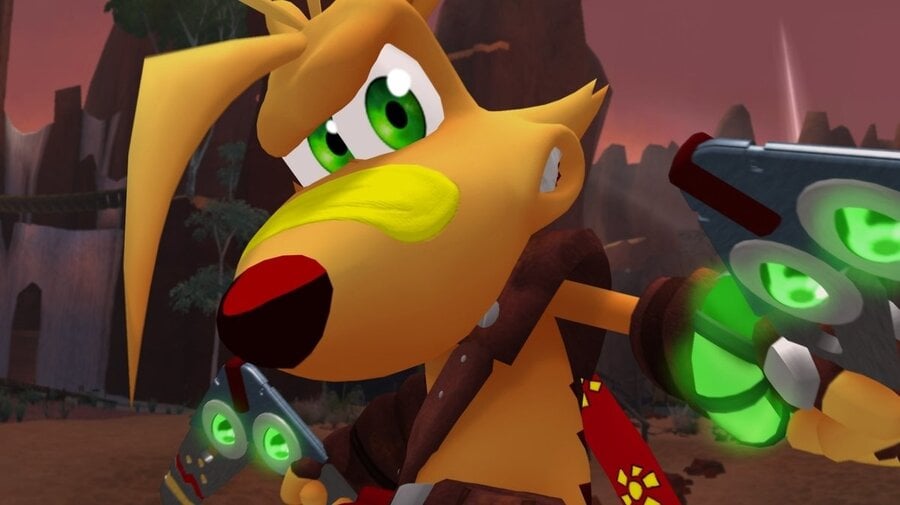 If this year's TY the Tasmanian Tiger HD remaster wasn't enough for you, you'll be pleased to hear that a new console release of TY The Tasmanian Tiger 2: Bush Rescue – originally released on GameCube – is also in the works.
Krome Studios, the team responsible for bringing the original game to Switch and other platforms earlier this year, has announced the news in a message to Kickstarter backers today. The note makes reference to the remaster already available on Steam, and says that the team has "already started looking into the coding work to bring TY2HD to consoles".
We've heard you. We've been listening and answering your questions about bringing TY the Tasmanian Tiger 2: Bush Rescue to consoles, too...
We've already started looking into the coding work to bring TY2HD to consoles. Yesterday, Steve broadcast his time reviewing TY2, looking for more art to improve.

TY2HD was made with version 2 of our Merkury engine. We learned much bringing TY1HD across, but we have to start back at square one and figure out what we can update and improve.
Krome says that we shouldn't expect to see or hear anything of this new remaster in 2020, but promises to update fans in the new year. The studio has also previously revealed that TY the Tasmanian Tiger 5 could happen, but would need a "much bigger budget".
Incidentally, for any owners of the first game on Switch, the post also details a new patch:
TY the Tasmanian Tiger HD patch:
- Options for disabling motion control support added to the pause screen
- Added Hardcore mode warning UI when starting a hardcore game, to make it more clear to the player what it means.
- Added new control/camera inversion for swimming and Doomerang controls
- Implemented 1st Person Infrarang effect on the Switch
- Miscellaneous small bug fixes and performance improvements.
Would you like more TY the Tasmanian Tiger on your Switch? Looking forward to the thought of a second remaster? Let us know in the usual place.
---
Thanks to Perryg92 for the tip!
[source kickstarter.com]