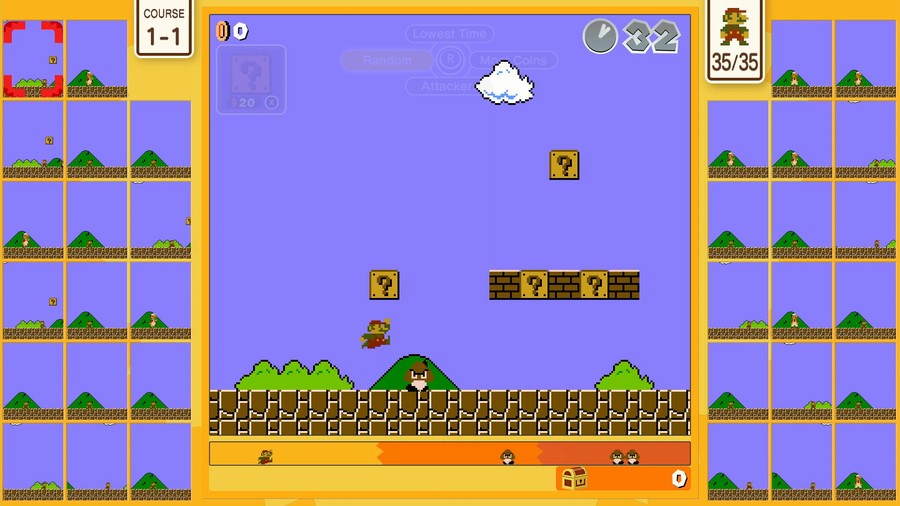 Super Mario Bros. 35 is available right now on Nintendo Switch, free for anyone with a subscription to Nintendo's online service. It's great fun, especially if you're keen on trying out a fresh take on Mario's iconic platforming, but it can get a little repetitive after a while.
It's only a minor complaint, but with the game only supporting levels originally found in the very first Super Mario Bros. for NES, the overall selection of enemies and items aren't quite as impressive as they could be. Interestingly, though, data mining suggests that Nintendo could be planning on adding more levels from other titles in the future.
Data miner @OatmealDome has found that all stage file names are prefixed with the phrase 'smb1', referring, of course, to the first Super Mario Bros. game. OatmealDome says, "This organization could perhaps suggest that support could be added for additional Mario games later, but this is the only evidence I have (and it's very circumstantial)."
That's an important note to make – seeing that phrase alone doesn't prove that other games will or won't make an appearance in the future – but if these 32 levels are the only ones planned to be included, why would they need a prefix indicating which game they're originally from? Surely, this would only be needed if, say, Super Mario Bros. 2 and 3 were also included?
Jump Rope Challenge, another free Nintendo title that was originally intended to only be available for a limited time, did receive additional content after launch. The addition of future levels in Super Mario Bros. 35 is certainly possible, then, but only time will tell if Nintendo really does have something in the works.
Would you like more levels from different Mario games to be added to Super Mario Bros. 35? Are you happy with it how it is? Let us know in the comments.
---
Thanks to CM30 for the tip!
[source twitter.com]