Launching later this week on Nintendo Switch is Roundguard, an indie roguelike that blends dungeon-crawling with gameplay inspired by Peggle.
Described as "a bouncy, cartwheeling cascade of heroes and treasure", the game has players pinging themselves around monster-infested rooms in an attempt to reach the bottom of dungeons. You only have one life, so you'll need to learn how to navigate the dungeon's hazards, master your hero's skills, and make the correct strategic choices as you play.
Here's a feature list taken from the Steam version of the game, which is set to launch alongside the Switch version:
---
Bouncy Fun: Intuitive pinball physics-based gameplay like no other dungeon crawler.

Multiple Classes: Play as the Warrior, the Rogue, or the Wizard, each with their own unique skills, items, and cheeky sense of humour.

Randomized Dungeon: Each time you play, the world map and every level are procedurally generated, and quest events and elite monsters are randomly placed. It's a new experience every time.

Permadeath with Benefits: Each time you die, you'll have a chance to bring a special trinket with you on your next run to help even the odds. The more gold you grab before dying, the better your chances to collect one of the most powerful trinkets for your next run.

A Cast of Oddballs: Chat with the castle's colourful cast to pick up quests and learn why some rats want their king dead, what's irritating the local teenage skeleton today, or what the Warrior will do if you can't get to a bathroom quickly enough.

Lots of Loot: Over 100 items and trinkets, each with effects that present strategic choices and combo possibilities. Rare and legendary items have randomly chosen bonus properties, so each one feels special.

Show Off Your Skills: Compete on the leaderboards and try to master all the challenging, rule-bending relics.
---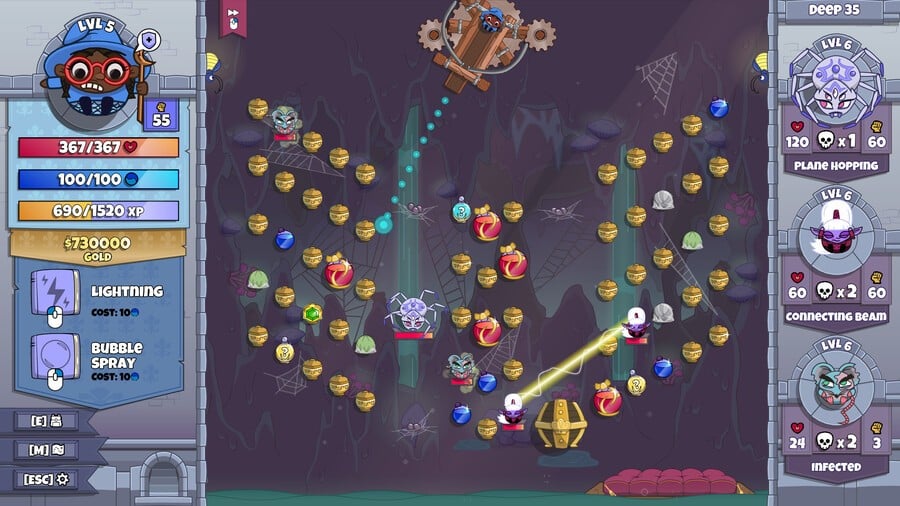 The game will be launching on all platforms on Friday 13th March, so you'll be able to pick it up from the eShop in just a few days' time.
What do you think? Are you liking the sound of this one? Let us know with a comment below.