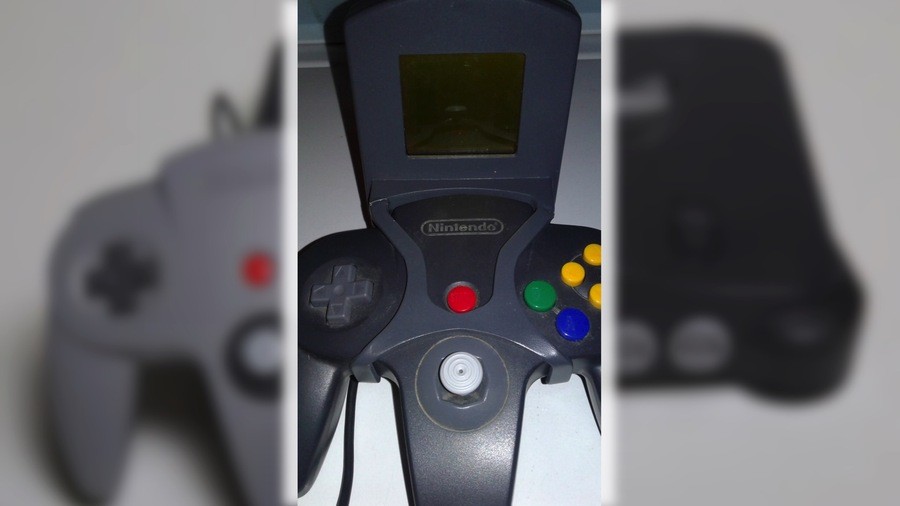 While not exactly being the most commercially successful Nintendo console, the iconic N64 remains a firm favourite in the minds of gaming fans to this very day. Despite this, we doubt there are too many people out there who have seen this little oddity before.
Retro gaming fan and preservationist Shane Battye has shared a handful of images of a 'Secret Screen' peripheral that had been designed for use with Nintendo's machine. Of course, we now know that it never made it into full production, but as Battye says the prototype was at least partially functional and some suggested applications for the device have been drawn up, too
In the first image above, you can see the prototype being discussed in Electronic Gaming Monthly magazine. It reveals that the design was dreamt up by Dane Galden, who says that inspiration for the idea came about while noticing his brother cheating when the pair were playing football, sneaking a look at which play he'd pick to gain the upper hand.
Essentially, then, the 'Secret Screen' would allow you to have your own individual setup to avoid such issues, not unlike several multiplayer games we've seen more recently on Wii U. The aim was to get the product "packed in as an added value item" with a sports game, but this never materialised.
In further notes, Battye explains that the prototype appeared in an eBay listing in 2018 but was taken down, providing images of the listing description. Amazingly, the designer notes that thanks to his idea featuring on the same page as a discussion on the Dreamcast in EGM, Sega's Dreamcast engineers "saw the N64 Secret Screen on the same page below their write up, and turned the concept into the VMU in the Dreamcast controllers".
https://twitter.com/shanebattye/status/1216834629606375424?s=20
An amazing find for N64 fans, we're sure you'll agree. We've seen an awful lot written about the console over the years, but we've never stumbled across this before.
[source twitter.com]