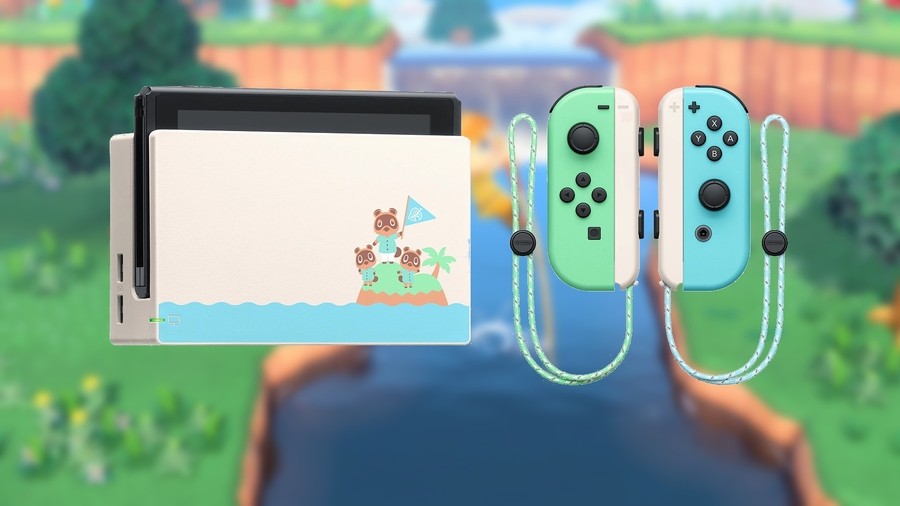 We've woken up to news of a rather lovely Limited Edition Animal Crossing: New Horizons Switch that will be released to coincide with the launch of the game in March, and now we can't help but eye our boring standard Switch with contempt. The Animal Crossing bundle sure looks lovely, and we're doing out best to justify buying another console just to get our hands on those new Joy-Con and that adorable dock. It seems that lucky Japanese Switch owners will have the option of buying the standalone component parts of the Animal Crossing hardware bundle individually, though.
As spotted by ACPocketNews on Twitter, the Nintendo Japan store is listing both the standalone Animal Crossing Switch dock and the pair of pastel-coloured Joy-Con as available for purchase separately from the console bundle:
The Joy-Con are up for 8,228 yen (around £60 / $75 / 70€) and the dock is priced at 6,578 yen (approximately £45 / $60 / 55€). Pre-orders are scheduled to open up on 8th Feb and they'll be delivered (according to the site) alongside the game which launches on 20th March.
We've talked before about the difficulties we've had finding a spare dock for the Nintendo Life office, and it seems that Japanese Switch owners (and anybody happy to pay to import a dock) now have an adorable new option. Will you be importing these or keeping your fingers crossed for a release in the west? Let us know below.
[source twitter.com, via store.nintendo.co.jp, store.nintendo.co.jp]