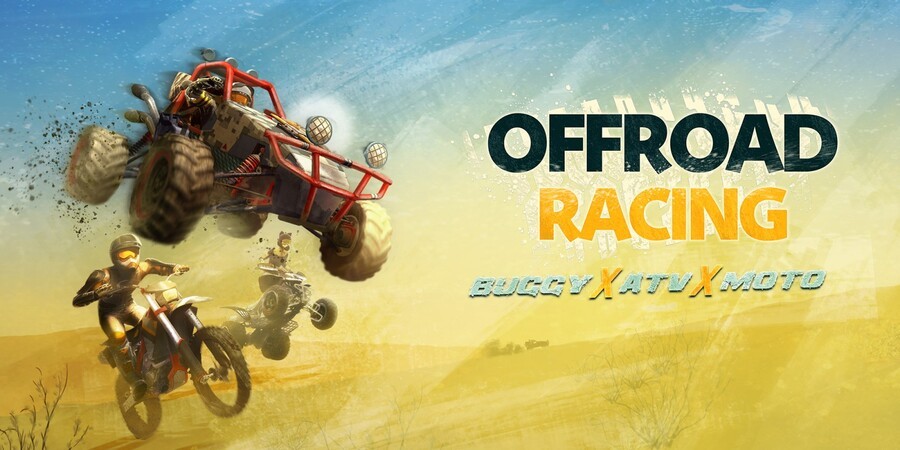 The latest Nintendo Download update for Europe has arrived, and it's bringing new games galore to the eShop in your region. As always, be sure to drop a vote in our poll and comment down below with your potential picks for the week. Enjoy!
Switch Retail - New Releases
Offroad Racing - Buggy X ATV X Moto (Microids, 19th Dec, £26.99 / €29.99) - Offroad Racing offers a huge choice of all-terrain vehicles to get away from everyday life. Bomb along in a quad bike, buggy or motocross race and enjoy the change of scenery as you explore immersive offroad tracks.
5 singleplayer game modes: Dedicate your life to offroad racing in Season mode. Fulfil your destiny in Championship mode. Don't have time? The Race-against-the-clock and Single race modes are for you. Not afraid of the heat? Try Hot Lap!
Switch eShop - New Releases
60 Parsecs! (Robot Gentleman, 20th Dec) - Lead a crew of woefully unprepared astronauts, equipped with whatever junk - sorry - "supplies" you can grab before blasting off, on a journey across the cosmos that's best described as misguided. Make the best of it, while dealing with soup shortages and other horrors of outer space. Will you have what it takes to find a new home and survive?
Family Tennis SP (ARC SYSTEM WORKS, 16th Dec, £6.29 / €6.99) - Family Tennis SP Eight unique characters going wild on the tennis court! Each one of them has their own special move and abilities, so look for the one who suits your playstyle the most! Tournament Choose your character and challenge the rest of the family to singles or doubles matches. There are 3 difficulties to choose from. Every tournament consists of four matches. Free Play Challenge other characters to a match of singles or doubles. You can freely choose the number of sets and games and the court. Mini Games The game features 3 mini-games: "Human Backboard," "Roulette Rally" and "Survivor. " Feel free to enjoy tennis with slightly different rules in these fun mini-games.
Jets'n'Guns (Rake in Grass, 16th Dec, £5.39 / €5.99) - Enjoy the beloved retro shoot'em up, now on Nintendo Switch. Presented in glorious 4:3 aspect ratio, featuring the explosive soundtrack by Machinae Supremacy. Jets'n'Guns is a heavy piece of ground shaking rock blasting action with graphics and special effects that will blow you eyes out! Enjoy yourself in almost-insane action adventure of saving the universe from the deadly threat of more than 270 unique monsters in the campaign of 43 levels. Stand as one-against-many armed with tons of different weapons of a devastating armament fitted into one of the awesome spaceships.
Travel Mosaics: A Paris Tour (JetDogs, 16th Dec, £8.99 / €9.99) - Embark on a breathtaking adventure to France: solve beautifully crafted themed puzzles, collect souvenirs and learn fun facts about your destination.
Rift Keeper (Sometimes You, 17th Dec, £8.99 / €9.99) - Embark on your journey, travel through rifts and restore the balance as the Rift Keeper in this handcrafted 2D roguelite platformer with challenging, fast-paced action gameplay. Duty called and the Rift Keeper woke up from his deep slumber. The little town he was summoned was silent as if it's the end. He opened the church's rusty old door and four old men wearing red robes greeted him with a grim smile. One of the priests stepped forward and said, "The Gates are open".
Ashen (Annapurna Interactive, 19th Dec, £25.59 / €28.79) - As you adventure through Ashen, you'll occasionally encounter other players in a massive open world, akin to the passive multiplayer of Journey. It's up to you to decide how to deal with them - fight together against evil, invite them into your party or simply ignore them. Ashen is faithful to the "souls" genre of stamina-based combat, introducing players to a punishing yet satisfyingly vast world. But here's the twist - no two gameplay experiences are alike. Whether you're exploring bogs, investigating a fjord or pillaging an old palace, where you are at any given moment will dramatically alter the course of your adventure. It's a brutal open world; you're just living in it.
Dual Brain Vol.1: Calculation (D-O, 19th Dec, £11.99 / €13.99) - Rules are simple. Solve the problem within the time limit and aim for a high score. The high score in the game is registered in the online ranking. Compete for scores with players around the world. This time calculation. There are many calculation games in this game. Anyone can play happily, even those who are not good at calculations and those who are good at calculation.
KUUKIYOMI: Consider It! (G-MODE, 19th Dec, £2.79 / €3.07) - See how considerate you can be, without worrying about what others think. The smash-hit game "Consider It" is coming to Nintendo Switch with some new problems to consider and a two-player mode. Take it with you wherever you go. So what is "Consider It"? Simply move the red object on the screen to play each problem. Most of the time you will be controlling yourself, but sometimes you might control other things too.
Melbits World (Plug In Digital, 19th Dec, £8.99 / €9.99) - The cooperative puzzle-platformer game that will equally charm and challenge your friends and family. Communication and coordination are the keys to success in the Melbits' mission! Discover these collectable digital creatures and guide them through fiendish levels full of traps. Dodge evil viruses, gather seeds and spread the good vibes across the Internet.
Farabel (Drageus Games, 20th Dec) - Your hero is strong, victorious and lived happily ever after. The End… B…but wait…the game just started! In this turn-based strategy game, you begin at the end of the story and have to go back in time to prevent war. And obviously, the whole gaming experience is turned upside down! After each victory comes a jump into the past when you were not that strong. Think carefully to choose the right points to weaken and still survive. Can you manage with less health? Or do you prefer to deal less damage? You will have to make the right (tricky) decisions to anticipate your next fights. Thankfully your units offer a wide range of special abilities that can help you. Master the art of leveling down and find out how it all began!
JDM Racing (Nikita Alexeevich, 20th Dec, £3.14) - Drive legendary Japanese cars on various tracks. Beat records, take part in different racing events, rise from Beginner to Pro League driver. Collect, win, tune up, and upgrade your dream cars.
SUPER TRENCH ATTACK (Storybird, 19th Dec, £7.19 / €8.00)
Arcade Archives MAT MANIA EXCITING HOUR (HAMSTER, 19th Dec)
Switch eShop - Demos
Blasphemous Demo (Team17)
Switch eShop - Pre-Orders
Mega Man Zero/ZX Legacy Collection (CAPCOM) - Mega Man Zero/ZX Legacy Collection brings together six classic titles in one game: Mega Man Zero, 2, 3 and 4, and Mega Man ZX and ZX Advent.This bumper package includes not only the original games, but new features including Z Chaser mode, as well as Casual Scenario Mode and Save-Assist feature for players who wish to enjoy the story at their own pace.
Crazy Zen Mini Golf (Onteca, pre-order from 16th Dec)
The Adventures of Elena Temple: Definitive Edition (GRIMTALIN, pre-order from 17th Dec)
Gunma's Ambition -You and me are Gunma- (G-MODE, pre-order from 19th Dec)
Prison Princess (qureate, pre-order from 19th Dec)
Festive Sale 2019
Nintendo has slashed the prices of more than 700 games on the European eShop. Here are the highlights.
DLC / Add-On Content
Nintendo Switch
Atelier Ryza: Ever Darkness & the Secret Hideout - Elegant Mermaid (KOEI TECMO EUROPE)
Atelier Ryza: Ever Darkness & the Secret Hideout - Muscle Volcano (KOEI TECMO EUROPE)
Atelier Ryza: Ever Darkness & the Secret Hideout - Sunlight Flower (KOEI TECMO EUROPE)
Atelier Ryza: Ever Darkness & the Secret Hideout - Captain Tao (KOEI TECMO EUROPE)
sAtelier Ryza: Ever Darkness & the Secret Hideout - Ocean Dandy (KOEI TECMO EUROPE)
Atelier Ryza: Ever Darkness & the Secret Hideout - Cool Selenite (KOEI TECMO EUROPE)
Atelier Ryza: Ever Darkness & the Secret Hideout - "Ever Summer Queen & the Secret Island" (KOEI TECMO EUROPE)
Atelier Ryza: Ever Darkness & the Secret Hideout - "The End of an Adventure and Beyond" (KOEI TECMO EUROPE)
Power Rangers: Battle for the Grid - Tommy Oliver - MMPR White Ranger Skin (nWay)
Power Rangers: Battle for the Grid -Dai Shi - Jungle Fury Villain Character Unlock (nWay)
Ashen - Nightstorm Isle (Annapurna Interactive)
GROOVE COASTER WAI WAI PARTY!!!! - VOCALOID Pack 2 (TAITO)
Gunvolt Chronicles: Luminous Avenger iX - Extra Mission: "VS ???" (Inti Creates)
Gunvolt Chronicles: Luminous Avenger iX - Extra Song: "Raison d'être" (Inti Creates)
Pic-a-Pix Deluxe - Giant Puzzles 18 (Lightwood Games)
WorldNeverland - Elnea Kingdom:White Elegant Dress Set (althi)
So that's your lot for this week's Nintendo Download. Go on, be a sport and drop a vote in the poll above, and comment below with your hot picks!